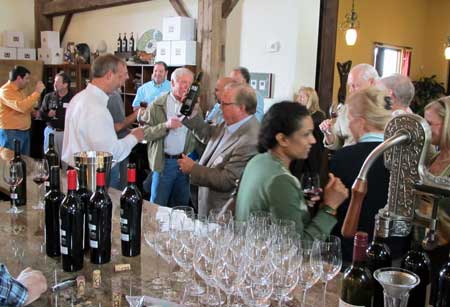 PREDICTION: Tempranillo Will Factor Greatly into Texas's Wine Future; New Texas TAPAS Chapter
"If I had to do it all over again, I'd plant 70 acres of Tempranillo and one acre of Cabernet Sauvignon. I'd include the one acre of Cabernet, just to remind me daily how hard it's been to grow Cabernet in Texas for the past twenty years."
This was nearly the first comment that I heard when I arrived early last week at The Vineyard at Florence (near Georgetown, Texas) for the welcoming reception at a Tempranillo Symposium organized by Roy Renfro and Bob White at Grayson County College.
Who made this quote? Well, it was none other than Neal Newsom, the person that the Texas wine industry recognizes as the premium winegrower in the state. He started over twenty years ago and his grapes are the centerpiece of many premium wine programs at wineries around the state.
Later in the symposium, Neal filled in the details in his presentation as to why he made his comment. He showed his experience growing Tempranillo and Cabernet and, in hard numbers, it revealed a stark comparison. The yields from his Tempranillo vines have been double what he's been able to coax from the Cabernet growing in his same Texas high plains vineyards. As Texas is now entering a new epoch of winegrowing that is focusing on higher quality wines and economic sustainability for its winegrower, Tempranillo seems to fit the bill nicely.
— — — — —
The purpose of the symposium was to assess and share experiences growing and making wine with Tempranillo. The keynote presentation was by Simon Arina Robles from Bodegas Baigorri in the Rioja region of Spain. Noted Texas winemakers Jim Johnson (Alamosa Wine Cellars) and Dan Gatlin (Inwood Estates) talked about their experiences introducing Texas-grown Tempranillo, its characteristics and the market acceptance (very good). Les Constable (Brushy Creek) and Dr. Bobby Smith (Smith Estates) discussed their recent tasting tour to Spain in search of the Tempranillo "holy grail". Q&A sessions focused on growing Texas Tempranillo for quality and yield, while examining wine styles and winemaking techniques. Interludes of Tempranillo tasting allowed sensory analysis of Tempranillo wines from both Spain and Texas. It was a full and fruitful day, well worth the time and effort to get to this remote central Texas location.
— — — — —
Simon Arina gave an excellent summary of Tempranillo winegrowing and winemaking in at Bodegas Baigorri and more generally in the Rioja and other regions in Spain. It included indication of harvesting parameters, clonal selection, blending and barrel treatments used for oak aging.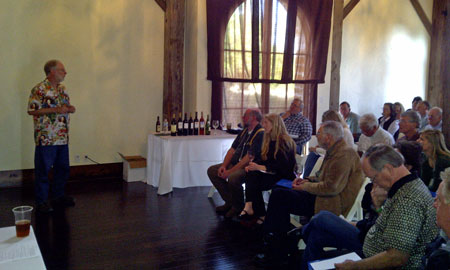 The presentations by Jim Johnson and Dan Gatlin were perhaps the most provocative, appearing at first glance to be in disagreement. Jim addressed growing Tempranillo in his vineyard in the Texas hill country and its good potential for application in many Texas vineyard locations. He described the qualities of Texas Tempranillo-based wines in terms of its dark fruit character. In contrast Dan Gatlin, related his experience that indicated Tempranillo is NOT a grape for all vineyard venues in Texas. His opinion was that Tempranillo only offers the qualities he prefers when grown in high altitude locales, like the Texas high plains at attitudes greater than 3,500 feet and where the nighttime temperatures are less than 65 F in the summer. His descriptors for Tempranillo-based wines were dominated with ripe red fruit characteristics.
After thinking for a while, I realized that Jim's and Dan's apparently disparate comments were actually describing what is known about Tempranillo grown in Spain. As Simon mentioned, the characteristics of Tempranillo-based wines from The Rioja Alta (high Rioja) region demonstrate the red fruit character preferred by Dan Gatlin. The Alta and to a lesser degree the Rioja Alavesa region are dominated by a cool continental climate which induces a domination of red fruit character and crisp acidity in the wines.
However, Tempranillo is also grown in many warmer vineyard locations around Spain at lower elevations. Examples of these regions are the Rioja Baja to more southerly La Mancha that are dominated by the warmer Mediterranean climate. This results in lower acid, fuller-bodied and fruitier wines with supremacy of dark berry characteristics.
Once this was clear to me, I realized that the two viewpoints weren't a contradiction, but two sides of the same Tempranillo "leaf". They gave a good basis to understand and manage expectations of what Tempranillo style to presume at different vineyard sites in Texas. If you are blessed with a high altitude location or otherwise have a mechanism for cooler nighttime temperatures, the Rioja Alta style may present itself. Otherwise, in many moderate altitude locations in Texas with higher average temperatures without a large diurnal temperature swing, the latter Tempranillo style will predominate.
The tasting of the Spanish and Texas Tempranillos brought to the symposium exemplified the abovementioned qualities: Hotter regions yielding darker, fuller bodied wines, and cooler regions predominating with crisp, red berry dominated wines.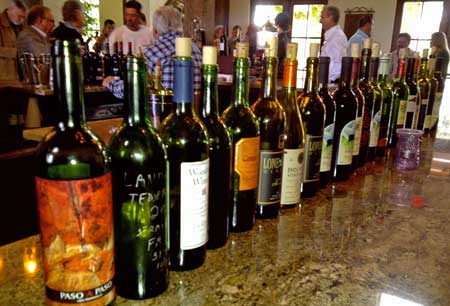 — — — — —
A final note on Tempranillo and more generally on winegrowing in Texas is that the fastest growing category of grapes being grown in Texas is now the "other" category; not the classic varietals of Cabernet Sauvignon, Merlot and Pinot Noir, which have become the standard California offerings. Admittedly, much of the Texas's "other" category in terms of red grapes is dedicated to Tempranillo. During 2010, over 25 wineries in Texas were working with Tempranillo-based wines. The other grapes in this category include reds mostly of Mediterranean origin. They are grapes like Malbec, Tannat, Grenache, Mourvedre, Barbera, Dolcetto, Aglianico and more, which originate from Spain, southern France, and Italy that ring the Mediterranean Sea.
For further reference to new grape varieties now being grown in Texas, go to my Texas Wine Lexicon at: https://vintagetexas.com/?p=1621
— — — — —
The day finished with an organizational meeting of the Texas Chapter of the Tempranillo Advocates Producers and Amigos Society (TAPAS). For more information on TAPAS in Texas: see https://vintagetexas.com/?p=2363, and/or contact Jim and Karen Johnson (Alamosa Wine Cellars) at alamosa@centex.net or wine@alamosawinecellars.com.