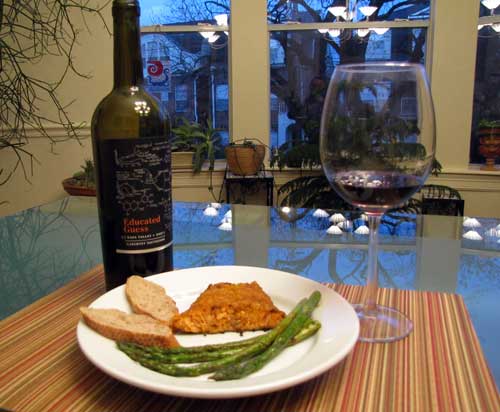 What People in Napa Valley Really Drink? Why and How?
As an aftermath to my previous blog about what Texas wines to serve winegrowers from Napa Valley (https://vintagetexas.com/?p=1482), I've a follow-up observation. We all know that it is easy to find Napa Valley Cabernet Sauvignons that are $60, $80 and even over $100 retail, but what do people in the know in Napa Valley really buy to drink?
We visited our friends in Napa Valley about a year ago and this year they stopped by to visit with us over dinner. Both times I have been surprised, intrigued and even shocked by the wines that they pick for dinner. First of all, the wines are damn good. Secondly, they are NOT expensive wines.
If you read Food and Wine magazine you think that all Napa-valley-ites savor indulgingly over $100 bottles of wine at patio parties with Sting and his wife or with Arnold the Governator of California. If you read the Wine Spectator you might get picture of Napa Valleys finest sniffing, swirling and comparing the scents exuded by cult wines with a $300 price tag that were made by a noted garagistas.
I will let you in on to what actually goes on. It's a pretty simple and smart way to select wine. First of all, most people in Napa Valley know good wine from bad so they don't drink plonk. They also know other people that inhabit "The Valley" who also know good wine from bad. The secret is that most of them don't like to spend a lot for wine.
Most of the time they hit the mark by locating new finds that are usually made by young winemakers who have interned or perhaps even made wine under the tutelage of fine winemakers at wineries of notoriety in California, France, or Italy. If they put out a new wine like XYZ Cabernet Sauvignon and somebody actually gets a bottle, tries it and it's good, word spreads like a firestorm through tissue paper.
Another path to good juice is to know who is trying to sell what. In case you haven't heard, there is an excess of high quality grapes in California and this oversupply situation also includes Napa Valley. Therefore, some Napa Valley Cabernet can be obtained at quite reasonable prices if someone is in the right place at the right time. After getting these grapes into the winery at the same time as a good winemaker happens to be there, the end result can be a high quality Napa Valley Cabernet that can be obtained at a quite reasonable price, say $20!
Then, the Napa-valley-ites talk, text and, oh yes, even Twitter. They are always on the lookout, not just for good wine, but for good low cost wine. Also, if someone brings an interesting new find to a dinner party, the network fires up and new news becomes old news very quickly. Every wonder why very little of this kind of stuff makes it to Texas? The bottom line is that they are on it like bees on honey!
During our last trip to Napa, the wine find was a "no name" Napa Valley Cabernet made by a husband-wife winemaking team. The wine was marketed under the brand name – Esca (www.escawines.com). The couple was Mario and Anna Monticelli. In their day jobs, they are winemakers for a couple of Napa Valley's most storied families – Mario for Trinchero, Anna for Pina. In their spare time, like as a hobby, they make wine for themselves, their friends and their family [and you too, if you know how to find it in time]. As I recall the wine was about $28 per bottle and was stellar.
During our recent dinner party, our friends brought us a bottle of another wine that I had not heard of previously. It was Napa Valley Cabernet this time going under the brand name Educated Guess made by Roots Run Deep Winery (www.rootsrundeep.com) in St. Helena, near ground zero of Napa Valley. The grapes for their wines are sourced from vineyards run by the best producers in Yountville, Oakville, Rutherford and Carneros all along Napa Valley. The maker is consultant winemaker, Barry Gnekow, who has over 30 years of winemaking experience. Barry is currently involved with numerous, highly successful brands such as 7 Deadly Zins, Old Ghost, Cycles Gladiator, Earthquake and of course, Roots Run Deep, and is one of California's most award winning winemakers!
Again, wanna bet that the concept of right place and right time factors heavily into this wine; having access to a good Napa Valley fruit and an award winning winemaker, helps too. The price for this wine is about $20 or a little less per bottle, and I heard that you can even find this wine in Houston.
Get it if you can and enjoy!