New Texas Winery Owners "The Bodenstedts" Seem Excited and Well Directed with CapRock Purchase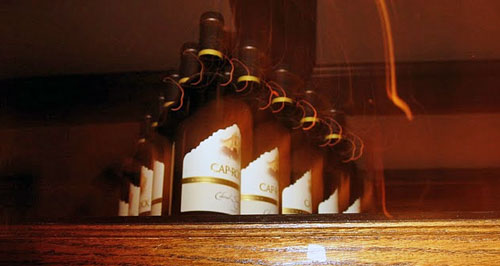 There is finally a sign that things are progressing after the bankruptcy auction purchase of Lubbock's CapRock Winery (www.caprockwinery.com). For background see:  https://vintagetexas.com/?p=2127.
As reported previously, I have been trying to get a call back from Jim or Cathy Bodenstedt about their reaction to their Texas winery purchase and what their plans are for the new venture. However, yesterday I saw a tweet from Texas high plains growers Cliff and Betty Bingham at Bingham Vineyards (www.binghamfamilyvineyards.com) that said, "Lunch with Cathy Bodenstedt (the new owner of Cap*Rock Winery) and her husband Jim. They are both really nice and very energetic!"
I know that Cliff is involve the 2010 Texas grape harvest that just started on the high plains. So I tweeted back and asked him if I could talk to him about the meeting.
I just got off the phone with Cliff Bingham who besides being co-owner of Bingham Vineyards is also President of the Texas Wine and Grape Growers Association (www.txwines.org) this year. To put it mildly, Cliff sounded very impressed and excited following his meeting with Jim and Cathy. In fact, their conversation went on so long and visited so many topics that they didn't even have time to see much of the vineyards.
I heard that during the first live CapRock auction, Jim was bidding by phone while with his employees at Schlitterbahn. When he heard the news of the failed sale of CapRock to Laurent Gruet, Jim and Cathy decided to stick with it and put in a sealed bid for CapRock in the second auction.
As a result of their lunch with the Binghams, Cliff said that Cathy and Jim sound like they both have the passion for this venture and the market savvy to rebuild the CapRock brand. He was particularly pleased to hear that Jim and Cathy have a desire to fill the CapRock winery with as many Texas grapes as possible and build a strong Texas wine brand.
Jim and Cathy's expectations are that it will take several years to bring the CapRock winery back into full production, starting with 20, 000 to 40,000 cases per year in the early going and then more.
Cliff said that Jim and Cathy look like they will be good for the Texas wine industry as a whole. They have the personally economic strength to committ and the mainstream market experience from Jims' food franchise business. In that regard, I hear that their Megafrachise operation is the second largest purchaser of TV advertising in Texas.
Cathy will head up the CapRock business so that it will be help separate it from Jim's food franchise as is required by law in the State of Texas. Cliff said that they also talked about some of the new grape varieties now grown in Texas such as Tempranillo, Viognier and Dolcetto and, with the huge crop this year, how they could be marketed most effectively.
We can only hope that there will be real opportunities in the offing to parlay Texas wines, franchising and mainstream advertising at a level that has not been yet been achieved by a winery in Texas.