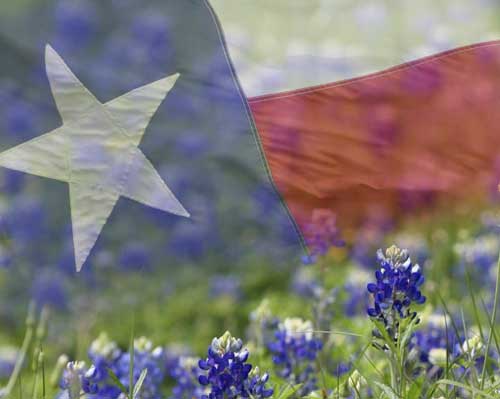 Texas Wine and Wildflowers – A Perfect Spring Pairing for Wine Trails
Spring Wine Trail Events in Texas Bring Together Lone Star State's Wine Culture
with Celebrated Bluebonnets and Other Wildflower Varieties (Note: Video at bottom)
The Texas wine country offers hundreds of thriving vineyards complete with scenic vistas, beautiful wildflowers and relaxing scenery along the Texas wine trails.
"Each year, the wildflowers across Texas bring a season of changing blooms that complement our state's friendly, relaxing wine culture," said Bobby Champion, Jr., state coordinator for wine marketing. "The uniquely Texas flowers make for incredible surroundings as winery visitors take advantage of our growing wine trails and their exciting seasonal events."
Three of Texas' wine trails host wildflower events, each with its own spin on celebrating the seasonal blossoms:
Texas Bluebonnet Wine Trail (www.texasbluebonnetwinetrail.com) – Visitors follow this trail's namesake flower as they make their way to seven wineries, April 3-4 and 10-11. Cost is $25 per person or $45 per couple for two wine pairings and two chocolate pairings at each winery.
Texas Hill Country Wineries (www.texaswinetrail.com) – Trail participants experience award-winning wines and the picturesque Texas spring along the state's largest winery trail, April 9-11 and 16-18. Cost is $35 per person or $60 per couple for complimentary tastings and cheese pairings at each of the trail's 24 wineries, wildflower seed packets and a 15-percent discount on three-bottle purchases.
Way Out Wineries (www.wayoutwineries.org) – This trail is described as a "road trip" as guests experience both the area's blossoms and eight wineries while enjoying pasta and wine pairings, April 30-May 2. Cost is $20 per person for complimentary tastings and food and wine pairings.
Beginning as early as March, wildflowers bloom in phases, yielding a large variety throughout the course of a season.
"There are fields in early spring that are so covered in bluebonnets that you think there is a lake out there," said Karen Johnson, president and co-owner of Alamosa Wine Cellars in Bend and president of the Way Out Wineries. "At the beginning of wildflower season, you can expect to see the entire field in front of our vineyard covered with coreopsis. Then it transitions to Indian paintbrushes and primrose; then orange-hued flowers dominate with fire wheels and Indian blankets, followed by yellow daisies, purple horsemint and verbenas."
Visitors to Texas wineries can pick up the Texas Department of Agriculture's Texas Winery Passport (http://gotexanwine.org/passport), which offers rewards, including Texas wine accessories, gourmet winery dinners and group wine tastings, for visiting four or more wineries.
The large variety of Texas wildflowers goes hand-in-hand with the diversity of Texas wines. Many flowers pair with certain varietals, such as sunflowers and Viognier. TDA has a Web site feature dedicated to these pairings.
Texas is the fifth-largest wine-producing state in the nation with more than 180 wineries.
For more information on the program or to order a free Texas Winery Passport, visit a Texas winery or go to www.gotexanwine.org. You can also follow GO TEXAN for Texas winery news and events on Facebook and Twitter.
More on the Texas wine trails at: www.gotexanwine.org/texaswinetrails
YouTube Video on Texas Wildflowers