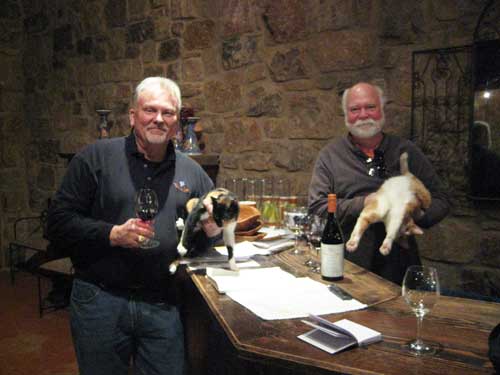 Two Winemakers, One Texas Winery and Two Texas Wines: Torre di Pietra Blanc Du Bois & Black Spanish
I recently stopped by Torre di Pietra Winery (www.texashillcountrywine.com) in Fredericksburg, Texas and had two wines presented to me for tasting. One was a white wine and one a red. The white wine was near straw in color with perceptible aromatic and tropical characteristics and ripe fruit flavor similar to that provided by well known varietals like Muscat, Chenin Blanc and a softer-spoken Gewürztraminer. The red wine was deep purple in color with fresh red berries in the nose and a fruit forward black cherry flavor that was hard to place in any of the classic varietals, perhaps a blend between vinifera mainstays, Sangiovese (for its crisp acidity) and Aussie style Shiraz (for its rich fruit flavor) or possibly a red Zinfandel, or perhaps even a Barbara. You can see that I am reaching for something here and I think that the Barbera likely says it best; fruit rich, crisp and not highly tannic.
The wines I tasted were made by the conjoined efforts of Ken Maxwell, Texas winery owner and winemaker at Torre di Pietra Winery, and consulting winemaker and grape grower, Don Pullum from Mason County, Texas. The goal was to collaborate in making wines from the 2009 vintage from two of Texas' own varietals: Blanc du Bois and Black Spanish (also known as Lenoir), both grown in the Texas Hill Country.
Blanc Du Bois was developed in Florida (https://vintagetexas.com/?p=1001), but now its home is Texas with more of it grown here than anywhere else in the world. Black Spanish is more of a mystery. It was already established here in Texas when Italian winemaker, Frank Qualia founded Val Verde Winery (www.valverdewinery.com) in Del Rio, Texas, in 1883. The precursor vines to Black Spanish are thought to have been brought from Europe to the states by French Huguenot settlers and morphed into its present form as it traveled across the southern tier states and into Texas along the old Spanish trails (www.fairhavenvineyards.com/information/research.html).
Both Ken and Don seemed pleased and perchance a little surprised by the outcome of their new joint winemaking exploits with these Texas varietals. Don had never worked with Blanc Du Bois or Black Spanish before, but made a reputation for blending and fine wine making at Sandstone Cellars (www.sandstonecellarswinery.com) using more conventional red varietals that come from southern Europe but that have found a new home in the Mason County terroir. Ken built a wondrous winery, tasting room and events venue. He has experimented growing and makes wine from several varietals grown on both the winery property located on the Route 290 wine road (www.wineroad290.com) between Johnson City and Fredericksburg, Texas, and on his property near Doss, Texas.
From my notes, I recall that the 2009 Torre di Pietra Blanc Du Bois was a crisp white wine made with a just a hint of oak that yielded a fleeting note of coconut on the front palate and near imperceptible residual sugar. It also enouraged the ripe pear, apple and a tropical Muscat character on the nose gained from the Muscat in Blanc Du Bois lineage, a silky mouth feel and a smooth finish. The winemakers' hands at cold fermentation play the high notes here as this has been found to be one of the keys to getting the fresh and aromatic qualities the Blanc Du Bois can achieve.
The Black Spanish was also excellent which is an understatment. It was what I consider one of the best Black Spanish red table wines that I have tasted. Mostly, this grape is used to make Texas Port-style or dessert wines. In these wines, it always seemed to me to have a natural tawny or jammy quality similar to that possessed by the near-esoteric grape called Pinotage mainly made in South Africa. But, this new Torre di Pietra Black Spanish produced by Ken and Don is different….noticeably different! It has a fresh fruit character of black cherries that that Don attributes to what he calls "reductive winemaking" that involves the exclusion of air during the winemaking process. He feels that this is a new way to process the Black Spanish that preserves more of its ripe red fruit qualities.
Ken and Don welcome you to try these new wines at Torre di Pietra made from Texas' own grape varieties. The 2009 Blanc Du Bois and Black Spanish compare admirably to the quality and character of the wine tasting experience that you perhaps have only found with more conventional non-Texas varietals.
More on Black Spanish on VintageTexas: https://vintagetexas.com/?p=323 & https://vintagetexas.com/?p=852
Torre di Pietra
Physical Address: 10915 East Hwy. 290, Fredericksburg, TX 78624
P.O. Box 1727, Fredericksburg, TX 78624
Phone: (830) 644-2829
Fax: (830) 644-2830
E-mail: tdp@beecreek.net
Web site: www.texashillcountrywine.com
Ken and Jenise Maxwell, Owners
Tours, Tastings, Gifts, Live Music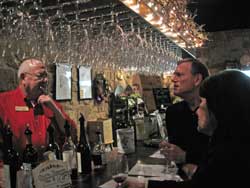 Torre di Pietra quality wines, live music and unique gifts in a romantic setting. Enjoy our patios, vineyard and tasting room. Torre di Pietra is a Texas family tradition of farming and wine making dating back to the late 1800s.