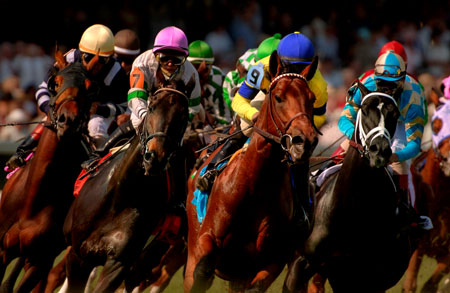 7
Join the Fun at Bending Branch Winery Kentucky Derby Extravaganza
Bob Young, John Rivenburgh and Jennifer Beckmann and the whole crew at Bending Branch Winery invite you to join them and other Texas wine aficionados at their 4th Annual Kentucky Derby Extravaganza on May 3rd. 11 am to 6 pm.  This event has grown in popularity year after year and you will have a ball.
It is big field of twenty-six contenders for this year's Kentucky Derby. Actually, there are too many to follow closely and no bet will be a sure thing. So, rather than losing your money betting on the horses, come on out to Bending Branch Winery in Comfort, Texas. You can celebrate the day of America's favorite horse race sipping some Picpoul Blanc or other fine Bending Branch wines.
Bending Branch has certainly raised eyebrows all around the state with the stunning award to their Estate Tannat wine as the best Texas wine in this year's Houston Livestock Show and Rodeo International Wine Competition.
The Bending Branch Kentucky Derby Extravaganza is free to attend and will feature Traditional Hot Brown Sandwiches, Picpoul Blanc Mint Juleps and Award Winning Wines for purchase.  Live Jazz will be performed from 1-5pm.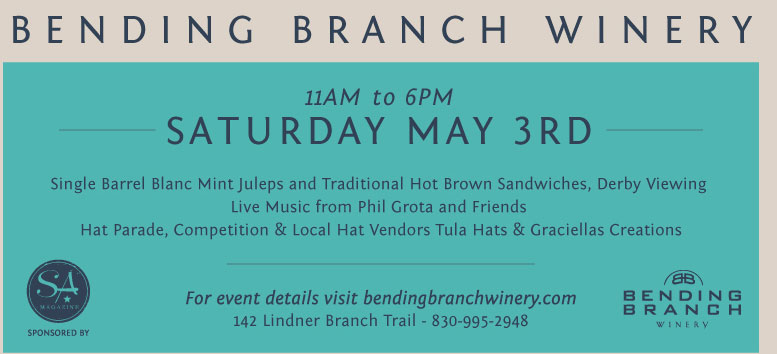 There will also be a horseshoe tournament held through the afternoon. There will also be local milliners featuring their creations for sale, and we will be unveiling limited edition Derby posters signed and numbered by Keely Corona Smith.  Sponsoring the event this year is San Antonio Magazine, who will also be judging the Parade of Hats & Hat Competition!
Bending Branch Winery, 142 Lindner Branch Trail, Comfort, TX 78013 830-995-2948; for directions, click here.