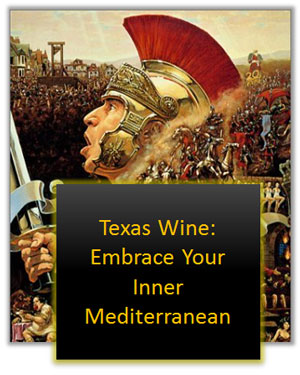 Texas & Beyond: Texas Wines Are Having a Break-Out Year

TXwinelover.com recently tabulated the Texas wine winners from the recently held Texsom – Dallas Morning News International Wine Competition in held in Dallas in January (click here). There were eleven Texas appellation gold medal wines and NOT ONE was made from grapes whose lineage came from Bordeaux or Burgundy. This is a huge statement for two important aspects of wines, wineries and vineyards in Texas. Grapes with Mediterranean heritage are making the best wines in the state. It also shows you can't count our hybrids either, like Blanc Du Bois and Norton.
It's only taken thirty years or so for the Texas wine industry to break their infatuation and misguided dependence on what is known far and wide as "The California Set" (Cabernet Sauvignon, Merlot, Chardonnay and Pinot Noir). These grape varieties are great, I love them, and in some years, they can produce some wonderful wines in Texas. But, they are not what Texas can base a sustainable wine industry. The Texsom Dallas Morning News results are the cap on a stellar year for Texas wines, a year where Texas (the 5th largest wine producing state) has proven to the world, it knows how to make world-class wines and do it in a different manner than states 1st through 4th (California, Washington, New York and Oregon). It's time to embrace your inner Mediterranean. We need more grapes planted precisely from the grapes that produced the winners in this competition: Tannat, Tempranillo, Sangiovese, Grenache, Syrah, Mourvedre, Viognier, Roussanne, Pinot Grigio, Blanc Du Bois and perhaps even Norton (or possible Lenoir).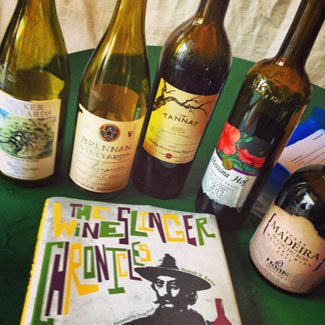 You may also recall, my blog from November 25th that analyzed the early results from the 2014 Houston Livestock Show and Rodeo International Wine Competition: Interesting Insights into Texas Wine from 2014 Houston Rodeo Gold (click here). It said something significant has happened on the subject of Texas wineries and vineyards. What was that, you say? Well, Texas wineries have finally shed most of their inferiority complex about not being in Napa, Bordeaux or Burgundy. Texas wines are increasingly becoming wines of the warm and sunny Mediterranean region albeit they are still 10+ hours apart by a speeding jet.  The recent Rodeo gold medal results confirm that Texas's wines with Mediterranean lineage (such as Tempranillo, Mourvedre, Viognier, Muscat, Roussanne and Sangiovese and blends of these grapes, too) are gaining both national and international accolades.
Since then, in Houston, we've had the Rodeo Uncorked event and the Rodeo wine seminars. At Uncorked, the consumer tasters at the Texas winery tables were standing in long lines to get tastes of Texas wines on their palates just like they did for many of the gold medal winning wines from more commonly accepted locales. This was particularly the case for the Best Texas wine (Bending Branch Vineyards Texas Tannat).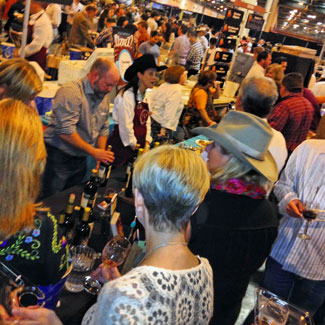 Two weeks ago, I finally came to the conclusion that Texas wines at the Houston Rodeo may have just gone mainstream. I presented two Texas wine seminars at there this year. And behold, they were both sold out; something that I have never seen previously at these seminars. A request for a bigger tent for next year's tastings has already been made and approved.
Also, something new for the Texas wine seminars versus those from years past is that there were  lots of people attending the seminars with Rodeo badges.  These badges had long Rodeo titles on them (like chairman of this, that and another thing or commissioner of something else). You know, I may be talking out of school, but when the Houston Rodeo wine competition started ten years ago, few on the events organizing committees believed wine at a rodeo would be successful or let alone bring in monies for their good charitable and educational endeavors. But now, fast forward ten years, wine (including Texas wine) has entered the upper Houston Rodeo echelons for the magnitude of its fund raising and joy that it brings for celebration. The grand champion wines bring in more dollars at auction than most rodeo livestock and second to the prize-winning cattle.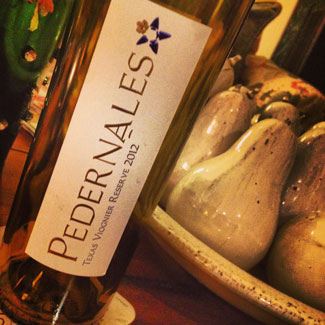 It appears that Houston doesn't have a lock on Texas wine stardom. It was recently announced that the Texas Hill Country  was included in Wine Enthusiast's  2014 list of their recommended international wine travel destinations (click here). Additionally, during the last year Pedernales Reserve Viognier (Gillespie County, TX) and Haak Madeira (Galveston County, TX) brought home double gold and gold medal awards, respectively, from wine competitions in Lyon, France and Vienna, Austria.
Texans it's time to embrace your inner Mediterranean…Pour yourself a glass!
Texsom – Dallas Morning News Gold Medal Winners from Texas: Texsom – DMN 2014 Texas Gold Winners
Mark my words, you will be hearing more about the new look (taste) in Texas wines. Check out the new initiative called "Texas Fine Wine" (click here).