On a visit this past week to the Haak winery,
my wife Delia and I had the occation to tour
their expanding winery and facilities for
concerts, weddings complete with an on-site
kitchen and chef.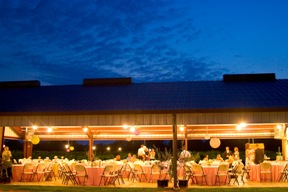 My wife Delia and I tasted a selection of Haak
wines with Raymond and Gladys. See my tasting
notes below:
Haak Dry Blanc Dubois 2007 (Green Label) –
Light, crisp and yet expressive with a bright
citrusy lemon-lime nose that carries on with a
grapefruit and lemon zest flavor.
Haak Malbec 2007 – A deep, dark, fruit forward
wine. It is thick and smooth on the palate
with black berry and ripe cherry flavors
Haak Cabernet Sauvignon (Reddy Vineyard) 2005
This single vineyard designated wine comes
from the Reddy properties in the Texas High
Plains. It starts with a pleasant toasty oak
aroma and brings layers of flavors from
blackberries and plums.
Haak Semi-Sweet Blanc Dubois (Blue Label) – 
It starts with slices melon aromas in the nose and
expands on the palate to sweet tropical fruits,
especially mango with a hint of maraschino cherry.
This wine is a medal winner: Gold 2008 Houston
Livestock Show & Rodeo International Wine
Competition. Ehhhh-Ha!
Haak Blanc Dubois White Port 2006 – This was a
new version of Blanc Dubois to me but had a
truly marvalous complexity on the palate like
few wines I have experienced below. It comes
with a nutty, vanilla bean melange further
offering overtones of green tea and cantalope
on the palate.
Haak Madeira 2003 – Its Raymonds "new baby" and
he has traveled to the Island of Medeira and worked
hard to understand Madeira making and develop
the facilities to properly heat age (105 F) the wine
as they do. The wine has a great aroma of roasted
coffee and nuts followed by flavors of toffee
and plum jam.
After tasting we all had a wonderful dinner in
Dickenson at Gilhooly's. This is a quirky place
that kind of looks like a train wreck under large
spreading trees. The Houston Press described it as
a "ramshackle patio overgrown with vegetation, the
interior is all worn woodwork and old furniture,
and the rafters seem to be held together by the
license plates that cover them"….and that is
pretty well correct!
However, it was a great place to eat. They set out
a spread of roasted oysters, boudin sausage,
fried chicken livers, and potatoes with cheese and
jalapenos peppers (all the basic food groups).
Nothing green to be had in this meal except for
the jalapenos.
Of course, we shared good food, conversation and
opened a bottle of Haak Dry Blanc Dubois and
finished with Raymond's favorite Madeira.