Write-Off the Vine: Texas Wine News – Texas Twitter Taste-Off and More
DrinkLocalWine.com First-ever Conference Sold Out- Follow on Twitter (search #DLW09)
DrinkLocalWine.com focuses on North American wine that isn't made in California and the Pacific Northwest. It will hold its first-ever conference and tasting on Aug. 15 in Dallas and its SOLD OUT! This year's event the GO TEXAN DrinkLocalWine.com Conference will focus on Texas wine and feature some of the state's best wines, top winemakers, and leading growers.
The conference will include three seminars, focusing on trends in Texas wine, the distinctive grapes that Texans are using to make those wines, and how consumers can work to get more regional wines in stores and restaurants. The final event of the day will be a Texas Twitter Tasting, moderated by Russ Kane of VintageTexas (www.vintagetexas.com), where participants will be able to taste some of the state's top wines and blog or Twitter at the same time. Check out the schedule at:
http://www.winecurmudgeon.com/dlwtest/2009-dlw-conference-schedule.html
Can't get in or not in Dallas, do your tasting virtually by monitoring the Twitter feed and blogs from attendees starting Friday evening at the media reception and on the Saturday. They will taste and launch their comments on the event and impressions of the wines. To findout what's hot in Texas wines, follow this feed during or after the event on Twitter by searching on the hashtag #DLW09 at: http://search.twitter.com.
Based on tasting and voting by attendees, the Texas Twitter Taste-Off will award wines in four categories: Red wine – dry, red wine – sweet, White wine (Rose) – dry and White wine (Rose) – sweet.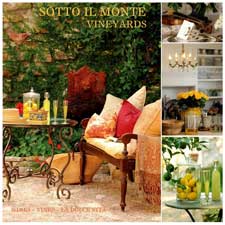 Congratulations to Ryannan Bryer de Hickman – Hill Country Harvest Wine Trail Ticket Winner
You have won the VintageTexas.com contest for 2 Harvest Wine Trail tickets.  Thank you for participating and submitting your story.
Your tickets have been sent by PDF, you will just need to print one.  We thought that Torre di Pietra would be a good winery for you to pick up your books.  That has been noted on your ticket.  If that does not work for you, please let us know which of the following wineries you would like to pick up at:  Driftwood Estate, Becker Vineyard, Flat Creek Estate, Fall Creek, Spicewood or Sister Creek.
Again, congratulations!  If you have any questions please contact me and have a great time on the trail!
 
Ry said, "Thanks again for the tickets – they will motivate us to see some of the wineries we haven't been to." Ry is a blogger and photographer. You can see some of her work on her blog at: http://sottoilmontevineyards.blogspot.com.
More on the Texas Hill Country Harvest Wine Trail at: http://www.texaswinetrail.com/index.html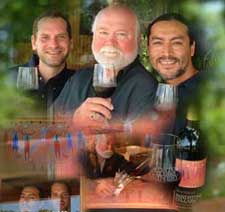 Sandstone Cellars V (Red Blend)
11  Aug 2009 as featured on www.fullpour.com
There's something to be said for a wine that makes itself smelled even from across the table. I poured a glass of this, sat down at the computer, and at no point forgot that it was there: it positively exudes perfume. The color is remarkable: rich and deep, dark red with a slightly watery rim, at first giving the appearance of an older wine but somehow it's all very youthful at the same time.
One smell of this and I'm transported: this does not smell like any wine I've had before. All kinds of random associations come to mind: the crisp, dry, crinkly skin of fresh tomatillos; dusty corridors in government buildings in distant counties, dessicating in the summer heat; the smell of the upstairs closet with Mom's college papers, reel-to-reel tapes and all; a warm summer's night in the house where grew up in the San Joaquin valley, crickets and trains on the night breeze, the warmth never fully gone from the hay bales outside. It's remarkable.
For the whole story, go to: http://fullpour.com/2009/08/sandstone-cellars-v.html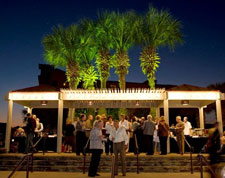 Other Upcoming Texas Wine Events:
Lost Creek Winery and its Tree House Bistro would like to invite everyone to their Annual Grape Stomp
Saturday August 15th and Saturday August 22nd. More at:  http://lostcreekvineyard.com/events.htm
Last Weekend of Messina Hof Winery's Harvest Festival!!! Friday, August 14: Murder Mystery Dinner- 'Horror at Homecoming' at 6:30 pm and Saturday, August 15 & Sunday, August 16: Daytime Harvest
Join us for our final 2009 daytime harvest activities starting at 8:00am both days. After a brief orientation, you pick grapes, break into a Sicilian song with the winemaker himself, Messina Hof's co-founder, Paul Bonarrigo and take in a little grape stomping as you might have seen 'Lucy Ricardo' do. Once your feet are colored purple, "sign" your very own Harvest T-shirt with your feet. Trust us, it's fun at any age!  More at: http://www.messinahof.com/events_calendar.php
Haak Vineyards and Winery – Ongoing—Red wine Special—Cabernet, Syrah & Tres Tintos, mix and match but must purchase a case at $75.00.  We can ship within the state of Texas but at this price, you pay for the shipping. Reminder, our Haak Wine Cruise is January 15-18, 2010.  Call Debbie at 281-990-8362 for details.  It is so much fun! Also, Wine Down Friday, August 14th Friday, August 14, 6:00 until 9:00 "Wine Down Friday" Enjoy our wonderful Tapas meals A la Carte Menu while being entertained by live Music– No Reservations & no cover.  Dinner in the Cellar, August 15th Saturday, August 15—Dinner in the Cellar featuring Texas Artisan Cheeses-Reservations Required $35.00 each, $15.00 for wine pairing to accompany the meal.  Guitarist Guillermo Serpas will entertain. More at: http://www.haakwine.com/
2009 FallFest in the Texas Hill Country. Texas Fall Fest & Texas Wine Auction has a two-fold purpose: to expose the public to the merits and importance of Texas wine and food by spotlighting the best wines, foods, chefs and restaurants in our state and to raise funds for much needed Texas wine research as well as for other worthy healthcare needs. Tastings, dinners and events at multiple Hill Country venues. More information at: http://www.texasfallfest.com/schedule.htm
Today Show: Made in America Wines
By Ray Isle, Wine Editor
Related Categories: News, Champagne, Rose, Wines Under $20, Red Wine, White Wine, Sparkling Wine
I had a good time appearing on Today this morning, recommending wines for their "Made in America" Friday whip segment. (On the whip they run through four or so variations on a topic in a speedy way.) In this case "made in America" meant not made in California—which was a great chance to highlight some of the other great wine regions in the country. I brought along:
• The NV Domaine Ste. Michelle Blanc de Blancs ($12), a nice, creamy and fairly full-bodied sparkler from Washington State
• The 2008 A to Z Wineworks Rosé ($12), a fragrant dry rosé from Oregon made with (oddly enough) Sangiovese grapes
• A terrific, crisp, Kabinett-style Riesling from the Finger Lakes, the 2007 Hermann J. Wiemer Vineyard Dry Riesling ($17), which will also age beautifully if given the chance
• And one of my favorite Texas wines, the 2006 Flat Creek Estate SuperTexan ($19), a juicy, robust Sangiovese blend that I first ran into while touring around the Hill Country with my father, doing some barbecue research.
Plus, I got to see Al Roker sing part of "Don't Cry for Me, Argentina" from on top of a crane, which was definitely the sort of experience you don't get every day.
From Food & Wine – Tasting Room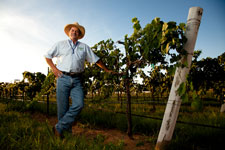 Greg Bruni – A Portrait of a Texas Winemaker
A Little More Wine With Your Blog!
08.12.09 – 09:13pm: http://www.jerodfoster.com/?p=261
I love West Texas wine! I had a conversation the other day with a gentleman about a friend of his that was a supposed "wine snob." You know, one of those folks that will only drink $60+ bottles of imported wines, letting only the "finest" wines indulge his palette. Anyways, said gentleman sent his snobbish friend a bottle of West Texas wine (variety and winery not discussed), and while it was a fine gift, the friend did not have positive reaction…at first. After a while, the friend gave in, drank a glass, and voila, decided that West Texas wine wasn't so bad, not bad at all, well, some really dang good wine!
I mentioned in a previous post about an article I am working on for a regional magazine about the West Texas wine industry. I wanted to share another portrait from the experience. Greg Bruni, pictured above, is one of the wine makers and owners of Llano Estacado Winery in Lubbock, Texas. Bruni grew up in a California wine family, and his knowledge and techniques as a wine maker has helped shape West Texas wine.
More at: http://www.jerodfoster.com/?p=261