Guest Blog: A Case for Making the Hamburger the Official Texas State Sandwich…Now What Wine?

To the House Culture, Recreation, & Tourism Committee (Rep. Guillen is Chair; Rep. Elkins is Vice Chair):
Good day, Chairman Guillen, Vice Chair Elkins, and House Committee on Culture, Recreation, & Tourism Members – Deshotel, Dukes, King, Kuempel, Larson, Price and Smith
I am writing to encourage you to pass HCR20, naming the hamburger as the official "State Sandwich of Texas", rather than BBQ in any form (as a sandwich), NOT to diminish Texas BBQ, by any means – I would sooner give up my Texas residency than to suggest such – but simply to pay appropriate tribute to a sandwich whose uniquely Texas origin your body has already recognized, an action and endorsement of which I am certain you are aware.
Please consider the following:
1) True lovers of Texas BBQ, in all its forms, do not typically mask its greatness between two slices of bread, no matter how good the bread… A hamburger is served that way by definition…
2) Compared to BBQ (or any other component), and by any measure – hourly, daily, annually – in Texas, an infinitely greater number of hamburgers are prepared and served… I am certain that the Texas Restaurant Association can provide you figures to support the fact that the total number of hamburger joints (of all ilk) eclipse the number of BBQ ones in Texas…
3) Naming the hamburger the official "State Sandwich of Texas" would further strengthen (Athens) Texas' claim to the title, "Original Home of the Hamburger" and recognize Friona as the official "Cheeseburger Capital of Texas."
and finally, to restate #1) above,
4) Texas BBQ simply does not deserve, nor does it require being "sandwiched", and I would stake my title as "Hambassador" on hearing that sentiment echoed from the lips of countless fans of Texas BBQ – your constituents, et al – most of whom, save a curmudgeon or two, would salute your decision to name a sandwich, a sandwich – officially…
Thank you for your kind consideration of my request, respectfully tendered,
Rick Vanderpool
— — — — —
VintageTexas: I ask you, the readers of the VintageTexas blog, to come up with worthy candidates for Rick's consideration for the [drum roll] OFFICIAL TEXAS WINE of the Texas hamburger.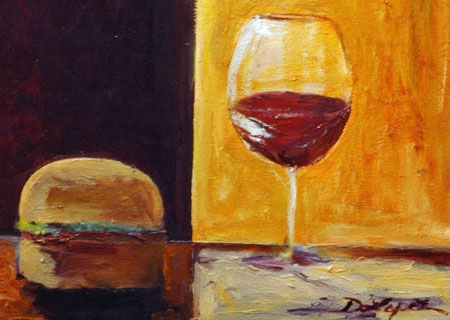 — — — — —
If you agree with Rick's vision of hamburger recognition, please forward your comments to the House Culture, Recreation, & Tourism Committee (Rep. Guillen is Chair; Rep. Elkins is Vice Chair):
ryan.guillen@house.state.tx.us, gary.elkins@house.state.tx.us, joe.deshotel@house.state.tx.us, dawnna.dukes@house.state.tx.us, tracy.king@house.state.tx.us, john.kuempel@house.state.tx.us, lyle.larson@house.state.tx.us, four.price@house.state.tx.us, todd.smith@house.state.tx.us