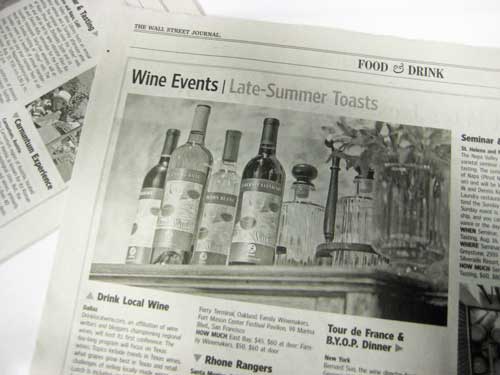 Let the Tasting Begin at the Drink Local Wine Conference and Twitter Taste Off  (#DLW09)
Well, this first of its kind event made the Wall Street Journal.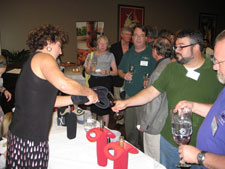 Today was the kick-off of the Drink Local Wine Conference and Texas Twitter Taste-Off. We opened with a gathering of invited wine media from around the country and Texas winemakers and grape growers at the Le Cordon Bleu Culinary Institute in Dallas, Texas. The reception and winemaker dinner presented a cadre of the best Texas wines pair with fine haute French cuisine. But, upon entry we participated in a good old Texas Two Sip. Four pairings of two wines each were presented and tasted blind: Viognier, Blanc du Bois vs. Sauvignon Blanc, Tempranillo and Orange Muscat. The question was: Can you pick the Texas wine in each two wine pairing?
I took the challenge and having the advantage of having tasted more Texas wines than most people, I only got a 50 percent successful score. I was able to pick the Texas Blanc du Bois and the Orange Muscat. The Viognier and Tempranillo actually stumped me. Texas' own Grape Creek Viognier was paired versus Arrowood. But, the most surprising of all was the dueling Tempranillos – Texas' Inwood Estate versus Pesquera Tino Tibera del Duero. Both were big red wines with fruit and oak battling it out on my palate. I'll be my money that Tempranillo will be a "keeper" for Texas, especially as the vines gain age.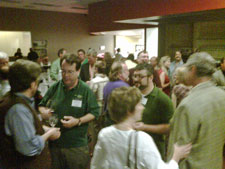 Dinner followed with a complete line of eight Texas wines starting with Pan Seared Scallops with Brennan Vineyards Viognier (in my opinion one of the best Texas wines hands down) and the new up and coming Texas white blend (Viviana) from Llano Estacado. Just to show you how "out of the box" Texas wines are, name me another wine other than Viviana that has Gewürztraminer has its main blending grape. This was the starting line-up and in my opinion also the best pairing. Other wines presented were McPherson Cellars Rosé of Grenache and Syrah, and their red Grenache and Mourvedre blend with a breast of chicken, and Flat Creek Estate SuperTexan and Brennan Vineyards Syrah with the flatiron steak. The finish was the chocolate dessert with Flat Creek Estate Muscato and Llano Estacado Cellar Select Port (made with a blend of Cabernet, Syrah and Mourvedre).
Best of all, I got to share the dinner table with Neal and Janice Newsom, long time Texas grape growers from the Texas High Plains. Wonderful people that truly show the dedication to making Texas a premium growing region. The Newsom vineyard is located on its Tierra Roja  composed of red sandy loam over caliche limestone remarkably similar to the Terra Rossa of the Australian Coonawarra region know for its big red wines. It is no wonder that Neal's Cabernet and Tempranillo grapes make strong and long lasting Texas red wines.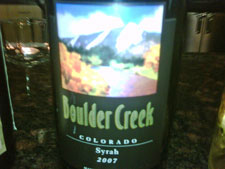 If you have been monitoring the Twitter feed from the event so far (search Twitter using the hashtag DLW09) you saw the wonderful comments about the food and Texas wines and about the interesting wines bootlegged from Colorado, Virgina, Missouri and Oklahoma. I particularly liked the  Bolder Creek Syrah from Colorado. It was a very well made wine with intense fruit and a aromatic smokey component like a fine cigar.
My favorite Twitter comment by far on the evening's activities by one of the attendees is "All I can say is: HOLY SHIT! They can make wine in Texas!"
After that, what else can I say, but a great evening and a good time was had by all.
Stay tuned to your Twitter feed for tomorrow's Texas Twitter Taste-Off at 2:30 to 4:30 pm Saturday. Attendees will be blogging, Twittering, sending TwitPics and maybe even video feeds. On Twitter, search Hashtag "DLW09" at www.search.twitter.com. They will pick the best wines from a tasting list of 45 wines from 23 Texas wineries and award wines in four categories: Red wine – dry, red wine – sweet, white wine or rosé – dry and white wine or rosé – sweet.
More blog posts on the event:
GO TEXAN DrinkLocalWine.com Texas Twitter Taste-Off Winners
https://vintagetexas.com/?p=1076
Texas Twitter Taste-Off: Taste, Tweet, Repeat – 200,000 times!
https://vintagetexas.com/?p=1083
Ten Things We Learned at #DLW09 Conference & Taste-Off and #Texsom – https://vintagetexas.com/?p=1094