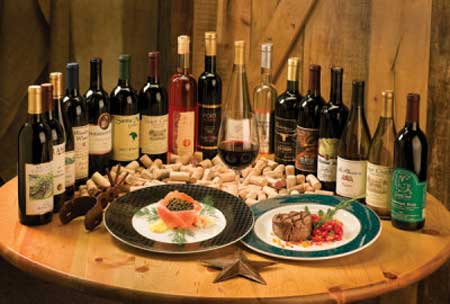 Write Off the Vine: Texas Wine News – July 2, 2009
Texas wine country a rising lone star: The Lone Star State is crushing grapes in emergent wine country
by Josh Noel | Chicago Tribune Staff Writer
NEW BRAUNFELS, Texas — At Dry Comal Creek Vineyards and Winery, in this state's lovely and looping Hill Country, there's a recommendation for how to try the 2008 Sauvignon Blanc. Take a small sip and swallow. Then scoop some habanero jelly onto a cheap cracker, chew, sip the rest of the wine and swallow the whole mess.
Sure enough, it is delicious — sweet, spicy and salty, finished with a bright, dry alcoholic flourish. But wouldn't that make the French wince?
"Yeah, they wouldn't like it one bit," said David King, 50, the bushy-haired redhead pouring samples in Dry Comal's quaint, low-ceilinged tasting room. "But it's a flavor combination we discovered a long time ago. Quite tasty."
They do things their own way at Hill Country wineries, and it is a distinctly Texas kind of way. Pride and craft are obvious in most bottles. With few exceptions, the wines I sampled at half a dozen tasting rooms were memorable for one good reason or another. But Hill Country wineries remain rooted in a laid-back Texas casualness.
More at: http://www.chicagotribune.com/travel/features/travelnews/sns-trvmain3-wk4,0,2731115.story
A Little "Cheese" With Texas Wine
By Lisa Petty in Conspicuous Consumption
Wednesday, Jul. 1 2009 @ 10:34AM
Last Wednesday, the folks at the Texas Department of Agriculture (an organization that definitely deserves a cooler name) took over Pappas Bros. Steakhouse for a big ol' photo shoot to promote the Go Texan Restaurant Program. Showcasing restaurants serving Texas wine, produce, shrimp and other Lone Star products, the program also hosts an annual Restaurant Round-Up to raise money for food banks across the state.
This year's round-up is coming up in September, and in honor of the occasion Pappas Bros. own Barbara Werley and Kim Wood spiffed up for a little time in the spotlight.
We arrived on the scene at 11:00. Pappas Bros. was teeming with photographers, TDA folks, restaurant staffers and annoying reporters (well, maybe just one annoying reporter). Right off the bat, we took a moment to pester–um, chat with–acclaimed Master Sommelier Barbara Werley.
More at: http://blogs.dallasobserver.com/cityofate/2009/07/a_little_cheese_with_texas_win.php
5th Annual Texas Fall Fest & Wine Auction October 2-4 Horsehoe Bay,TX
 
Friday, October 2nd – "Sunset Stroll" with Texas Winemakers pouring 6:30pm – 9:00pm cellar selections and Hill Country Chefs serving $40/persom sensational fare for guests' pleasure at the beautiful Spicewood Vineyards new Spicewood Vineyards Event Center Sip, savor and dance the night away to the music of John Arthur Martinez. "Chefs Taste-Off" will be judged by Pat Sharpe, Wes Marshall and Denman Moody.
Saturday, October 3rd – "Cellaring the Best" Dinner and Wine Auction 6:30pm– 10:30pm Featuring III Forks Executive Chef Jaimie Gutierrez $95/person and his sizzling steaks, served right off the grill. Quail Point, HSB Enter the wine cellar loaded with rare and large format bottles and other collectibles in the silent auction, while guests enjoy the culinary talents of Chef Robbin Murphy, Horseshoe Bay Resort Marriott. "Surprise Entertainment" will keep guests energized throughout this delectable dinner with live auction evening at "Quail Point Members Club" on Lake LBJ.
Sunday, October 4th – "Farm-to-Table & Wine Fair" featuring the "Chefs 12noon – 4:00pm Challenge Beef Cookoff" $20/person Plan to be entertained by the lively bantor of Tiffany Fall Creek Vineyards Collins/Texas Beef Council and "Miss Jane" Texas Culinary Academy as guests taste-judge the chef's grilled beef selections on the at "Fare Grounds" of Fall Creek Vineyards at Tow, Texas on Lake Buchanan.Winemakers will be pouring tastes and selling their wines, alongside booths laden with "tastes of Texas" artisanal cheeses, olive oils, breads, condiments, and all things Texas will be available for your tasting pleasure and purchase. A cooking Demonstration along with "Lunch and Learn" and "Wine and Food Pairing" classes will be available by a $5/person reservation.
Watch for more information at: www.texasfallfest.com
Hitting the Marc
by Byron Browne on TexasEscapes.com
The wine industry in Texas is blooming. The Texas Agriculture Department lists almost 120 wineries in the state and reports that as of 2007, Texas is this country's 5th largest producer of grapes and wine. For anyone who has traveled to west Texas or the Hill Country during the past several years they have undoubtedly noticed the many rectangular, maroon Winery signs along the highways, a number that appears to increase with each new season.
The viticulture industry in Texas is certainly growing to Texas-sized standards. For example, the Ste. Genevieve winery, near Ft. Stockton, Texas, the state's largest producer of wine, exports an average of 1.6 million gallons of wine annually. Even by Texas standards the figure is staggering. When considering the size and production of all of the other wineries around the state, operations as prolific and fecund as Pheasant Ridge, Llano Estacado, Becker Vineyards to name only a few, it should be clear that we are witnessing the rapid growth of a unique industry. Where once cotton, soybeans, onions and melons dominated the fields of west Texas, now thousands of acres of grapevines hang lazing in the afternoon's sun and snoozing in the cool, dry desert evenings.  
More at: http://www.texasescapes.com/Byron-Browne/Hitting-the-Marc.htm
Vin de Napkin – Dubious Research Edition: More doodlings on the back of a wine stained napkin …
From GoodGrape.com, A Wine Blog Manifesto
I don't mean to pick on university professors or researchers, but I can't help but notice that the preponderance of research that comes out, specifically wine-related research from universities, is usually pretty lame. 
Yeah, I get the "publish or perish" notion, but is our academia sector now reduced to studying whether its more important for a winery to build a brand or to focus on high-quality? I suppose these two things can be mutually exclusive of each other, but on the branding front, didn't Proctor & Gamble figure out this brand marketing thing 60 years ago?
The world is littered with "better" products that weren't marketed well …  you have to be a savvy marketer to survive these days … in wine or any consumer product category.
Excerpt from a Lubbock Online regarding a Texas Tech wine marketing study:
"High brand awareness is more likely to lead to brand survival than high perception of wine quality, according to the study. It tracked the fates of 25 Texas wineries since 1991, when more than 900 Texas wine enthusiasts rated the
quality and name recognition of the wineries' products.
Researchers found an unmistakable trend: the more recognizable the brand, the better its rate of survival. They found no such link between quality ratings, so wine makers may be better off investing in marketing rather than expensive grapes, the study indicates."
More and comments at: http://goodgrape.com/index.php/articles/comments/vin_de_napkin_-_dubious_research_edition/
TEXAS HILL COUNTRY WINERIES HARVEST TRAIL
August 14-16 and 21-23, 2009
Austin, TX- The verve of the wine industry in The Texas Hill Country begins each year in August with the birth of the next vintage.  We invite you to savor the sight, sound, smell and taste of Harvest with the Texas Hill Country Wineries.  Make your plans to join us for the 2009 Harvest Wine Trail, August 14-16 and 21-23, and enjoy a wealth of opportunities to immerse yourself in the experience and lifestyle of harvest. 
This year ticket holders will be able to add to their wine experience by collecting wine labels and taking notes on their favorable wines from each participating winery in a wine notes and label book.  Harvest Wine Trail is the launch of the NEW Wine Trail Promotions.  During the trails each winery will offer a hand-picked selection carefully chosen for the season at a 15% discount to Wine Trail ticket holders only.  Ticket prices are $35.00 per person and good for Fri-Sun of both weekends.
Harvest is the season when wineries bring to the forefront those rarely seen vineyard and crush activities for wine enthusiasts to appreciate.  Ticket holders traverse the twenty-four participating wineries sprinkled throughout the Hill Country debuting exciting new wines, watching and learning vineyard practices in motion, taking part in wine seminars or jumping feet first into numerous grape stomps.  The wine trail weekends are yours to plan…no need to start at 6am with the harvest however!
Enjoy the festivities, taste your favorites, enjoy exclusive discounts and take home the memories of the 2009 harvest in the Texas Hill Country. 
For additional information on the Harvest Wine Trail or to purchase tickets, please visit www.TexasWineTrail.com.
::::::::::::::::::::::::::::::::::::::::::::::::::
Follow activities on the Hill Country and other Texas wine trails around the state using the following links:
Texas Hill Country Wineries: www.texaswinetrail.com
Grapevine Wine Trail: www.grapevinewinetrail.com
Way Out Wineries Trail: www.wayoutwineries.org
Bluebonnet Wine Trail: www.texasbluebonnetwinetrail.com
Dallas Wine Trail: www.dallaswinetrail.com
Crosstimbers Wine Trail: www.crosstimberswinetrail.com
Fredericksburg Wine Road 290:  http://www.WineRoad290.com
Munson Wine Trail: www.munsonwinetrail.com
Enjoy,
Russ Kane
Texas WineSlinger at VintageTexas.com
https://vintagetexas.com/?page_id=799