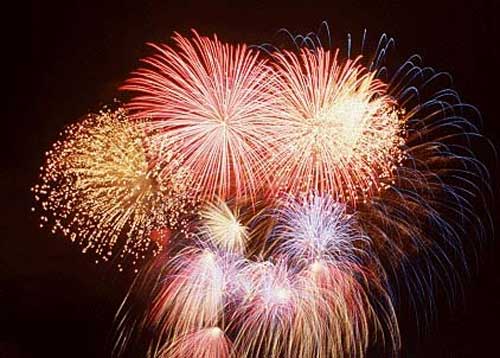 What Wine Goes with the Fourth of July?
On Saturday morning while watching our Fourth of July parade in Fredericksburg, Texas, I was wondering what wine would be appropriate for our national birthday party. In this day of modern electronic communications, what better consultant to have than www.Google.com.  Just like that, I had the obvious selection…Madeira!
One website, intowine.com (http://www.intowine.com/4th-july-wine-whats-ideal-wine-celebrate-independence-day) gave the simple justification featured below:
"There is one wine that surely must be the choice for the fourth of July – Madeira. Madeira is the wine that was used by the Founding Fathers to Toast the Declaration of Independence. Betsy Ross had a side table with a glass on it when she was sewing the flag. It was used to Toast the Constitution and George Washington drank a pint of Madeira every day for dinner."
Face it, back in the revolutionary days, there was (to paraphase Jerry Lee Lewis) a whole of a Maderia going on! A pint a day of foritified wine…..Go George. WOW!
Intowine.com continued by saying, "It is also very convenient because Madeira cannot be harmed by the hot sun and the July heat. I vote that Madeira be adopted as the OFFICIAL July 4th beverage. By the way, it is very important to drink TRUE Madeira from the island of Madeira and not confuse it with wines that are made in America for cooking. True Madeira is heated to simulate the voyage between Europe and America when the wine was used as ballast in the boat holds, where they discovered that the intense heat improved the wine."
Don't Miss Haak Vineyards Madeira
If you are interested in tasting some fine Madeira-style wines made in the same traditional Estuffa oven method of the island of Madeira while keeping your hard earned dollars in the two hundred plus year old "US of A", I suggest another option. Aim your taste buds at Haak Vineyard and Winery (www.haakwine.com) in Santa Fe (Galveston County), Texas. In fact, there are two options: Haak Jacquez Madeira (made from the red Black Spanish grape) and Haak Blanc du Bois Madeira (made from white grape of the same name).
Raymond Haak has garnered a long list of awards for his Madeiras (Best of Division – Dessert Wine; Best of Class, Gold Medal, Blanc du Bois Texas 2006 and Silver Medal, Jacquez Texas 2004 in the recent Los Angeles International Wine & Spirits Competition). This follows medals in the National Women's Wine Competition, Finger Lakes International Wine Competition and the San Diego International Wine Competition, and best of all a 2009 Texas Grand Star award for his Madeira Blanc du Bois at the Lone Star International Wine Competition.
:::::::::::::::::::::::::::::::::::::::::::::::::::
Fourth of July Well Spent
I started the day at the cottage on my personal piece of Texas near Fredericksburg. My wife, patriotic dog Rubio and I traveled into town to watch the Fourth of July parade. It was a quaint bit of Texas small town charm with its share of WWII Pacific theater war equipment, old tractors and cars, propeller aircraft flyovers and civic pride. It also included a stagecoach inspired float sponsored by nearby Chisholm Trail Winery (www.chisholmtrailwinery.com) festooned with a cadre of cowboys and saloon girls toasting the onlooking crowd. I knew if I looked hard enough, I would find the proper place for wine in the Texas history. In fact, I have found that by the late 1800's, the saloons in San Antonio were known to buy all the wine they could get from the winemaker farmers in the surrounding area.
Being in the Hill Country and not having planned ahead to get some Haak Madeira in time for my Texas Hill Country Fourth of July weekend, Houston-based friend and associate Mark Yunovich and I shot around the Texas Hill Country byways in his sleek 'n speedy yellow Porsche visiting some of the Texas wineries in the Fredericksburg area.
Our first stop was the winery at Singing Water Vineyards (www.singingwatervineyards.com). This family run winery and estate vineyard is located near Comfort, Texas. Owners, Dick & Julie Holmberg, fell in love with the Texas Hill Country, inspired by their love of wine and travels to major wine regions. They later found this property and their first Merlot vineyard was planted. This was my second stop at Singing Water following my initial greeting during the 2008 Hill Country Holiday Wine Trail. They are still making appealing wines and have just added a Pinot Grigio to their portfolio that includes a citrus crisp Sauvignon Blanc, Merlot, a multifaceted Texas Cabernet-Merlot red blend, and a semi-sweet and refreshing red called "Sweet Lupy". Mark and I took a personal tour and tasting with Dick that included a prolonged and pleasant stop in the coolness of his barrel room that soothed our sun drenched souls.
The Yellow Blur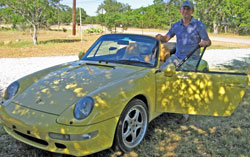 From there, we made like a yellow blur north around Fredericksburg proper onto Route 290 to our next stop, Grape Creek Vineyards (www.grapecreek.com), a bit of Tuscany in Texas. Owner, Brian Heath acquired the winery from the estate of Texas winery old timer, Ned Simes and has nicely enhanced it with an Italian flair.  Mark and I dove right into their premium Black Label wines for tastings of their Bellissimo (Red Super Tuscan blend), Cabernet-Syrah blend and Texas Port. These quality wines left us with smiles on our faces discussing the fruit and non-fruit essences of Grape Creek's old-world style (quite appropriate for two guys tooling around in one of the old world's better Bavarian machines). The style included what we agreed was a touch of "rural earth" that wine aficionados often like to associated in a pleasant way with the not so pleasant sounding bit of winespeak – "barnyard". It is obvious why Grape Creek has brought home over 32 medals over the last two years from competitions from San Antonio to San Francisco. Most recently, they won a Grand Star award in the 2009 Lone Star International Wine Competition for their 2008 Viognier, a white wine that will be soon released in the winery's tasting room.
Following our Grape Creek wine tasting, we made a slick move in the yellow sports car, something that in the past you could only do in places like Napa Valley, California. That is, wheeling out of one winery and within 100 yards, pull back into another winery. In this case, the winery was Torre di Pietra  (www.texashillcountrywine.com)  where we were greeted by winery owner, Ken Maxwell and his wife. Ken is always one to try something new and this time was no exception. Two wines that Mark and I keyed on were his new Black Spanish red table wine made from grapes taken from the hearty grape vines grown right outside the winery and another red wine called Mataro. The second wine was very appropriately named since it is made from Mourvedre grapes, whose name in Spain is Mataro.
Visting a New Friend
On the way back to my Hill Country cottage, we made one last stop to visit a new face on the Route 290 Wine Trail, Roberto Ponte at this nearby Rancho Ponte Vineyards (www.ranchoponte.com). Roberto came to Texas after years working at a large corporate winery in the Temecula region of California with the hopes of his own personal winery, starting small and working up from there.  He has made a clean-cut start with his new Texas winery. During our friendly conversation, Roberto poured several of his wines that included a selection of white and red, dry and sweet wines and showed that he could cover all wine tastes from his Rancho Ponte tasting room. Of particular interest were his Pinot Grigio, semi-sweet Riesling, Tempranillo and and interest red blend called "Triple M Blend" made with two red varietals plus an infusion of Muscat Canelli, an aromatic white grape from Italy.

This short trek left me with one observation that should be noted here. Visitors to Texas wineries need to stop and savor the moment. There are not too many places in the developed wine world where you can stop at four wineries unannounced and be greeted by three winery owners in their tasting rooms. In most places, you are relegated to being greeting and engaged in tasting with the tasting room staff. In Texas, there are many new wineries started by people that are actively connected with the day-to-day operation of the winery. We affectionately call them "Ma and Pop" operations. Some of these upstarts are starting to make excellent wines and love to talk with you about them. So, please stop and savor this moment as it offers an opportunity to get to know on a personal basis the movers and shakers in the Texas wine experience.
::::::::::::::::::::::::::::::::::::::::::::::::::
A Final Note – Texas Wine Trails
I like to keep up with the growing list of wine trails throughout Texas as they are a convenient way for travelers to find opportunely located wineries during their tour around Texas. A new trail to add to the list is the Guadalupe Valley Wine Trail that just organized and includes Singing Water Winery, Comfort Cellars and Sister Creek Vineyards and associated shops, B&Bs and restaurants at: www.guadalupevalleywinetrail.com. It will undoubtedly grow as more wineries open their doors in this area of the Texas Hill Country.
 
Follow activities on this and the following Texas wine trails using the following links:
Texas Hill Country Wineries: www.texaswinetrail.com
Grapevine Wine Trail: www.grapevinewinetrail.com
Way Out Wineries Trail: www.wayoutwineries.org
Bluebonnet Wine Trail: www.texasbluebonnetwinetrail.com
Dallas Wine Trail: www.dallaswinetrail.com
Crosstimbers Wine Trail: www.crosstimberswinetrail.com
Fredericksburg Wine Road 290:  http://www.WineRoad290.com
Munson Wine Trail: www.munsonwinetrail.com
If you are aware of any other wine trails in Texas not mentioned here, please drop me an email at: russ@vintagetexas.com.