Anemone's Knees & the Yelp of the Kelp – A Wine from Texas
On a stop after the Wine Bloggers Conference, we got some R&R in Half Moon Bay on the Pacific coast just south of San Francisco. This is small coastal area with surf, fog, and tide pools. We spent the day yesterday walking the beach, viewing the anemones, star fish and yards of seaweed and kelp and decorate the beach. Interestingly, we also found that Half Moon Bay was offered wine from Texas. Yes….a wine from Texas!
We stayed at the Landis Shores Inn. It is owned by Ken and Ellen Landis and was recently named one of the top 15 Inns for Wine Connoisseurs in North America. Ken is Chef and Ellen is the Sommelier and they offer an extensive wine list. Both are wine judges and Ellen has received her first level Sommelier certification proudly displayed in the lobby of the inn. http://www.bbonline.com/ca/landis/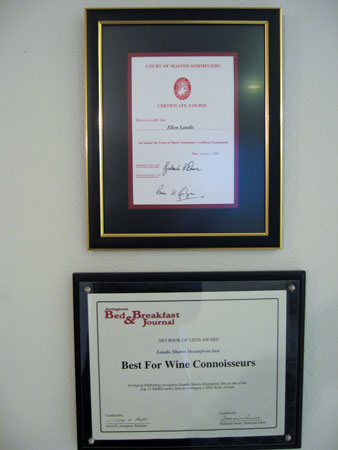 While sampling some wine and cheese at the inn during the late afternoon, I noticed an interesting selection offered for tasting – Lorval Merlot. I instantly recognized the brand and from the back label confirmed that it was a wine bottled in Fort Stockton, Texas. This is the location of the Texas-based Ste. Genevieve Winery. But, the label also indicated that the wine was from Languedoc Roussillon, the vast wine growing region (like Texas) of Southwestern France.
Lorval offer a value wines that, while having a low price point, are generally good sipping wines. Loval is a true "global product". I have previously tasted a Chardonnay under the Lorval label originating from Australia, but similar to the Merlot was bottled in Ste. Genevieve's Fort Stockton winery. In both cases, the wines were likely transported in bulk in refrigerated containers that came from distant shores and bottled in Fort Stockton.
Ste. Genevieve got its start in 1986 when more than 1,000 acres of wine grapes were planted near Fort Stockton planted when the University of Texas entered into an agreement with a Texas-French consortium (Cordier Estates) to produce Ste. Genevieve wines. Today, Ste. Genevieve Winery is the largest wine producer in the State of Texas. Presently, the vineyard is known as Mesa Vineyards and is located 25 miles east of Fort Stockton. It is the producer for Ste. Genevieve, Peregrine Hill and other Texas brands. Their grapes can also used to fortify other brands such as Lorval.
For more info on Ste. Genevieve Winery, go to:
http://tourtexas.com/fortstockton/ftstockwines.cfm 
This experience proves that a "Wine from Texas" may be different than a "Texas Wine", but enjoy and savor.
Cheers,
Russ Kane – www.vintagetexas.com/blog