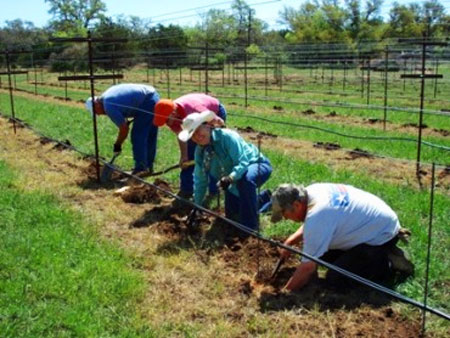 Want to Learn How to Grow Grapes and Manage a Vineyard?
The Texas Viticulture Certificate Program, produced by Texas Tech University, is pleased to announce that applications are being accepted for the fifth cohort of students to begin the viticulture program this fall. Many of our graduates have gone on to start their own vineyards and wineries, or have secured employment in the Texas wine industry. See the program webpage link below for a few examples of what our graduates are doing, and for complete details about the Viticulture Certificate Program. The application form can be downloaded from the webpage:
Texas Viticulture Certificate Program: http://winegrapes.ttu.edu/viticulturecertificate.html
Consider enrolling in this highly successful educational program or pass along the information to your employees or others you think might be interested in this opportunity. This applications period runs from June 1 through July 31, 2014. The program is produced by the Department of Plant & Soil Sciences at Texas Tech University and is headquartered at the Hill Country University Center in Fredericksburg, Texas. Class size is limited so act soon to enroll.
According to Marilyn Fovel from Fovel Family Vineyards (Fredericksburg, TX), "My son will join me in the vineyard in a few years.  We both are firm believers in the wine industry potential in Fredericksburg.  The Texas Tech Certificate Program is a solid base for moving forward." Her son Craig was in the 2013 cohort of Viticulture Certificate students.
The Viticulture Certificate Program is designed for wine industry entrepreneurs and prospective vineyard managers seeking comprehensive knowledge of viticultural principles and commercial grape production practices. The program is headquartered at the Hill Country University Center in Fredericksburg, Texas. It is conveniently delivered through a combination of online courses and hands-on training in our own teaching vineyard.
John Rivenburgh said, " For me, the most valuable part of the program was the baseline in viticultural practices, especially vine biology and physiology, that it gave me. It was a foundation that I used to move forward in handling the challenges of growing grapes in the Texas climate. It's also a program that some winemakers need to consider taking, as well. It will help them communicate better with their growers to increase wine quality."
Mike Batek from Hye Meadow Winery said, "Foremost in the program is the contacts you make.  I met people like John Rivenburgh from Bending Branch Winery in class and countless others in the program that welcomed me into the community.  From that forum, I have made friendships and learned much on what not to do when starting a vineyard.  For starting out, avoiding the inherent pitfalls of a rookie grower is priceless!"
Program graduates include this list of people making inroads into Texas viticulture:
Don Strickler, Owner: Round Mountain Vineyard, Round Mountain, TX
Todd Webster, Winemaker: Brennan Vineyards, Comanche, TX
Chris Lloyd, Owner: True Vine Vineyard and Farm, Tyler, TX
Galin Morgan, Owner: Saddlehorn Winery, Burton, TX
Susan Ramp, Owner: Eperon Vineyard, Canadian, TX
John Rivenburgh, Owner: Bending Branch Winery, Comfort, TX
Mike Batek, Owner: Hye Meadow Winery, Hye, TX
Patrick Gibson, Owner: Grohmann Farms Vineyard, Weimar, TX
Sheryl Montgomery, Vineyard Consultant and Manager, East TX
Bill Day, Owner: Bueno Suerte Vineyard, Meadow, TX
Paul Fovel, Owner: Fovel Family Vineyard, Fredericksburg, TX
Joshua Fritsche, Cellarmaster: William Chris Vineyards, Hye, TX
Diane Maycotte, Winemaker: Dos Buhos Winery/Rancho Santa Gloria, San Miguel de Allende, Mexico
Bruce Brundrett, Owner: Brundrett Estate Vineyard, San Angelo, TX
Lynne Majek, Owner: Majek Vineyard and Winery, Moravia, TX