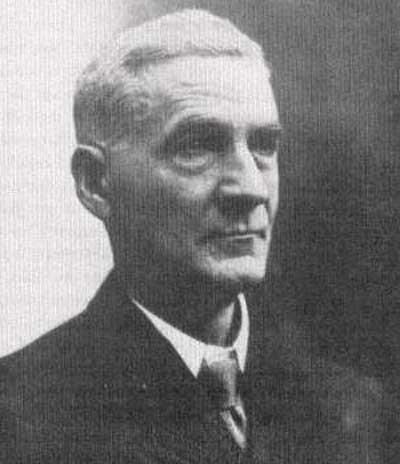 Europe Acknowledges Texan and his Contributions to the World-Wide Wine Industry
Texas Historian Wins the International Gourmand Award's Best Wine History Book for his Biography of "Grape Man" T.V. Munson
In Frankfurt, Germany, on October 23, 2008, more than 120 years after saving the European wine industry from its last great phylloxera plague, Texas horticulturalist and grape grower T.V. Munson (and Texas ingenuity) is again getting laureled by Europeans. In a fashion.
Munson's biographer, scholar of Texas viticultural history Dr. Roy E. Renfro, Jr. and co-author Sherrie S. McLeRoy won the international Gourmand Award's Best Wine History book for their Grape Man of Texas: Thomas Volney Munson & the Origins of American Viticulture, published by the Wine Appreciation Guild.
In his acceptance speech, Dr. Renfro underscored the effect of Munson's influence on post-phylloxera vintages, and implied that there's a bit of the Lone Star State woven into fine European wines: "The next time you enjoy a glass of fine wine from France, Germany, Italy, or South Africa, you should give thanks to Thomas Volney Munson of Texas for providing the solution to their phylloxera epidemic – Grafting their Vitis vinifera wine grape varieties to native grapevine rootstocks from Texas that were resistant to phylloxera."
The Gourmand Committee selection has a much broader context than the recognition of Dr. Renfro's book. It sends a message that the legacy, historical importance and quality of Texas viticulture have worldwide significance. That's advocacy that couldn't have come at a better time for a state and industry lobbying heavily for programs to help close the vast gap between Texas wine consumption and Texas grape production. (Fifty percent of Texas wine is made from out-of-state fruit.)
Grape Man of Texas is the first biography of eminent horticulturist Thomas Volney Munson (1843-1913) who developed over 300 new varieties of grapes, some of which are still grown today on almost every continent. He is perhaps best known for his work in fighting the phylloxera epidemic of the late nineteenth century, which nearly destroyed the world's vineyards.
This second edition introduces new insights into the phylloxera period, Munson's many papers and publications, and his far-sighted grasp of the needs of twentieth century agriculture and transportation. It details the continuing influence of both his research and his hybrid grapes on modern viticulture and new varieties of Vitis that have been bred from them around the world.
Wine and food literature's Nobel prize, Gourmand World Book Awards is administered by the Gourmand Foundation of Madrid, Spain and Stockholm, Sweden. The annual event awards books in virtually every wine and food sub-genera. This year's awards were presented at a gala ceremony and reception for over 1,000 wine and food book publishers, authors and journalists.
Grape Man of Texas: Thomas Volney Munson & the Origins of American Viticulture, 2nd Edition, is 334 pages, filled with historic photos, and retails $39.99. ISBN 978-1-934259-04-7. To order: http://www.amazon.com/Grape-Man-Texas-American-Viticulture/dp/1934259047