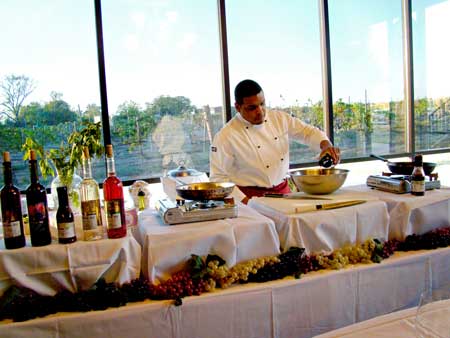 Messina Hof Let's Talk Seafood Party: Like Opening the Pantry and Frig and Starting a Recipe from Scratch
Finally, a few days of lower temperatures lightened the evening drive from Houston to Messina Hof Winery and Resort for what was billed as their "Let's Talk Seafood Cooking Party". I had initially sensed some apprehension at the parties organizers at Messina Hof when I booked the outing. When we arrived and new Messina Hof Executive Chef Dorian Clark started his presentation, it was obvious why.
Chef Dorian opened by saying, "I've only recently taken this position at Messina Hof. As a matter of fact, I've only been at work here for two days, now."
Think about this situation for a moment: just starting a new job as executive chef at a major Texas winery restaurant and in two days having to prepare dinner for thirty-plus people, many of whom are diehard Messina Hof fans and VIPs. I imagined that it was like me coming home and opening the pantry and frig and starting to cook something from scratch for dinner, but magnified times thirty.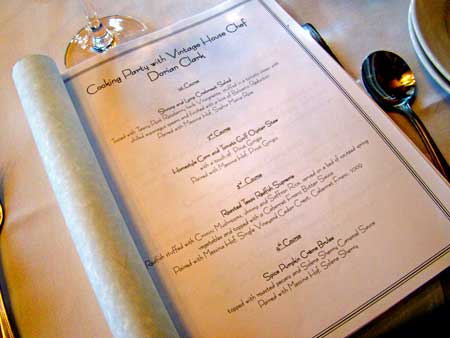 The concept for this event and the two that will follow in October and November is based on a cooking party with the chef and this inaugural session with Chef Dorian could not have better fulfilled it's mission. The chef took us through his creation of the recipes for each course starting with his arrival at Messina Hof (two days prior) and his having to figure out what ingredients he had available for starters. He initially focused with the fresh herbs from the Messina Hof estate and showed how he crafted each course with what was available and making modifications to take into account what he had at hand or readily available. The chef emphasized that experimentation and flexibility was key to good cooking and always being aware of what is available and fresh; and, in this case, what was in the pantry and on hand when he started at Messina Hof.
I originally anticipated a typical two hour session with cooking demos and discussion. However, what we received in this case was a four-course, gourmet meal and each course paired with a Messina Hof wine and Chef Dorian walking us thru the recipe development (or modification and evolution) and the key steps in preparing each course.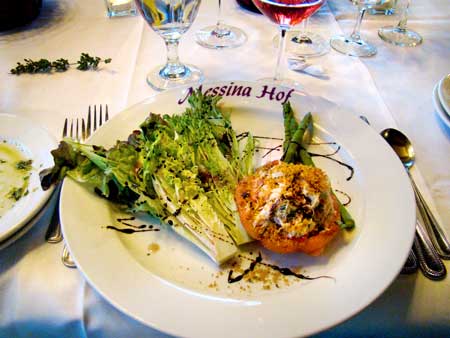 1st Course – Interplay of Seafood Vinaigrette and Crisp Pink Wine
The first course was a shrimp and lump crabmeat salad stuffed into a tomato crown with chilled asparagus spears, and finished with a tawny port raspberry herb vinaigrette and balsamic reduction sauce. Chef Dorian provided a standard method and ratios of ingredients to compose a vinaigrette dressing. In this case, he included Messina Hof Tawny Port and their Gewürztraminer raspberry chipotle sauce, olive oil (the good stuff) and local herbs. The wine pairing was Messina Hof Sophia Marie Rosé, made from early-harvested (19 Brix) estate grown, black grapes called Lenoir (also known as Black Spanish).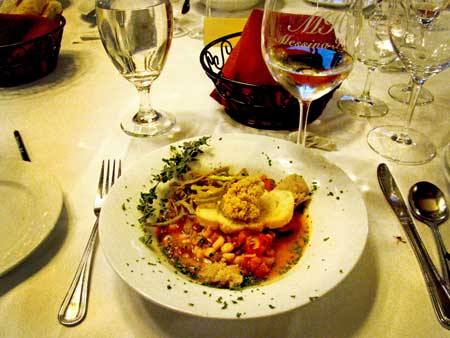 2nd Course – Tactile Sensation, Aroma and a Pinch
Chef Dorian warned us. He said, "When you see this oyster stew, you're going to say…'this doesn't look like any oyster stew that I've ever seen before'." Well, he was totally spot on the mark. It had none of the hallmark milky white color and consistency that I was familiar with. He continued and said, "I love oysters, particularly breaded and deep fried. I got that from my days working in New Orleans. So, I looked around for a way to feature them in this presentation."
After he scouted about the Messina Hof kitchen and talked to a few suppliers, Chef Dorian built this dish, literally from the bottom of the bowl upward. He focused on ripe tomatoes and roasted them, infusing a smoky note while concentrating their juices into precious drops of goodness, not enough to be a classic soup or stew; just enough to cover the bottom of the bowl. Then, he added corn and toasted spinach tortillas strips adding dashes of color, tactile sensations and a southwestern flair. It was overlaid with his favorites: cornmeal breaded and deep fried oysters and a scattering of minced green, and paired with Messina Hof Pinot Grigio.
Chef Dorian emphasized that a cook's job is to experiment just as he had done in this preparation; however, he also accentuated not to experiment on a recipe for the first time with dinner guests. That was bad policy. The message was to develop and practice with your recipes. Then, show them off to friends. He stressed that, nothing that he did that evening was done for the first time. Everything was drawn from his experience.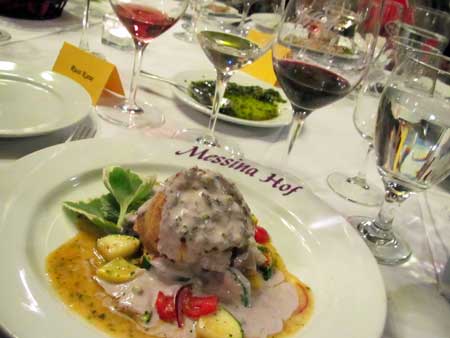 3rd Course – Roasted Texas Redfish and Red Wine
Who said that you can't serve fish with red wine? This uninformed person certainly hasn't been to Messina Hof, talked to its winemaker Paul Bonarrigo, nor had a meal served by Chef Dorian. Again, the chef walked us through his epicurean gymnastics starting with the saffron herb that he used to infuse a gold color his shrimp rice mixture that added its characteristic earthy fragrance. He demonstrated how to wrap it inside a filet of fish that stood on end in the middle of the plate and then before our eyes developed a Cabernet Franc cream/butter sauce that bonded the dish to this featured red wine that accompanied the preparation.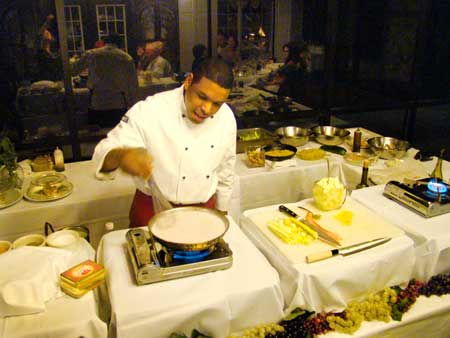 While we eat, Paul Bonarrigo presented his Messina Hof single vineyard Cedar Crest, Cabernet Franc that featured grapes from the Cedar Crest Vineyard in North Texas near the banks of the red river. I mentioned to Paul that I've had the chance to taste four American Cabernet Francs this year from Colorado, Missouri, Virginia and now Texas and each one was rich, dark and full bodied, not the commonly thought of lean, green-herbal varietal from the Bordeaux region of France. Despite its thick red essence, it melded pleasingly with the full-flavored redfish joined by Chef Dorian's red wine sauce.
4th Course – Spice Pumpkin, Crème Brulee, Sherry and Birthday Cheer

Just when I was about to burst, literally…the final course was on its way. Chef Dorian mentioned that sometimes recipes just happen and you have to go with the flow. He pointed out the roasted pecan granola that topped his preparation was not in his original plan. But, a vendor came in the other day with the pecan granola and, after tasting it, the flash of inspiration hit him to included it in this dish. The baking spices, pumpkin, caramel sherry sauce and his unplanned topping integrated well and proved a match for Paul's Solera Sherry that offered cherry and almond notes of amaretto. It was made even more personal when the staff brought out a special candlelit version of this dessert for my adult daughter, Caroline Carruba, who accompanied me to the cooking class as part of my birthday gift to her. Back in June, for father's day, she previously brought me a registration in a grilling class. So, this was a little birthday quid pro quo on my part. Also, thanks to Caroline for the photos used in this blog.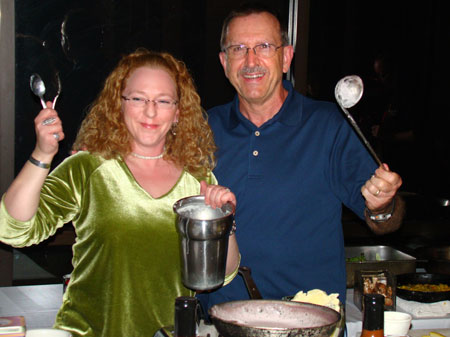 — — — — —
Messina Hof (Let's Talk) Cooking Parties
All in all, the Let's Talk Seafood Cooking Party was a successful inaugural event for Chef Dorian Clark at Messina Hof. It was over three hours of presentation, discussions, Q&A, and a full four courses of eating enjoyment and wine appreciation.
For those that enjoy cooking, wine and trying new recipes that feature wine and who would also like to "get inside the head" of a profession chef, based on this event, the following two upcoming Messina Hof cooking parties with Chef Dorian are highly recommended:
Let's Talk about Stuffing and Dressing: Thursday, October 13th – 6:30pm
Let's talk about Thanksgiving Dinner and Mise en Place (see below): Thursday, November 10th – 6:30pm
More information at: http://www.messinahof.com/events_culinary.php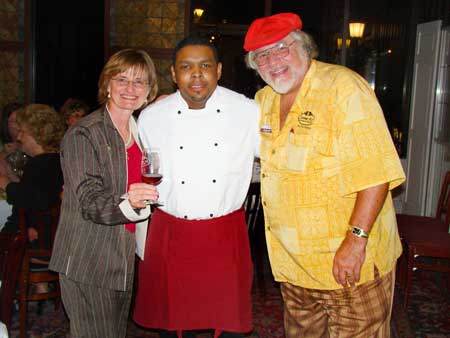 Mise en Place means "everything in place", as in set up. It is used in professional kitchens to refer to organizing and arranging the ingredients (e.g., cuts of meat, relishes, sauces, par-cooked items, spices, freshly chopped vegetables, and other components) that a cook will require for a meal.
NOTE: ATTEND 6 MESSINA HOF COOKING PARTIES AND BECOME AN HONORARY VINTAGE HOUSE SOUS CHEF! YOU WILL ALSO RECEIVE A 10% ON FUTURE COOKING PARTIES! ATTEND 12 COOKING PARTIES AND, IN ADDITION TO BEING AN HONORARY SOUS CHEF AND RECEIVING A 10% DISCOUNT, YOU WILL ALSO RECEIVE AN OFFICIAL MESSINA HOF CHEF'S COAT!