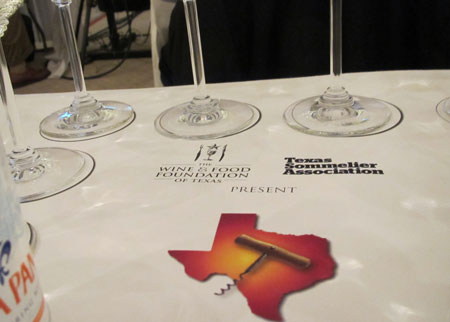 Wow, What a Tasting Opportunity Day 1 at Texsom 2011 y Mas: Just when I thought day one was ending…Texas wine shows up
Day 1: It was an amazing day…
Forty-seven wines
Doug Frost MS, MW, WineDogBoy rocks!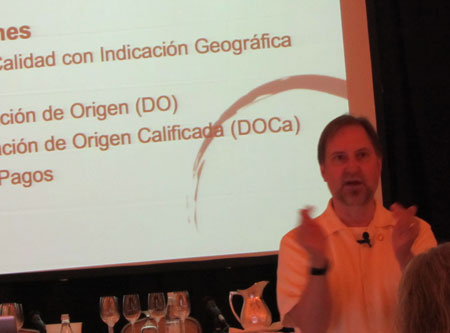 Vega Sicilia "Valbuena", Ribera del Duero (mineral, earth, black fruit – simply over the top)
Simply Grosses Gewachs (if you can find them in the USA)
Pinotage (love it, hate it – twice as many as I have tasted all year)
Thelema "The Mint" – It's all there…even the Eualyptus
Gruner, Albarino, Torrontes, Roussanne – continent hopping for new white classics
Grenache – what it does (and doesn't), why we blend it, styles all over the map
Just when I thought that I palate was raw, Red Wines of Burgundy (Domaine Mongeard-Mugneret Vosne-Romanee 1er Cru "Les Orveaux")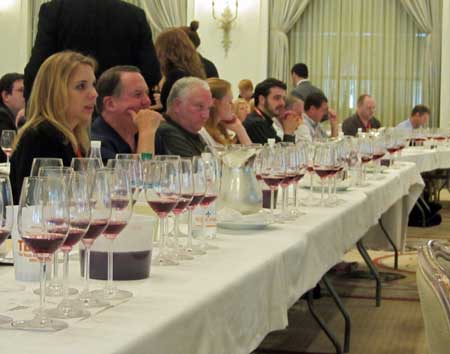 Just as we were finishing the final session, I spotted a tweet @CalaisWinery (Dallas – Deep Ellum) saying that Ben Calais was pressing his Texas High Plains, Newsom Vineyard 2011 Tempranillo. Did I have the energy to witness it?
Yep, I trucked down there to watch the thick, purple fluid squirt through clear flexible tubes into oak barrels. It was a difficult year in Texas due to the heat, but the Tempranillo grapes came in with remarkable good numbers. They were simply concentrated and so was the fermented wine that awaited its marriage with oak.
By 8:00 pm, I was ready for a margarita! Cheers until tomorrow early AM.