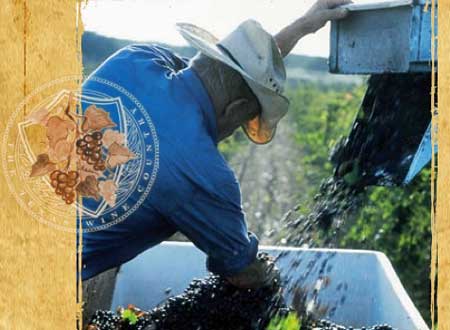 Write Off the Vine: Texas Wine News – June 30, 2011
Texas Wine: And the Medal Goes To…
Jessica Dupuy: Eat My Words Blog (Texas Monthly)
When it comes to Texas wine, we've got quite a few we'd gladly recommend. But rather than take our word for it, take it from the San Francisco International Wine Competition. One of the largest and most esteemed of its kind, winemakers around the world look to this competition for a pulse on wines of the world. More than 1,200 submissions from 29 countries (including the United States.) yielded a much anticipated award list. How did Texas fare? Better than you might think.
Gold: Flat Creek Estate 2009 Syrah Texas Hill Country
Silver: Brennan Vineyards 2009 Buffalo Rhône Texas
Silver: Flat Creek Estate 2010 Pinot Grigio Estate Bottled Texas Hill Country
Silver: Flat Creek Estate 2010 Muscat Canelli Texas
Silver: Sandstone Cellars Winery 2009 Red Blend VIII Mason County, Texas
Silver: Sister Creek Vineyards 2010 Muscat Canelli Young Family and Five Star Vineyards Texas High Plains
More SFO award winners at: http://www.texasmonthly.com/blogs/eatmywords/?p=3191
Also, Check out the comment from Andrew Chaulk in Dallas about the Texas wine awards: "The vast majority of the wines that won medals were not from the Cabernet, Chardonnay, Merlot, Pinot Noir." More at: http://sidedish.dmagazine.com/2011/06/25/texas-wines-win-medals-at-2011-san-francisco-international-wine-competition/
— — — — —
Calais Winery Hosts Texas Wine Bottle Recycyling Event
By Kim Pierce: Eats Blog: Dallas Morning News
In support of the Texas Wine Industry and clean environment awareness, Calais Winery are accepting empty bottles from any Texas winery for recycling. The EPA estimates the national recycling rate for wine bottles is only 30%. Bringing your bottles August 6th will help increase that number.
The recycling event is from noon to 5 p.m. Saturday, Aug. 6. In return for your returns, Calais is hosting a tasting and discounting prices
Details at: http://eatsblog.dallasnews.com/archives/2011/06/calais-winery-hosts-texas-wine.html
— — — — —
The TX Wine Lover Awards
There has been a lot of discussion lately on Texas wine competitions, the best Texas wineries, and so forth. Since we have visited over 100 Texas wineries, we decided to put together a quick list of the first TX Wine Lover awards to highlight the Texas wineries we feel is best in a certain category. Please realize these awards include only the wineries we have visited. We are also going by memory, some of which is over a year ago, so we apologize if we may have misplaced a winery with the same characteristics as one discussed. The next time we produce an awards list and have visited more wineries or re-visited favorites, the list may change.
Best Tasting Room – Flat Creek Estate (http://www.flatcreekestate.com). This tasting room is reached entering the winery from a top level and taking a set of stairs down. The tasting room has tables where you taste instead of standing uncomfortably at a tasting bar. A person helps you select which wines to taste. If you want to enjoy the fresh air, you can exit the side door to an outdoor patio where you can enjoy more wine.
Most Unusual Tasting Room – Fawn Crest Vineyards (http://www.fawncrest.com). The tasting room is actually in the owner's house and is in the bar area. It is a nice pleasant experience but not your usual tasting room.
Best Wine Tasting for the Price – Colony Cellars (http://www.colonycellars.com). The best wine tasting for the price is obviously free. Most wineries now charge a fee and if you want the better wines it is kind of expected to have to pay a little. If all you care about is getting the most tastings for free, then Colony Cellars is the way to go. There you can get 12, yes 12, tastings for free. And they'll even throw in some crackers to help you cleanse your palate during your tasting.
A whole lot more TX Wine Lover Awards at: http://txwinelover.com/2011/06/texas-wineries-the-tx-wine-lover-awards/
— — — — —
Driftwood Estate Winery 2010 Chardonnay
from Grapes Around Texas
Tired of the same old Chardonnay? Not liking the oaky taste? Too much buttery and vanilla sugary taste? Well I think I have found the cure.  Well its my cure so far. Chardonnay 2010
We visited Driftwood Estate Winery a few weeks ago on our mini Texas Hill Country Vacation. We tried two whites: the 2010 Viognier and the 2010 Chardonnay. And my vote went to the 2010 Chardonnay. Why you ask? Well for one it was clear and clean. Made in stainless steel tank and without the oak.  And they were right it did produce a Chablis style Chardonnay. It held light fruit with a dry finish. Has a light and not over powering citrus finish giving it a soft profile. I am not a dry drinker when it comes to wine.  However when I do find one I make note and grab me a bottle. At $16 a bottle this to me was worth it.
To find more from Grapes Around Texas: Texas Wine, Wine Tasting rooms and Wine makers around Texas, go to: http://thegrapesaroundtexas.com
— — — — —
Food & Wine Events for Texas Hill Country, Texas on LocalWineEvents.com
Go to: http://www.localwineevents.com/events/listing/tx/381/texas-hill-country-wine