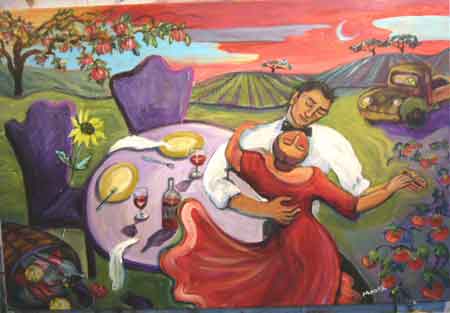 Winner – Winner – Winner: Free Tickets to the Texas Hill Country Lovers Wine Trail
The winner of the giveaway of free tickets for the Texas Hill Country Lovers Wine Trail Feb 6-8 & 13-15, 2009 was Bob Walker who lives in the Dallas Fort Worth Metroplex. He described his most romantic Texas wine moment as follows:
"Over the past 32 years, my wife and I have had a great number of adventures all over the world… but, none better than our first venture to the Texas Hill Country and the wine trail.  As a surprise for her on one anniversary, I booked a condo outside of Wimberly and stole her away on a Friday to drive down from DFW.  It was dark when we arrived, so we had a glass of wine (we have "wine at 9" each evening) and retired for the evening.  The next morning, we woke up to an absolutely beautiful morning on our balcony overlooking a 10 mile vista with humming birds, deer and rabbits joining us for breakfast.  It was such a memorable time and the wine trail was so enjoyable, we've been back a number of times.  An incredible experience for us and something my bride deserves for putting up with my travel, my job and all the rest."
For this entry, Bob Walker received two tickets, good for four people to participate in this year's Texas Hill Country Lovers Wine Trail.
I want to thank Bob for his entry and wish him a grand time with his posse on the wine trail. To all of the other people that took time to send in their entries, we appreciate your entries and hope that you will continue to read and post your comments to the blog. Also, please send your suggestions for future blog topics, giveaways and other activities using the comments function (bottom & top of the page).
Texas Hill Country Lovers Wine Trail – Feb 6-8 & 13-15, 2009: Event Description
Venture through sleeping vineyards and cozy wineries while enjoying complimentary chocolates, enchanting pairings and new wine releases along the way. This trail is held Friday thru Sunday the weekend before and during Valentine's Day! Your ticket includes wine flight trios and/or a tasting at each winery – that's right, all 24 of them! Wine is not just for lovers. Friends, neighbors, enthusiasts and newcomers alike are welcome. Who knows, you might just find your kindred spirit in the Texas Hill Country.
For more information, online ticket sales: http://www.texaswinetrail.com/events.html
What is the Texas Hill Country? The Texas Wine Country Experience
For all its undeniable charm, the Texas Hill Country is a "slice" of heaven just on the outskirts of Austin and San Antonio, and a just bit over 3 hours from either Houston or Dallas. In a blink of time, just over a decade, it has been transformed into the Texas Wine Country, the epicenter of the fifth largest wine producing state in the USA.
Texas grape growers and winemakers are learning to use the climate and produce quality, award winning wines and, in the process created a major new tourist and culinary destination that rivals the ambiance and draw to California. The distinctive Texas wines combined with southern hospitality has vaulted the Texas Hill Country to the #2 spot by the Orbitz Insider Index for the fastest-growing destination for wine and cuisine, only behind Napa Valley.
The Hill Country includes an ample variety of old and new vineyards and wineries implementing new growing and winemaking techniques to fit the Texas terroir. There are new plantings of Mediterranean varietals such as Viognier, Syrah, Grenache, Tempranillo and Sangiovese, warm weather hybrids like Blanc DuBois, Black Spanish and Ruby Cabernet, and nurtured classics such as Chenin Blanc, Merlot and the quintessential Cabernet Sauvignon. These wines have depth and variety that will titillate your taste buds.
The Texas wine heritage is something in which we can all be proud and need to experience firsthand.  It was born over 400 years ago when Tejas was part of Mexico where the Franciscans produced sacramental wines from "Mission" grapes. They were followed by French settlers with vineyards in east Texas, and in the mid-1800's, German immigrants came to the Texas Hill Country bringing with them their winemaking birthright using wild and hybrid grapes in settlements with names like Grapetown and Grape Creek, which were naturally favorable grape growing sites. We also have Italian families that have brought their flare with food and native Sangiovese, Pinot Grigio and Vermentino to the Texas, as well.
The nucleus of a Texas wine industry numbered over 20 wineries by the 1920's. However, that all ended with prohibition. Only one winery – Val Verde Winery in Del Rio, Texas – survived. It took over 50 years to rediscover this winemaking heritage and re-establish the Texas wine experience. Texas currently has over 160 wineries all around the state and nearly half of them are in the Texas Hill Country and surrounding areas.
The Texas Hill Country is much more than wine…..it is the complete wine country experience that, in its own way, rivals much more common names like Napa and Sonoma. You can experience the way it was in Napa when you could actually meet and share a taste with the winemakers in their tasting rooms. The Texas Hill Country is joining other new wine producing regions such as Washington State's Colombia Valley, the Willamette Valley in Oregon, and Long Island offering fine wine country experiences fused with regional cuisines, interesting folklore and historical venues.
Whether it's a short weekend getaway or an extended week long vacation, you can find an ample supply of wineries, fine dinning, down-home cafés, quaint B&B's, historical sites, state parks and wildlife areas, bike and limo tours, and generally a slower, laidback approach to life that can soothe your psyche and stir up your senses. For more information on Texas Hill Country B&Bs and activities,, go to: http://www.texaswinetrail.com/links.html.