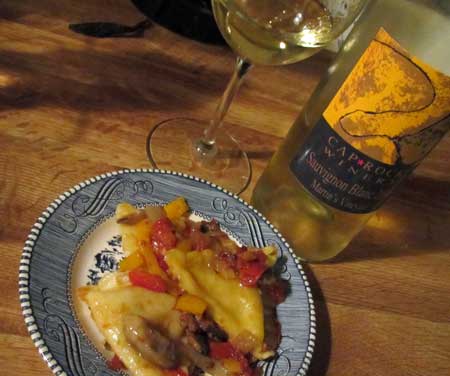 What I'm Drinking Tonight: CapRock Winery 2010 Sauvignon Blanc Martin's Vineyard
It was a 100+ F today, but dry as a bone in the hill country outside Fredericksburg, Texas. When we arrived yesterday evening, we had no water and expected the worst about our well. But, the guys showed up early today and found the problem in a capacitor in our booster pump. All was well with our well and my wife and I breathed a collective sigh of relief.
At the end of the day, while still over 90 F, the breeze and lack of humidity on the hill and the shade on the front deck made for a pleasant time. I popped the cork on a bottle of wine that I'd brought from Houston; it was something that followed me home from my last trip to Lubbock and my first look at the NEW CapRock Winery. It was their 2010 Sauvignon Blanc from Andy Martin's Vineyard in the Texas High Plains Appellation.
To make for an easy dinner (i.e. something that I could prepare and we could consume both with little effort), I boiled some mushroom and cheese ravioli while I sauteed some peppers, onions, tomatoes and garlic in olive oil. I tossed the ravioli and the saute together and poured the wine. We were ready to dine alfresco.
The CapRock Sauvignon Blanc was golden straw in color, a deeper color than most Sauv Blancs that I've had. I figured that it was just the ripening of the grapes in the sun dominated high country around Lubbock. It was visually different than the nearly clear fluid called New Zealand Sauvignon Blanc. The CapRock Sauv Blanc carried a delightful citrus quality with a dominant note of lemon zest followed by crisp acidity. It was both refreshing and played well with the garlic on pasta.