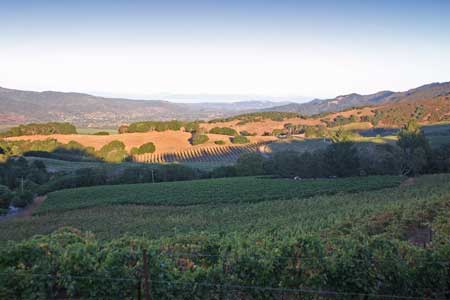 Drink Texas…Save "Food Miles" gives a new meaning to the saying…"Drink Responsibly".
After a prolonged period of consistently low oil prices, we are now facing a new situation – an age where companies and countries around the world are competing for the remaining oil where increased prices are the expected norm in the future.
With the higher cost of filling the tank we are starting to think if that trip in the car really necessary. It should also be the same for the products we buy.  The cost of fuel for transport has a significant effect on retail prices and the distance of travel also increases the amount of greenhouse gas pollution generated. 
Example: What portion of your favorite New Zealand Sauvignon Blanc's price is transportation? How much oil was consumed to bring it to your palate? How large is its carbon emissions "footprint"?
Let's bring this discussion even closer to home…..the same questions (and logic) applies to foods and wines that come together on our dining room tables daily, even if they come from within the US. There is a siginficant fuel cost and carbon emission that is related to transporation from Washington State, Florida or California to our homes in Texas.
Many basic and "luxury" foods traverse long distances. This distance (and the associated fuel allocation and carbon emission) can be viewed in terms of "food miles" – See below for definition of Food Miles and how to calculate them. Therefore the closer to home these items are produced, the lower the food miles, and in turn, the more we reduce fuel burned and greenhouse gas pollution.
The concept is simply….Eat and drink well while responsibly reducing oil consumption and pollution by buying locally produced Texas food and wine, where and when possible.
Luckily in Texas we have a wonderful agricultural bounty and a Texas governmental agency that actually tries to promote locally produced food, wine and related agricultural goods.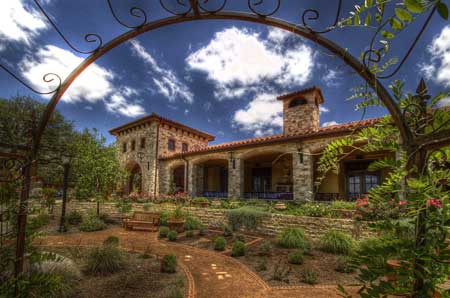 Check out the consumer resources that the Texas Department of Agriculture's GO TEXAN program provides at:
http://www.gotexan.org/gt/home/0,1223,1670_0_0_0,00.html
Find a restaurant that supports Texas food and wine:
http://www.gotexan.org/internet/gotexanrestaurant/search.jsp
Find a Texas winery and visit, attend an event or direct ship wine to your home:
http://www.gotexanwine.org/
Through October 19th, attend the Texas State Fair and see this Texas bounty first hand. Award-winning Texas wines will be poured. The Wine Garden, presented by Kroger and sponsored by the Texas Department of Agriculture, allows fairgoers the chance to explore the world of wine while meeting the people who have put the Lone Star State on the worldwide winemaking map. Findout why Texas is the fifth-largest wine producing state in the country, contributing $1.35 billion to the state's economy.
At the Texas Wine Garden you can talk to real live Texas winemakers, attend "Wine 101" seminars, and sample FREE foods from Go TEXAN vendors. Also, visit the adjacent Food and Fiber Pavilion, presented by Borden.
The Texas Wine Garden, located on Nimitz Drive, is across the street from the Creative Arts Building and the historic Cotton Bowl. It is open noon to 7 p.m. every day of the fair through Oct. 19. Visitors are also invited to shop at the pavilion's GO TEXAN stores.
+++++++++++++++++++++++++++++++++++++++++++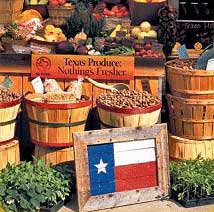 P.S. Want to calculate food miles?
The way to determine "food miles" is to simply look at the distance that food travels multiplied by its weight. Therefore, something like a watermelon can accumulate food miles fast due to its weight. Likewise, a case of wine also racks up food miles because it is also mostly water (like in watermelon). Even worse is a case of wine from New Zealand. It is so far that you can't go any further without starting to come back.
Save food miles, drink Texan!