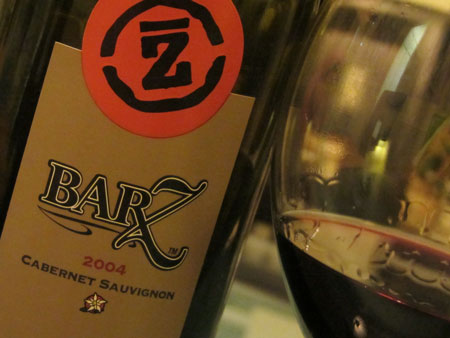 A Blast from the Past…and Present: BarZ 2004 Newsom Vineyards Cabernet Sauvignon
I have to admit that I've never been to Monty Dixon's BarZ Winery, but in recent meet-ups I've found him an amiable sort and a man who caused me to wonder…Why? Well, to start with, on the map his BarZ Winery near Amarillo, Texas, appears to be nearly as close to Colorado as it is north of Lubbock. I guess that once you drive to our northern border, just put your pick-up in reverse, back up and look for a winery. However, this is a bit unfair to both Monty and his wine making efforts on the Texas High Plains.
I have only two excuses for my absence from the BarZ tasting room: it's over 600 miles from my home in Houston to the winery's doorstep and even when I've managed to get to Lubbock, its still a ways north, which I've been unable to trek to on a far too limited schedule. That's my fault, plain and simple.
On my last trip up to the Texas high plains for grape grower Neal Newsom's Field Day, I gathered a taste of something that really made my taste buds stand up and take notice.  It was Monty's BarZ 2004 Newsom Vineyards Cabernet Sauvignon. It so titillated my buds, that I had to have more. Since it's not distributed in Houston, Monty said that he would ship me some from the winery.
Last night, I served this same BarZ Cabernet with something that'd been whirling around in my head all day….Meatballs! You could say that I had meatballs on the brain; something that caused me to spend the day in mental motion deciding exactly what herbs and spices to use. So, I opened the bottle, set it aside and started to assemble my meatball ingredients that included: ground meat, fresh chopped garlic, onions and herbs from my garden (oregano, rosemary and mint). To this, I added a raw egg, cornflake crumbs and a dash of sea salt and lemon pepper.
In most meals the meatballs are just an accoutrement to pasta and red sauce. However, in this case there were a pile of them on the plate, up front and center, nicely spiced and aromatic, with only enough pasta and red sauce to fill in the fringes.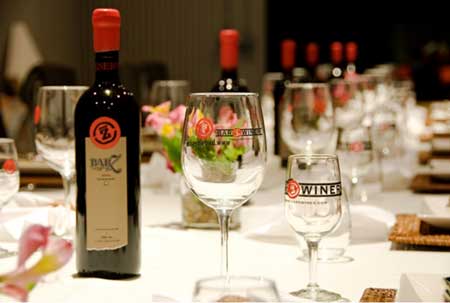 I couldn't have picked a better wine for pairing with my aromatic meatball-mania. The 2004 BarZ Cabernet was rich, thick and silky on the palate. With its 7 years of bottle age, it had time to soften and integrate the tannins with the still very apparent dark fruit qualities. These dark fruits were not red plums, blackberries or even black cherry, but the pure essence of the proverbial cassis of Europe. If you haven't had some, you need to, as cassis is one of the deepest darkest fruit experience imaginable but carried by crisp acidity. I've experienced this sensation in other wines, but in Texas it has only come from Newsom Vineyards Texas High Plains fruit and from the now defunct but still remembered and revered Blue Mountain Vineyards in the Texas Davis Mountains.
While it would be easy to focus only on the concentration of fruit in this seven year old wine, its aromatic presence in the glass was equally memorable. Over laid on the dark fruit base, the aroma focused on cocoa, liquorice and a predominance of highly aromatic cedar. Searching further into my mental folds, I remembered that this wine's roots have something in common to my oft cited Coonawarra wines of Southern Australia. They both extend into top soil of red sandy loam then extend deeper into porous limestone that's present in both regions. While the Coonawarra gets its moderated climate from the influence of the sea, the Texas High Plains AVA, gets a similar cooling influence from its elevation of about 3500 feet and low desert-like humidity. These conditions are manifested by warm to hot days followed by cool night time temperatures and an period of cooling as harvest approaches.
Last year I tasted a wine that had a lot in common with this BarZ Newsom Vineyard Cabernet. It was Angove's Coonawarra Vineyard Select Cabernet Sauvignon 2006. Amazingly, I found the bottle of Angove Cabernet, a consistent 90-rated wine by the Wine Spectator, on a discount rack at a local wine shop. It had many of the same characteristic of fruit flavor and aroma described above for BarZ's wine. The aromatic note of cedar in BarZ Cabernet holds a close relationship to the even more dominant and sharper mint to near-eucalyptus note in the Angove Cabernet. Whoever says, "Terroir is not for real!" needs to compare these two apparently disparate (yet very similar) winegrowing regions and the fine red wines that they produce.
However, now I feel bad. I've never been honored to grace the door step of Monty's BarZ winery. You can bet that the next time I make it to Lubbock, I'll take the time to pay him a personal visit with time to spare to sip and savor his wines.