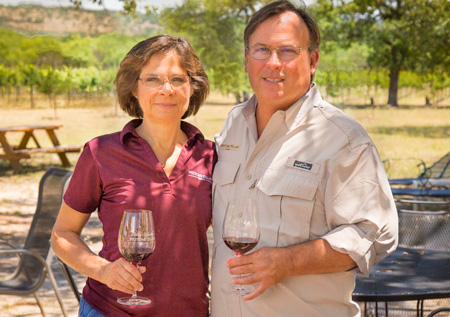 What Allan and Margaret Fetty started with a backyard vegetable garden and evening glass of wine, in time became Westcave Cellars Winery. In 1999, they planted three acres of grapes that they sold to local wineries. In the following year, they built their "first" winery and planted three acres of grapes midway between Dripping Springs and Spicewood. This is where I first met Allan and Margaret (shown above at their old location) after getting lost both coming and going in the tangle of country roads south of Lake Travis.
The good news for me (and others looking to find Westcave Cellars) is that the Fetty's started a new winery and became Route 290 winemakers near Hye just west of Johnson City – definitely a lot more accessible and convenient location. My interest was piqued further after hearing that they were offering some lite bites and craft beers that resulted in me eventually making two visits to their new winery/brewery in rapid succession.
On my first visit, Margaret provided my party a tasting of Westcave white and red wines accompanied by a charcuterie plate, savory sausages, and a selection of crunchy seasoned pretzels. Favorable comments and high marks were given for the Westcave High Cross Viognier, Blanc Du Franc dry rosé, Merlot, Vigneron red blend, and extra special Petite Sirah. One person in my party said, "I was really surprised that I liked every wine presented. I'm usually picky, and usually only like certain wines. But at Westcave, all the wines were really enjoyable."
On the visit to Westcave Cellars, I also learned something new: Westcave was offering small-batch craft-brewed beers. So, I scheduled a return visit with the intent of doing a beer tasting and meeting their brewmaster Patrick Vanderwilt, a native Texan of Dutch-German descent and 30-year brewer.
I visited with Patrick while I sampled his beers He is a history buff of sorts as you can tell by the names he has given his beers: smooth Freethinker Blonde Ale –  named after an original German Hill Country community of the same name; perky Sunday House Pale Ale that was a bit higher on the "hops scale" and named after the German houses that you can still find around Fredericksburg; and Penetaka Amer Ale named after the Penetaka Comanches who befriended the German Freethinkers. To complete the beer tasting, I ordered a replay of the savory sausage plate that I had during my wine tasting. Beer and sausage – a match made in heaven.
I was clued in by Margaret that Patrick is successfully doing something that makes him the envy of nearly all craft brewers in the State of Texas. What is it, you say? Well, I've talked to enough brewers in Texas wanting to make a completely Texas beer, and nearly to a one, they've said that it is impossible since you can't grow hops in Texas… they required too much water and it's too hot here. After all, hops are a northern climate crop. Most of the hops used in domestic beers come from the Pacific northwest. Well, after more than a few abortive attempts, Patrick is now successfully growing hop on his property near Sisterdale; enough to handle his beer-making needs.
Of note: Since my visits, Westcve Cellars has moved into football and MLB playoff season with what they call their "Fall Junk Food & Wine Pairing" menu. It's offered with selected "junk food" (that I preferred calling "Fun Food" because I think it sounds better). These include Viognier and popcorn, Chenin Blanc and sour cream/onion potato chips, Blanc Du Franc and fig newtons, Sangiovese and honey BBQ Fritos, Estate Syrah and Cheddar Jalapeno Cheetos, Merlot and Cool Ranch Doritos. It's definitely time to fire up your big screen TV, find your favorite teams' games, put your feet up, and dig in!
For more information on Allan and Margaret Fetty's Westcave Cellars, location and wine/beer offerings, go to: https://www.westcavecellars.com. Or, on your next drive on Route 290 from Johnson City to Fredericksburg, hook a right turn on 1320 before you get to Hye and you will find it on your left.