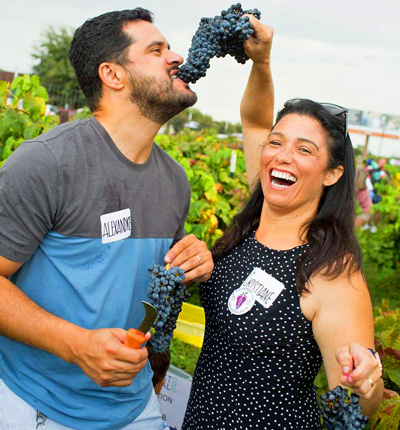 The end of summer is near, but the sun is still warm, and the grapes nearly ripened. That can only mean one thing: it's again time for Messina Hof Winery Harvest Festival. Actually, it's already begun, but there is still limited time to join in some fulfilling grape and wine harvesting fun.
Join The Messina Hof Harvest Team and fellow Texas wine afficionados for a series of harvest events that take place weekends in August and Early September. Experience grape picking and stomping the very grapes that go into making Messina Hof wine. You'll receive a souvenir "Harvest Crew" tee-shirt signed with your very own "grapey" purple footprints. Don't miss the opportunities for a buffet dinner or a delicious Brunch Box and a glass of wine.
"Many people enjoy wine but are unfamiliar with the touch points in the harvest and winemaking process", says Karen Bonarrigo, Messina Hof Winery Chief Administrative Officer and Co-Owner. "Messina Hof's Harvest Festival gives people a unique chance to go all the way back to the beginning in the vineyard. They can see what a vineyard actually looks like full of ripe fruit and get a feel where winemaking actually starts. Harvest event participants personally experience picking the grapes and can have their own 'I Love Lucy GRAPE-STOMPING Moment', foot-crushing the grapes, ending with taking home a harvest tee-shirt with their purple footprints on it. After that, we show them the steps in winemaking and they experience each step up close."
There are Messina Hof Harvest Event opportunities at their winery locations in Bryan and Fredericksburg, Texas:
Messina Hof Winery – Bryan, Texas
Saturday, August 21th – Daytime Harvest (7:30 am – 10:00 am)
Sunday, August 22nd – Harvest Brunch (11:00 am – 1:00 pm)
Saturday, August 28th – Daytime Harvest (7:30 am – 10:00 am)
Messina Hof Hill Country Winery – Fredericksburg, Texas
Friday, September 3rd – Sunset Harvest (7:00 pm – 9:00 pm)
Saturday, September 4th – Daytime Harvest (8:00 am – 10:30 am)
Click here for further information and ticketing for these events. They are starting to sell out, so be quick and get ready for some harvest fun.
Having participated in multiple Messina Hof's harvest events myself in previous years, I can say that it is a unique individual and communal experience – walking down the vineyard rows with a harvesting bin picking and gathering clusters of dense, ripe grapes is exhilarating. I felt the weight and warmth of the large Black Spanish grape clusters in my hands, and participated in the foot crush. Following the harvested grapes into the winery gave me a deeper appreciation that the wine in my glass was a truly unique Texas agricultural product.