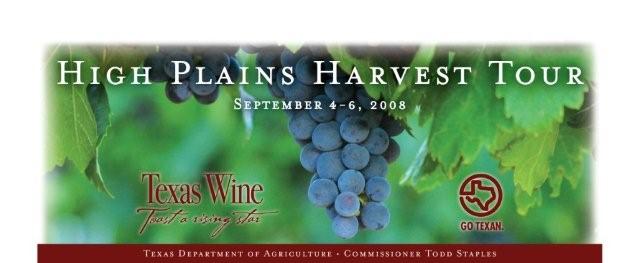 Most wine producing regions have a cool body of water on their west coast (e.g. France, Chile, California, etc). This produces a cooling effect that depresses in night time temperatures. This cooling effect is critical to moderate daytime solar heating and allows the grapes to recover and prolongs ripening. It is one of the critical aspects of producing grapes that result in quality, refreshing wines.
If you remember your geography, Texas has New Mexico to the west that is not very wet. But, as you may know, west Texas also has elevation. Texas is like a tilted table top starting at sea level in Galveston on the Gulf of Mexico increasing to about 3500 feet in the Texas High Plains in the west around Lubbock. This elevation combined with the incessant wind produces night time cooling on the High Plains that goes well with its hot sunny days.
The Texas High Plains has a long history of agricultural production, but in the past thirty years it also has a growing reputation for producing high quality Texas wine grapes. The Texas High Plains AVA covers around 8 million acres of flat, dry, but intensively-cultivated land, where cotton, sorghum and wheat are the predominant crops. Growers depend on the subterranean Ogallala Aquifer, which spans almost the entire area underneath very well-drained soils.
Of high interest these days are the approximately 3500 acres of vineyards, with an expanding interest in viticulture and a growing number of prestigous wine awards to back the grape quality in this appellation.
Later this week, I will join a group from the media touring a number of Texas High Plains vineyards as the 2008 harvest progresses. Plans are to visit Newsom Vineyards, Reddy Vineyards, and Bingham Vineyards and to view night time harvesting. Additionally, we will visit some of Texas' top wineries and winemakers in the area, including Llano Estacado, McPherson Cellars and CapRock Winery. Accompanying the trip will also be Bobby Cox (grape grower and consultant) and Dr. Ed Hellman (Professor of Viticulture and Extension Specialist and organizer of the the Texas WineGrape Network at: http://winegrapes.tamu.edu/).
I will be blogging from the Texas High Plains during this tour. We leave this Thursday afternoon and return Saturday evening (September 4-6, 2008).
Please send me your questions by responding to this blog posting or those that I will send while on the trip.
This is great opportunity to become more familiar with one of Texas' premium grape-growing regions.