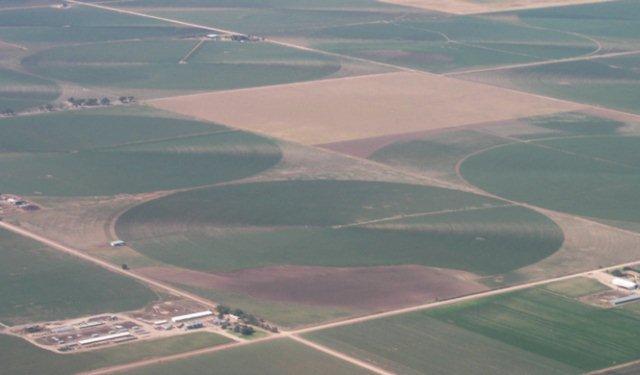 High Plains Harvest Tour
In a matter of just a few hours from Houston by airplane, I left behind this vast and humid urban center and stepped off a plane in Lubbock, Texas on the high plains. It is 700+ miles further to the northwest and 3500 feet higher in elevation, all without leaving the great state of Texas.
At first glance from the plane window, this is flat land. To say "really flat" is an understatement. Not exactly like what your mind's eye tells you is wine country. The scenery is dominated by red-brown dirt and sky that gives me the feeling that I was viewing the land that was created very early on the morning of third day of creation. This was before God had yet worked up the idea of making high mountain vistas on the newly created land.
But, it is precisely the Zen-like quality of this vast, high plain that holds its understated qualities for grape growing. It is the simple but well drained high plains soil combining with water, sun and the hard work of people of determination. These factors all combine to produce some of the most sought after grapes in Texas. It is this "Sense of Place" that tells me that I am in the Texas high plains wine growing appellation.
We were welcomed at Llano Estacado Winery in Lubbock. The words of Mark Hyman, President of Llano Estacado, described the winery as the "little winery that could". In 1976, it started small and it struggled. But, today it is realizing its mighty ambitions and now has surpassed a production of 100,000 cases per year. Its sales currently rank with the top wine brands selling in Texas with the likes of Kendall Jackson and other fine wineries.
Llano's position has come about as a result of the winemaking leadership of Greg Bruni and the up and coming winemaking skills of Chris Hall. In this effort, the grapes produced from the Texas High Plains appellation have more than proven their quality. Llano Estacado wines have also garnered numerous awards and medals in national and international competitions.
A selection of wines from Llano Estacado was sampled including: 2007 Sauvignon Blanc, 2007 Signature Melange (Red Rhone-style blend), 2006 Viognier, 2007 Cellar Reserve Chardonnay, 2005 Cellar Reserve Cabernet Sauvignon, 2005 Viviano (Cabernet-Sangiovese blend) and Cellar Select Port.
For more information on Llano Estacado winery, go to: http://www.llanowine.com
The evening's festivities also included introductions to the families that own and operate three of the preeminent vineyards in the Texas High Plains appellation – Newsom Vineyards, Reddy Vineyards and Bingham Vineyards. Tomorrow we will start the day early and visit these three vineyards.