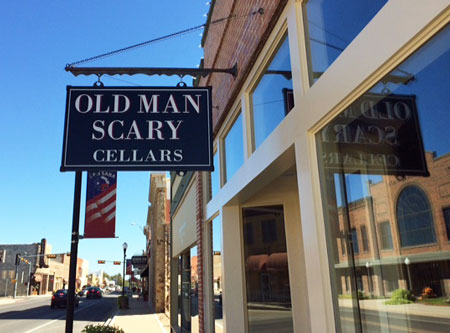 McHenry's Wedding Oak Winery Incubator Winery Project Gives Birth: Old Man Scary Cellars
Wedding Oak Winery will launch the first Incubator winery project in San Saba, Texas, with the opening of Old Man Scary Cellars in November 2015. Conceived with new Texas start-up wineries in mind, Wedding Oak Winery owner Mike McHenry patterned this incubator after similar successful winery incubators in Carlton, Oregon and Walla Walla, Washington, Wedding Oak Winery purchased a 1924 historic building in the same block as its San Saba winery, restored and re-purposed the building to house a retail tasting room and winery production facility.
According to Mike McHenry, "Wedding Oak is the landlord for their separate building (built-to-suit) and provides the custom crush for the wines. Old Man Scary Cellars is not renting or leasing space within the existing Wedding Oak Winery facility. Wedding Oak also act as their advisor and mentor until they become experienced and self-sufficient."
Dr. Gabe Hisel, owner of Old Man Scary Cellars, entered into the incubator relationship with Wedding Oak Winery as a cost effective way to get a new winery open and operational. The on-site production facilities' capacity will be augmented by the production facilities at Wedding Oak Winery, located just two buildings away. Leasing the bonded space for wine storage, small winery production area, store front retail space and outdoor courtyard gives Old Man Scary Cellars an attractive Hill Country location without the extensive capital expenses of starting a new winery from scratch.
Wedding Oak Winery winemaker, Penny Adams, will oversee the wine production for Old Man Scary Cellars, making wines to the specifications of Dr. Hisel. Wedding Oak Winery provides custom crush services, advises on retail operations and supports the Old Man Scary Cellars, while adding critical mass to the downtown San Saba resurgence with the addition of a second winery retail operation.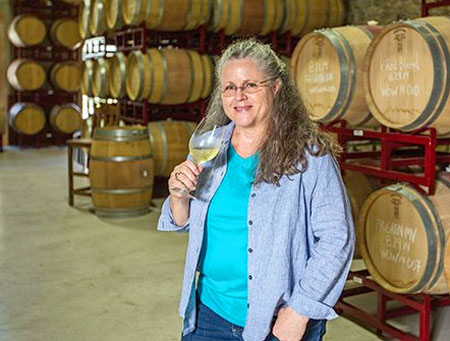 "Opening Wedding Oak Winery in the heart of San Saba near the intersection of U.S. Highway 190 and State Highway 16, is an important part of the renaissance of this lovely small town," said Mike McHenry, partner, Wedding Oak Winery. "We are now surrounded by vibrant businesses like the Dofflemyer Hotel, Oliver and Co. Restaurant, Harry's and San Saba Olive Oil that bring visitors to town. Adding another fantastic destination with Old Man Scary Cellars is an important part of boosting our tourism, while contributing to the growth of the Texas wine industry."
"The idea for Old Man Scary Cellars started when we moved to 20 acres of land in Terry County," says Dr. Gabe Hisel, founder of Old Man Scary Cellars. "Terry County is known as the 'Grape Capital of Texas.' We have many friends in the business and it inspired us to plant Cabernet Sauvignon grapes in Rattlesnake Road Vineyard on our property. Our goal is to make the best Cabernet Sauvignon in the state of Texas. The grapes we have in our vineyard are not mature yet, so until we have a premium Cabernet from our vineyard, we will source the best grapes we can get. We chose to partner with Wedding Oak Winery in an incubator arrangement to take advantage of their expertise to get into the market faster. Things have come together quickly and we have wines ready to sell, including our 2013 Cabernet Sauvignon made with grapes from the world famous Beckstoffer Vineyard."
Old Man Scary Cellars Wines
Old Man Scary Cellars offers a range of Texas wines and wines made with fruit grown in other states including:
2014 Old Man Scary Cellars Riesling: A medium-bodied, semi-sweet white wine has a subtle bouquet of pineapple and candied lime, with a taste of dried apricot. Made with 100 percent Riesling grapes from Washington State. $23
2014 Old Man Scary Cellars Viognier: This white wine has a powerful nose of honey and pear, lush stone-fruit flavors and round feel. Made with 100 percent Viognier grapes grown in California. $25
2014 Old Man Scary Cellars Button Blush: Named for the rattlesnake button, this semi-sweet blush wine has a light and airy feel, with scents of orange blossoms and strawberry jam. The dry finish follows a taste of lemongrass, citrus, and even hints of watermelon. It is made with a blend of Orange Muscat, Muscat Canelli, Trebbiano and Tempranillo grown in the Texas High Plains. $21
2014 Old Man Scary Cellars Dolcetto: A deep garnet red wine with a big taste, this wine has a beautifully smoky aroma with hints of baking spices, and an oaky and raspberry finish. Made with 100 percent Dolcetto grapes grown in the Diamante Doble Vineyard in the Texas High Plains. $28
2013 Old Man Scary Cellars Cabernet Sauvignon: This ample, full-bodied wine has a beautiful perfume of roasted caramel, smoke, and hints of baking spice. Smooth and spicy, this complex wine offers tastes of black currants and ripe red fruit, and brings to mind hints of chocolates and caramel. Made with Cabernet Sauvignon grapes from the famed Beckstoffer Vineyards in California in Lake County, CA, produced in Brownfield, TX. $37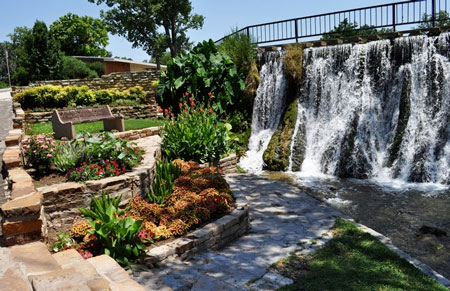 About Old Man Scary Cellars
Founded by Dr. Gabe Hisel in San Saba, Texas, Old Man Scary Cellars takes its name from an old farmhouse on the Hisel Family estate in Hockley County, Texas. Once the scene of a death, the house was thought to be haunted by an evil spirit. However, events have since occurred that prove some spirits, despite their appearance, can be helpful in viticulture and viniculture. Hisel, a family doctor in Brownfield, located in in Terry County, where 85 percent of all Texas wine grapes are grown, cultivates grapes in Rattlesnake Road Vineyard on his 20 acre estate. Old Man Scary Cellars produces Texas and American wines with its winery partner, Wedding Oak Winery, with the persistent mission of delighting Texas wine drinkers.
Connect with Wedding Oak Winery
++++++++++
San Saba, Texas, while bustling with activity, has certainly come a long way from this; paved streets and wineries, too!