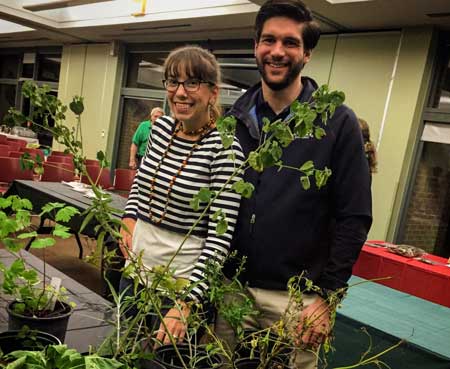 Don't Get Between Me and My Frogfruit
This past Thursday evening, I attended the Native Plant Society of Texas (NPSOT), Houston Chapter meeting held at the Houston Arboretum and Nature Center. The November meeting is avidly awaited for two good reasons. First, it's a potluck extravaganza and people bring dishes of food and come hungry. Secondly, it's also the chapter's annual "Plant/Seed Swap".
Since joining the society and becoming a Houston Chapter member I've learned much about native plants. Its members are good teachers. Most have evolved extensive native Texas gardening knowledge. They've studied these native plants and have an encyclopedic memory developed over decades, if not, a lifetime of experience.
While many members are well into their golden years and appear as mild-mannered practitioners, their memories (and passions) are easily invoked. This usually leads to plant discussions encompassing a litany of common names and less familiar and harder to pronounce Latin names; example being, Aromatic aster, Aromatic American aster, Fall aster, Wild blue aster, Shale aster ending with the tongue twisting Latin name Symphyotrichum oblongifolium.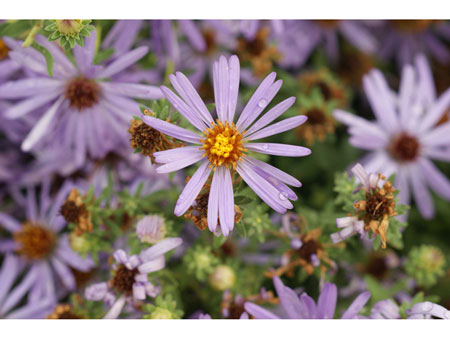 Personally, I've been a forty-year Houston gardener. Over these decades, I've perhaps killed off a hundred too many plants in my pursuit of natural beauty. But, as a result, I have finally learned what I refer to as the four tenets of Houston gardening success. I now consider them the Houston Holy Four: sun plants, shade plants, wet plants and dry plants that come with the accompanying knowledge of where to plant each in my yard.
Almost two years ago, coinciding with the completion of my new Houston home in the Montrose area, I made the decision that Texas native plants had most of the attributes that would simplify my gardening life. They are tough puppies having over eons mastered Texas weather, or what some people say is, in fact, not weather at all, just extremes.
In my pursuit of a Texas native habitat in my new yard, I recently did battle with the elimination of an extremely invasive exotic (non-native) ground cover in my tree bed. It's name: Asiatic Jasmine (aka Dwarf Jasmine, Small-Leaf Confederate Jasmine and, of course, in Latin, Trachelospermum asiaticum).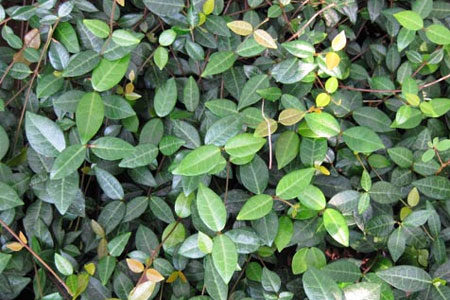 After four days of digging, pulling, scraping and sweating, my tree bed was devoid of this botanical scourge. However, now it was time for replacement and I've just wiped the crumps of the NPSOT pot luck off my shirt and I was ready for the "Plant/Seed Swap".
If you haven't attended a plant or seed swap or native plant sale, you need to take caution. Usually, it involves a pre-sale/swap inspection of plants and seeds on a series of tables. This is where everyone scopes out what native plants are there and which they JUST HAVE to take home. In my case, my search was for a replacement (and native Texas) ground cover. In our Thursday night event, it appeared that nearly everyone had a keen interest in something on display. So, like everyone else, I had my focus on a particular table and a particular plant.
Finally, at the conclusion of the NPSOT business meeting with our stomachs full of potluck, and the high-sign that the plant/seed swap was now open, these presumably mild-mannered native Texas plant aficionados jumped to their feet to rush the tables. The crush of humanity was on.
I had Frogfruit (aka Texas frogfruit, Turkey tangle frogfruit, even matchweed, and, oh yes, in Latin, Phyla nodiflora), my ground cover replacement, in my sites!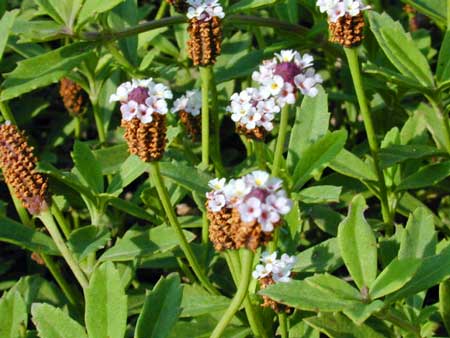 Texas Frogfruit is an excellent ground cover and is evergreen in most years and especially in areas protected from frost. It spreads vigorously. Frogfruit is also a good nectar plant for butterflies (and larval host for the Phaon Crescentspot, Buckeye, and White Peacock butterflies).  It can also be an attractive plant rambling over boulders or the edges of hanging baskets.
IMPORTANT: True to its Texas heritage, Frogfruit also can tolerate drought and flooding (recall a key word for Texas gardening: EXTREMES).
Now… I just hope that nobody gets between me and my Frogfruit or there will be hell to pay. Lookout Frogfruit (and other NPSOT members) here I come!