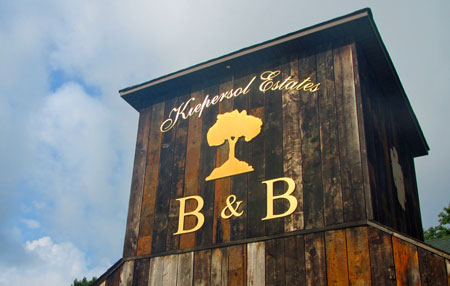 Kiepersol Estates: A Wineslinger's Swirl, Sniff and Taste of a Fine Texas Wine
This was my first venture back into east Texas this year and the first since my previous visit to Kiepersol Estates that lead to the chapter in my book, The Wineslinger Chronicles. It was also my wife's first trip to the domain of Kiepersol. She only knew of it from what I offered in that chapter; the one she often cites as her favorite.
The east Texas scenery was as if I was looking at it through bright green lenses, a stark contrast to the well-done ocher fields and all too often scorched black earth brought by last summer's drought. The backdrop of green grass, trees and wild vines before us was more like I had previously described. My words were fresh on my mind from my recent rehearsal of excerpt readings to accompany the evening's Kiepersol wine dinner.
"Scenic hills with tall pine trees fringed my East Texas path to produce a cloistered environment with an emerald cast. As I drove, I thought about how modern man conjoins with nature on a grand scale in Texas: acres under barn, vast countryside dedicated to row crops, white wooden fences extending to the horizon guarding the domain of domesticated animals.
Once at Tyler's southern reach, I entered what I soon realized was the "Province of Kiepersol," the domain of Pierre de Wet and his daughters. A man of immense vision and strength, Pierre, with his daughters Marnelle and Velmay following closely in his footsteps, has crafted a new life and realm.
Having just arrived and with time only to drop our belongings at the Kiepersol B&B, we made our way to the winery tasting room overlooking the estate vineyard. As we entered and were welcomed, Pierre de Wet, the domains keeper and winemaker Marnelle Durrette, Pierre's married daughter, whisked us into a tall-ceilinged, dimly-light back room, a stack of oak barrels against one wall.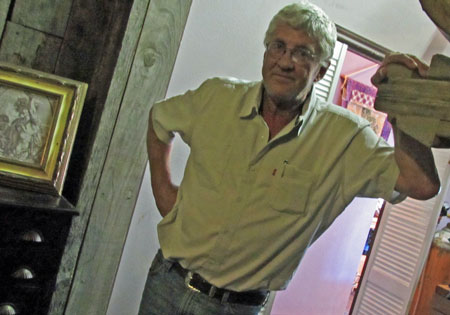 Pierre said with his characteristic South African inflection of short phrases, "In August of 2000, for our first vintage, this was our whole winery. We crushed over there. We had tanks over here. This was our barrel room, too." Marnelle pointed to a restroom off a back hallway and she said "Back then, this was our lab. At times, we had four people working in that little space at the same time."
It may have been humble beginnings, like most of Pierre's ventures, but now Kiepersol Estates operation was first-rate with a fine tasting room and 60-acre vineyard. Their large production facility was just a short walk along the vineyard's perimeter from the tasting room. It was packed tight with cold, sweating stainless steel tanks. This was in contrast to my last visit when this space was open and only lined with the shiny, wine-filled chambers.
At the back of the modern facility was their barrel room, a two story affair, stacked floor-to-ceiling with over 600 barrels of aging wine. The evolution from a start-up undertaking to a top-notch winery was impressive.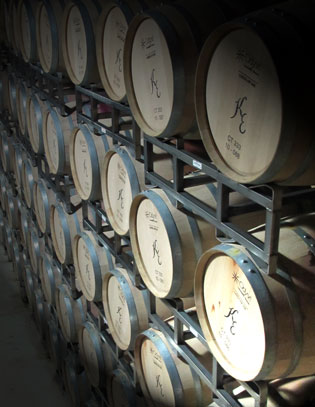 As quick as we entered the small, dimly-lit room where grapes were once crushed, fermented and aged, bottles of wine and wine glasses appeared on a table with the obvious intension for us to taste several Kiepersol wines. As my eyes began to adjust to the dim light, I looked at a row of bottles set at room's edge. These were the wines that perhaps Marnelle and Pierre were most proud: Merlot, Syrah, Cabernet Sauvignon and top-of-their-line red blend, Barrel 33. As the wines were poured, we talked.
Marnelle said, "Here's what we've got. We just bottled our '09 vintage wine and want to compare it to what's already out, our '08. My dad and I haven't tasted these wines side-by-side yet." She was a little worried, as the '09 vintage wines were just recently bottled and could be still shocked by the transfer.
As the wine was poured, Pierre said to me, "Your book turned out beautifully." My wife responded, just as I expected, by saying that the chapter on Kiepersol and my descriptions of Pierre were her favorite part of my Wineslinger Chronicles.
I said, "We've both read your book, too." To which, Marnelle, said questioningly but with a tone of startled excitement, "You've read the book…my dad's book!" I indicated that it was good for me to read Pierre's book (Story of We). I'd made some assumptions of Pierre's background based on what I perceived from only on a couple short meetings. What appeared event to me at that time was his strong and independent character and his solid family ties. I was glad to read his book that gave me "the rest of his story" and confirmed much of what I had perceived and wrote.
As we tried to put that topic aside to taste wine, Pierre said, "It's a lot of work to write a book, isn't it. But, I've found that people generally appreciate it, though." I compared the writing of a good book to polishing a diamond; it gets a little brighter and more facets appear with each edit until the story sparkles with its own pure light.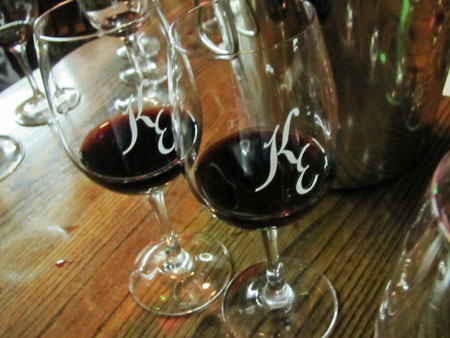 Marnelle presented us her '08 and '09 Syrah and to reminded us said, "They go left to right, just like you read." So, we swirled and sniffed each, then repeated the process again. I them a roll in the glass, a look against a white paper that I'd found on a nearby table and then tasted both.
I ventured with the first comment, "Both wines have Syrah written all over them which is a very good start." Then proceded with, "They are two very similar wines and approachable. The show dominant fruit aromas and hints of fresh herbs."
Pierre said, "Both of these wines are very comfortable for me." Finally, Marnelle expressed her relief and pleasure with our comments, and said, "That's good. We are trying to get continuity between the vintages so our consumers won't be affected when we make the switch." I assured her that these wines were very complimentary and should sell well.
What I held back saying until the end was that the Kiepersol estate-grown Syrah was some of the best examples of Syrah that I've tasted coming from Texas vineyards in recent years. That might surprise some people, particularly when I tell them it was the product of east Texas winegrowing on the outskirts of Tyler, Texas, in a small town that the locals call Bullard.
According to many, this vinifera-dominated vineyard is not supposed to exist (due to Pierce's disease pressure or the areas heat and humidity) and, Pierre and Marnelle would have bettered their chances of success if they'd gone with hybrid grapes, not the classic, European vinifera vines. For most people, Kiepersol Estates is off their Texas wine radar which is strongly focused on the Texas hill country and high plains area about Lubbock. While these are sources for quality grapes and premium wines, Pierre has proven what he said to me at our last meeting that I documented in my book:
"Sense of place, terroir, for me it's very different than the old conception that you read about in all your wine books. With modern-day technology, man can change the terroir. I'm a good enough farmer to change it to get what I want."
What Pierre and Manelle have done with their estate Syrah proved to me that he was, in fact, an excellent farmer. In the terminology of France, with pride, Pierre would be called a vigneron or "vine farmer". The word indicates and stresses the critical role of the vineyard in the production of high-quality wine.
Here I was, only a few hours from Houston or the Dallas Fort Worth Metroplex, tasting a stellar, locally-grown Syrah, which until recently had been a best kept secret.  With the recent accolades Kiepersol Estate has gained for their estate-grown Syrah (in its many forms), the secret should be "out of the bag" by now.
Kiepersol's '08 Syrah received a silver medal in the 2012 Lone Star International Wine Competition. Their stainless steel fermented Syrah made without oak aging (just with cold soak and extended maceration) garnered gold medals at the 2012 Dallas Morning News and TexSom Wine Competition and at 2012 Lone Star International Wine Competition. Furthermore, Kiepersols Syrah-dominated flagship wine, Barrel No. 33 received a silver medal at the 2012 Lone Star International Wine Competition.
We finished the afternoon, tasting through the Kiepersol Estates Cabernet and Merlot, both well made and what I called "wines that finely expressed the classic French characteristics of these grapes in balance with their place of origin – their terroir."
We ended up tasting the '08 Barrel No. 33. As Marnelle poured it, she said softly, "Here's my dad's baby."  If this wine was tasted blind, you might confuse it for a high end Australian Shiraz-style wine having the power of dark cherry aromas and almost sweet blackberry flavors, but accompanied with soft, fine tannins and a silky texture on the palate.
Pierre said, "This wine has always been made from selected clusters of red grapes. Marnelle and I walk through the vineyard. As we find a cluster we really like, we mark it with a ribbon."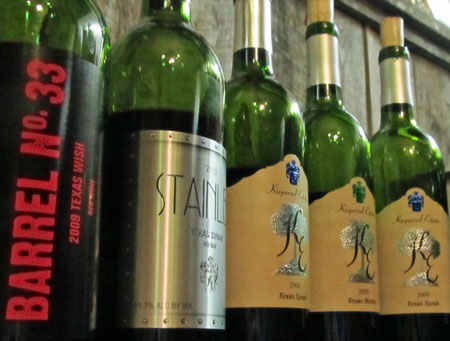 Marnelle said, "Originally, this wine included five grape varieties. It all started with one barrel at Kiepersol Estates, Barrel No. 33." However, for several years, it was a work-in-progress. When I tasted the Barrel No. 33 a couple years ago, it was good, but lacked a certain focus that I'dfound in wines at the highest level. Marnelle now admitted that my previous comment made her realize that she'd not yet found what it was in the vineyard and winery that would give Pierre and her the pinnacle of success that they wanted to achieve in Barrel No. 33.
When Marnelle poured me a taste of her '09 Barrel No. 33, I immediately realized a difference from the past with the wine's deep purple hue that overtook the edge of the glass. After a swirl, a sniff and a taste, the wine yielded deep lush red berry aromas followed by even deeper, bolder essences of black berries and black olive followed by earthy truffle notes and a long, crisp finish. Marnelle said, "After trying several blends we came up with this one that's mostly our estate Syrah with 8 percent of what I can honestly say is 'a secret' because I frankly don't recall it from memory. I'll have to go back into the records to find out what exactly it is."
With many months of American oak with medium to medium plus toast it was obvious that Barrel No. 33 has its load of tannins and is built to age. That said, the tannins, in this young state are "stout yet comfortable", well integrated with the wine's fruit and minerally character – no "oak float going on here. Is Barrel No. 33 a Texas wine that can sell for more than $40 a bottle? Well, the character and quality are both there to justify it, but I will leave the question up to your preference and price-point, pain-point.
I asked Marnelle if she had used a winemaking technique called "micro-ox" also known as micro-oxygenation used to soften tannic wines. She said no and alluded to the fact that wines made with this technique, while generally having a softer tannic profile as a result, to her also have an artificial quality to them, which she doesn't particularly does not prefer.
With her penchant for more natural winemaking techniques and Pierre's terroir, Marnelle offered an insight that I figured was the best and final statement for this wine. She said, "This is precisely the outcome we've wanted."