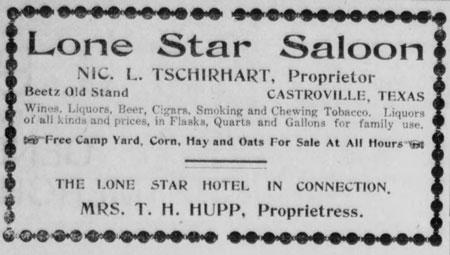 What a Difference Four Years Made for Texas Wine – 1910 to 1914
While doing background research for my new book, Texas Hill Country Wineries, for Arcadia Publications, I came across two newspaper advertisements from the early 1900s. The first (shown above) is for a the Lone Star Saloon in Castroville, Texas, that offers "Wines, Liquors, Beers, Cigars, Smoking and Chewing Tobacco. Liquors of all kinds and prices, in Flasks, Quarts and Gallons for family use."  I assume family use means not for resale.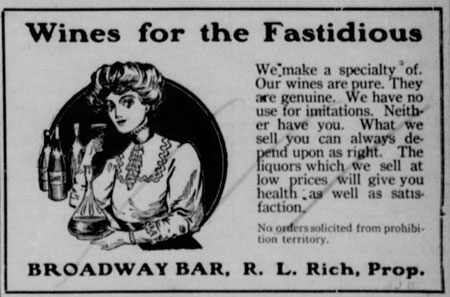 The second advertisement from 1914 is for the Broadway Bar as found in the Cameron Herald. This was just four years later and 6 years before National Prohibition was imposed. Nationwide prohibition did not begin in the United States until 1920, when the Eighteenth Amendment to the U.S. Constitution went into effect.
In advance of America's National Prohibition, the Texas state legislature (then in the "forefront" of the temperance movement) granted communities and/or countries the "local option" that allowed them to elect to "go dry" thus banning the manufacture, transportation, sale and consumption of alcoholic beverages in various defined territories within Texas. Notice the fine print on this advertisement that says, "No orders solicited from prohibition territory."
National Prohibition was repealed in 1933, with the ratification of the Twenty-first Amendment. However, this action by the federal government just handed the question of prohibition back to the states to decide. In Texas, the decision went back to the "local option" that allows prohibition to persists in some form or another around the state today.
Many people from other states often ask me "If Texas is such a good wine producing state, why is it so far behind other major wine producing states in America?" The longstanding run of prohibition in Texas (much longer than in most other states and still today in affect in some jurisdictions in Texas) is one of several things that delayed the development of wineries in Texas.
In 2001, a Texas state constitutional amendment gave Texas wineries the unique ability to make and sell wine anywhere (in wet, dry or damp areas in the state) as long as they maintain the use of 75% Texas grapes. This was a watershed moment for local wine in Texas and since then is when the number of Texas wineries started a rapid increase all around the state of Texas.