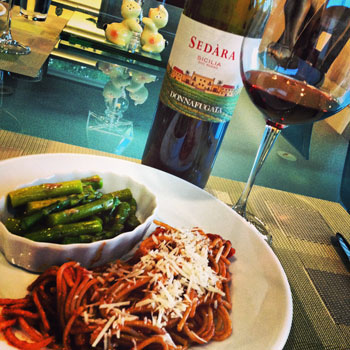 Join the Whole Foods Market Twitter Tasting: Spring is the Time for Italian Food & Wine
There is no better time than Spring to treat your taste buds to a trip across Italy. The air is clear and fresh, and the heat and humidity of summer have not yet arrived, what better time to cook. So, stop at Whole Foods Market, and pick your wine and food selections during their Wines from Italy spring feature. Then, get in the kitchen, pop a cork, pour a glass, and light up the burners.
In fact, why not join other Italian vino-enthusiasts (21 and older) for a Twitter tasting live tomorrow (April 10th 7-8 pm CT) at Whole Foods Market Stores (consult your local store for participation). Or, even better, while your sipping and cooking, join the action through the "Twitterverse" with others by following the hashtag #WFMwine. You can do this live and/or add you comments through TweetChat by logging in with your Twitter name then adding #WFMwine in the space indicated for the hastag to follow (click here). You can also post comments about your experiences by joining the Facebook group "Anything But Cabernet, Merlot, Chardonnay, Pinot" (click here), an international group of wine lovers dedicated to seeking out any wines but the usual suspects.
Italian wines are some of the most food friendly wines available. Native Italian grapes are not your standard set of Cabernet, Merlot, Chardonnay and Pinot Noir (although you can find them in Italy, too). They come by names of the grapes such as Pinot Grigio and Prosecco. However, they sometimes are labeled under their places of origin like Sangiovese from the Chianti region or Nero d'Alova from Sicily.
Why are Italian wines so food friendly? Well, they come with a natural acidity and are usually made in a medium bodied style with lighter use of oak that matches well with food, particularly if it is grilled or accompanied with a hearty tomato, cream or butter sauce.
My two selections from the Whole Foods Market Italian wine selections for Spring were one white wine and one red wine from their Spring Italian wine selections.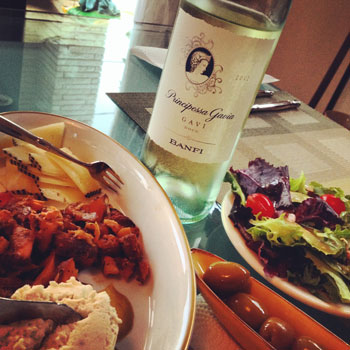 For starters, I opened a bottle of Banfi Principessa de Gavia DOC (Dallas Wine Competition 2014 Silver medal winner)  100% Cortese, a white Italian wine grape variety predominantly grown in the southeastern regions of the Italian Piedmont. The wine was rich in tropical aromas balanced with tart apple and citrus followed with a tangy yet substantial feel on the palate. This combination of tasting elements yields a wine with extremely broad wine pairing capabilities. It is light enough to handle delicate fish dishes and yet strong enough to handle more substantive and flavorful dishes, especially with sharp tomato sauces and cheeses. My food pairing was with a mixed plate with hard sheep milk cheese with rice crackers, grilled chicken in tomato sauce and fig-Gorgonzola cheese.
My second pairing was with the Sedàra Silicia DOC Rosso by Donnafugata (pictured at top), a wine with an effortless tannic structure, dominant red fruit in the aroma and on the palate with underlaid hints of baking spices and mineral character. It is a blend of mostly Nero d'Avola, supported with Syrah, Merlot, Cabernet Sauvignon and small amounts of other grapes. My food pairing with this wine was a simple plate of brown rice pasta with a sauce of tomato paste, olive oil and garlic, served with steamed asparagus with tarragon butter sauce. The versatility of this red wine goes with its ability not to fight with the asparagus, known to create "palate wars" with strongly tannic red wines. The clean bright red fruit in the Sedàra ameliorated and tamed the asparagus bringing the two disparate components of the dish together into harmony.
Lettie Teague, wine writer for the Wall Street Journal, credits the food pairing ability of Italian wines to a few important factors (click here for more details):
Italians, in their culture, naturally associate wine and food together (this is a good example of the pairing concept – wines and foods that grow together, go together).
Natural high acidity of Italian wines: Acidity lends a wine liveliness to the meal by keeping your palate fresh and ready for the next bite.
Commonly Italian winemakers are unlikely to use a lot of new oak (there are some exceptions), but as a rule, wines with lighter oaking allow the fresh fruity characteristics in the wine meld with the flavors from the food.
— — — — —
VT Note: Enjoy this Whole Foods Market Twitter Tasting and their Italian wines. But, also remember that wine from Italian grape varieties are appearing in wines from Texas wineries from grapes grown in Texas vineyards. They are a good match for our hot and sunny clime. Check out the soon to be released 4.0 Cellars Nero d'Avola 2012 Comanche County, Texas, at their tasting room near Fredericksburg, Texas (click here). See below: