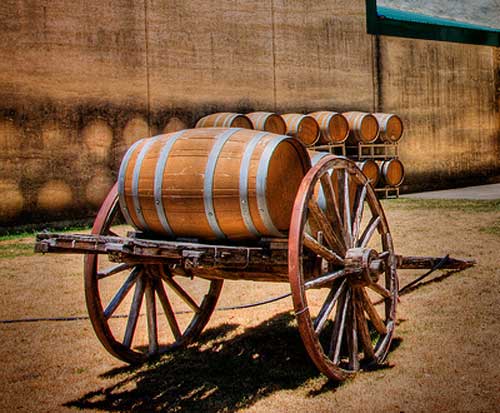 Write Off the Vine: Texas Wine News – May 6, 2010
Texas Wine Grape Network: Proceedings of the 2009 Texas Viticulture & Enology Research Symposium Available Online
Texas viticulture and enological specialists are learning how to grow better types of grapes and enhance the quality of wines made from Texas grapes. They are also learning about Texas wine consumers, who they are and what they like and making all this information available online. Some of the topics from this year's symposium include:
Physiology of Field-Grown Cool, Warm, and Hot-Climate Grape Varieties in West Texas. Dr. Thayne Montague, Texas Tech University and Texas AgriLife Research
Using Rootstocks to Enhance Grape and Wine Quality and Vineyard Sustainable Practices. Dr. Peter Cousins, grape rootstock breeder and geneticist, USDA-ARS
Chemical Properties and Anti-Cancer Effects of Texas Wines. Dr. Susanne Talcott, Texas A&M University
Sensory Evaluation of the 2007 Texas A&M Commercial Wine Chemistry Trials. Mike Sipowicz, Texas AgriLife Extension
Characterizing the Winegrowing Regions of Texas: An Application of GIS Technology. Elvis Takow, Texas AgriLife Research
Today's Choices: U.S. Wine Consumption Trends. Dr. Natalia Kolyesnikova, Texas Tech University
Market Segmentation Analysis to Target Texas Wine Consumers. Dr. Natalia Kolyesnikova, Texas Tech University
For online access to these presentations and others, go to: http://winegrapes.tamu.edu/research/2009symposium.html
Messina Hof Winery Class Covers Oak Aging
Messina Hof Winery & Resort will host a wine appreciation class focused on the effects of oak aging on wine at 3 p.m. May 30. The event at 3 p.m. at 4545 Old Reliance Road in Bryan is $19.95 per person, which does not include tax and gratuity.
Guests will have the opportunity to learn about how different types of oak can change the flavor of a particular wine. Aging wine in oak barrels can affect the distinctiveness and complexity of the wine. Each guest will try several wines and identify the different flavors the oak can produce.
Messina Hof's monthly classes are taught to allow everyone from beginner to connoisseur to follow along. Classes last 90 minutes and include light cheeses and wine. For reservations call 778-9463 ext. 234.
A Taste of Texas, Twitter-Style
On Thursday, May 13th at 7:00 pm Central Time, Ben Simon at Vinotology (http://www.vinotology.com) will be hosting an event on Twitter with Mandola Estate Winery (http://mandolaestatewinery.com).  He will be tasting four different Mandola wines, and tweeting up a storm about Texas wine, and especially about Mandola wines. This will be a great opportunity for you to taste some great Texas wine, and to learn more about one of the many great wineries located in the Hill Country of Texas. All you have to do is buy some, or all, of the four wines that we will be tasting, drink up, and tweet about your experience using the #tastetexas hashtag.
For details on the event, and to register to participate, visit the Taste Texas Eventbrite site at: http://tastetexas.eventbrite.com.  There will be some upcoming announcements for the event, including some guest bloggers, and details for my West Texas readers about a tweetup for the event that I will be hosting.
More details at: http://www.vinotology.com.
New Hill Country Wine & Music Festival Kicks-Off in Fredericksburg, Texas
Experience the rich, aromatic flavors of Texas while enjoying live music during the first annual Hill Country Wine & Music (HCWM) Festival from 10 am until 6:30 pm, Saturday, May 15, at the Gillespie County Fairgrounds in Fredericksburg.
Tickets are $25 when purchased in advance at www.hillcountrywineandmusic.com and $30 at the gate on the day of the festival. Admission for active military is $20. A portion of the money raised at this event will assist in establishing the Texas Center for Wine and Culinary Arts in Fredericksburg.
Admission includes a souvenir wine glass, three tickets to wine tastings, access to cooking demonstrations, live music throughout the day and a chance to win several great Hill Country prizes such as getaways and wine tastings and tours of area wineries.
Samples of some of the best vintages from Texas wineries will be featured at the HCWM Festival. Hill Country area restaurants, including Cabernet Grill Texas Wine Country Restaurant, August E's and Rose Hill Manor, will conduct cooking demonstrations utilizing some foods provided by the Texas Department of Agriculture's GO TEXAN program.
More details at: http://www.bccourier.com/Archives/Community_detail.php?recordID=100506C8
Texas Winery Leads the World in 'Green' Innovations
By Ron Saikowski – Houston Wine Walk
Although Texas has a reputation of being the energy capital of the USA, when it comes to oil, natural gas and petrochemicals, few people know that Texas is leading the world in innovative solutions to energy usage in wineries.
Architect Gary McKibben started Red Caboose Winery in October 2005 in Bosque County, south of Fort Worth. In less than five years, this Architect-turned-winemaker has taken his winery operations to the pinnacle of being GREEN with energy-saving innovations never seen such before as geothermal refrigeration systems along with sub-terrain wine aging facilities.
In addition, Red Caboose Winery harvests rainfall off its winery roofs for irrigation of its 16 acres of vineyards. Gary McKibben is a humble man, never bragging about his great accomplishments, but showing the way for other wineries to go green.
More at: Houston Wine Walk
Photos of Texas Wineries, Bluebonnets and Landscapes
See: http://www.flickr.com/photos/oxherder/with/4584296560/
See: Vinography