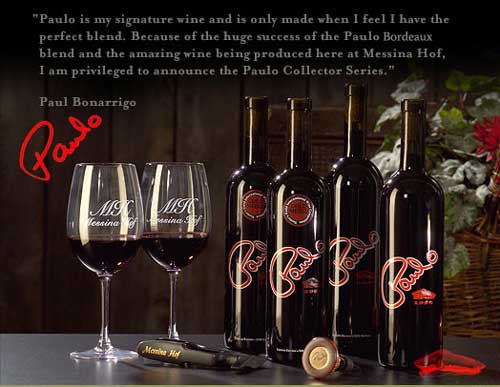 Messina Hof Paulo Shiraz: Texas Soup and Texas Wine Pairing
If you are like me, you often have several unfinished bottles of wine (often from Texas) that end up in the refrigerator normally with only a cup or thereabouts left in them. Customarily, I have two or three bottles that are beyond their peak performance for tasting or drinking. However, these wines are usually still very good and don't deserve a burial at sea (aka: Poured down the drain). Here's a recipe for a beef soup that I made on the spot last week from the wine and ingredients that I had readily available. One issue you'll have to content with is the soup is hearty and needs a really good inky red wine to pair it with. See my recipe and wine choice below.
Tejas Bistec Sopa Con Vino
1 lb Trimmed Beef Brisket (sliced into one inches thick strips then again into to cubes)
3 cups Beef Broth
1 cup Texas red wine lightly oaked (Dolcetto)
1 cup Texas white no oak (Viognier)
2 cups water
1 Onion (quartered)
2 stalks Celery
4 cloves Garlic
12 springs Cilantro
2 Carrots (peeled)
3 Cloves (whole)
10 Black Pepper Corns
3 tbsp Ketchup
1 cup Brown Long Grain Rice
3 cups Carrots (sliced)
2 cups Frozen Peas (thawed)
Place ingredients listed up to the pepper corns in a large soup pot and bring to a boil then simmer for three hours. Strain soup and retain meat. Pull meat cubes into smaller pieces by hand and return them to soup. Bring the soup to a boil again, add rice and carrots, then simmer for 45-60 minutes or until rice starts to split on the ends. Add peas, cook for 5 minutes longer and it is ready to serve. Garnish with Cilantro.
This is a thick and hearty beef soup integrated with a sweet red tomato flavors that can handle pairing with a rich, full bodied red wine. While many people shy away from wine pairing with soup, this one begs for a big (or maybe fat) red wine. My selection was Messina Hof Paulo Shiraz (Texas) 2005 (www.messinahof.com) that offered a full bodied and rich palate experience starting with aromas of ripe blackberry, vanilla and humus with a counterpoint of rustic red plum and earthy black olive flavors.
I asked Paul Bonarrigo, co-owner and winemaker at Messina Hof what's behind this wine. He said, "All of our Shiraz is dark.  The vineyards are in Lubbock and Dennison Texas. Extraction is from cold soaking,  flash fermentation and extended maceration. Two years of oak also significantly increases color. The flash fermentation is when we start fermentation at 65 F and the temperature spikes to 85 F at the start. Then, we bring it back to 65 F.  At 85 F, you get max color uptake."
If you think that Texas red wines are thin (not extracted enough), this is one of the wines that you have to try. I think that this wine will surprise you. In a blind tasting Twitter event that I organized at Messina Hof, Paulo Shiraz made Jeff Siegel, The Wine Curmudgeon, also take note:
http://www.winecurmudgeon.com/my_weblog/2010/01/messina-hof-twitter-tasting.html
Enjoy!