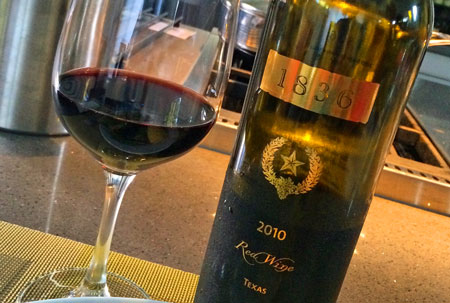 Llano Estacado Winery's Best Wines Keep Coming: Viviano and 1836
While many of the recent accolades for the Texas wine industry have come from relative newcomers with boutique wineries, it's good to see that long established Texas wineries continue to define quality and character of some of Texas's finest wines and get them into distribution around the state. In this regard, Llano Estacado Winery needs to be singled out as being one of the first modern-day Texas wineries (established in 1976), the largest premium winery in Texas, and a winery that almost 40 years from its inception keeps offering wines that can compete in the super-premium category nationally.
Llano Estacado Winery's Executive Winemaker and V.P. Greg Bruni is a leader in these quality efforts since he came to make Texas wines after leaving a successful winemaking career in California. Greg, winemaker Chris Hull and their winemaking crew continue to bring home awards with their wines, several of which were recently called out in major International wine competitions. Two of these wines also acknowledge this state's 2010 grape harvest that I feel will be long recognized as one of the best of all time in Texas.
According to Greg Bruni, "The clear message I would like to send to Texas wine drinkers is that in my opinion the 2010 vintage in Texas was an excellent one for red grape maturation particularly in our Cabernet Sauvignon, Sangiovese, Tempranillo and Syrah grapes from the west Texas and high plains vineyard. In my 20-years as a Texas winemaker, vintages vary in their ability to produce fruit of optimal maturity, but 2010 was one of the years where exceptional grape quality was broadly achieved."
You may ask why are we discussing the 2010 vintage when it's now 2014. That's four years later. Well, Llano Estacado is just now releasing some of the Best-of-the-Best wines they have from the 2010 vintage.
Greg continued, "So the short answer is this exceptional grape quality from the 2010 vintage has allowed us to achieve our quality target for our super-premium wines. In response, we let these wines barrel age beyond our normal 24 to 36-month and even 40-month protocols."
Personally, I'm always leary of over-oaking wines, particularly Texas wines as it tends to degrade the fresh, fruit character Texas wines can offer. But, in this case, I'll admit that for the following two wines from Llano Estacado and the 2010 vintage, the proof is in the tasting.
2010 Llano Estacado "1836", Texas
Those of you that got some of the 2008 vintage of this wine won't need much prompting here. It's a classic Cabernet-Syrah blend, just a smidgen heavier on the Cab, but it would take a chemist to determine that. So, let's just call it a 50:50 blend made from Texas High Plains and what Bruni calls is West Texas "desert" grapes. This wine brings lusciously opaque red-black color and ripe dark fruit characteristics. The barrel treatment acknowledges the special quality of the fruit with extended 28-month aging in French and American oak barrels. The tannic structure of this wine is a great match for the wine's heavy extraction and presence in the glass and will make this wine last years if properly cellared.
This "1836" (San Francisco International Wine Competition Double Gold Winner) while aimed at "On Premise" accounts (like major restaurants), is a great find if you are lucky enough to locate a restaurant serving it. I will try to follow up with some advice on this. Perhaps, some of this wine might find it's way into retail stores as did its 2008 predecessor.
2010 Llano Estacado Viviano, Texas
As most of you already know, I've been a fan of Llano's red Viviano blend for years. The winemaking team at Llano Estacado do now make this wine every year, it's saved for the really fine vintages when the opportunity presents itself. Well, 2010 was it for Viviano and I believe that this is one of the best Viviano's Llano Estacado has released. For me it's the wine's combination of dark berries and tart red fruits that comes from this blend of Cabernet Sauvignon and Sangiovese (70:30 blend). The wine exudes month watering fruit even after 43 months of oak aging. Yes, that's right – 43 months (I checked to make sure it wasn't a typo in the release materials). The complexity of this wine is enhanced by the time in barrel to provide a long list of secondary spicy and aromatic characteristics. It also has a firm but quite pleasant tannic structure that pairs well with grilled meats and game that also bodes well for it's longer term aging potential.
More information on these and other premium wines from Llano Estacado Winery is available online at: www.llanowine.com