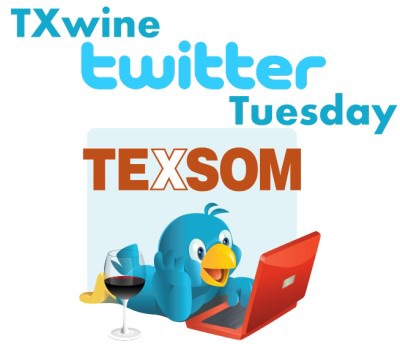 If you are a Texas wine lover, here is your chance to meet-up with other Texas wine aficionados. Jessica Dupuy, Denise Clarke, Daniel Kalada, Jeff Cope and I welcome you to join us starting Tuesday September 16 at 7 pm Central. Details are provided by Jeff Cope below:
From: Jeff Cope at txwinelover.com…
Starting September 16, TXwine Twitter Tuesdays will be held bi-monthly, that's every two months, so be sure to watch for when the next one will be. They will normally be held the second Tuesday of the month and that will be the same most of the time, but may change some months like this month.
This month's #TXwine Twitter Tuesday which will be held on Tuesday, September 16. This month we will be celebrating the Texas wines which were served at the 10th anniversary of TEXSOM this past August.
This will make it easy for everybody to find a wine to enjoy and discuss during the chat since many Texas wineries participated at TEXSOM. The wineries participating were:
Bending Branch Winery
Brennan Vineyards
Duchman Family Winery
Hye Meadow Winery
Kerrville Hills Winery
McPherson Cellars
Messina Hof
Pedernales Cellars
Spicewood Vineyards
William Chris Vineyards
The other change for Twitter Tuesdays are additional hosts besides Denise Clarke, Jeff Cope, and Jessica Dupuy. Back to join Twitter Tuesday is Russell Kane (VintageTexas.com) and joining the hosting ranks is Daniel Kelada. Certain Twitter Tuesdays will have specific hosts and for this month's Twitter Tuesday, Denise and Jessica will be hosting.
Join us for the September #TXwine Twitter Tuesday on September 16th from 7-8 p.m. CST. Grab your favorite wine from one of the wineries above and we look forward to seeing you for a night of tasting and tweeting.
Please remember to include #TXwine in your tweets so everyone participating in the chat can see your tweets!
Cheers!
Denise, Jeff, Jessica, Russ, and Daniel (look for @DeniseClarkeTX, @TXWineLover, @JDewps, @VintageTexas, @txwinejournal)
Additional Details:
NOTE: If you are new to Twitter, here's how you participate: just sign up for a free Twitter account at www.twitter.com. You can also go to the TweetChat room set up for #TXwine (http://tweetchat.com/room/TXwine). No registration is required; you can login using your Twitter account info. In the TweetChat room, participants are invited to follow tweets, add comments or tasting notes and share thoughts as participants taste and discuss the wines.
Another Twitter chat website which works well is:
http://www.tchat.io/rooms/txwine
On TweetChat and TChat the hashtag #TXwine will automatically be added.
If you are using TweetDeck or another Twitter application, you will need to add #TXwine to your tweets.