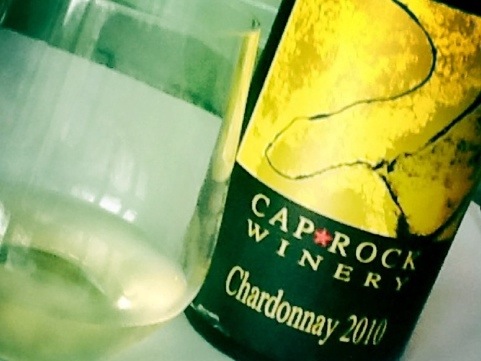 Just When I Was About to Write-off Texas Chardonnay
Just about every year I vow to delete the word Chardonnay from the Texas wine lexicon, I find a reason not to. It usually comes after tasting another abomination of a wine made from flabby over ripe fruit with low acidity, high alcohol and the application of far too much oak.
Then, comes an interesting wine like this one from CapRock Winery in Lubbock. It was their 2010 vintage Chardonnay that carried a Texas High Plains appellation. I am amazed that I can say that it has the characteristics of a Chablis. Not the Chablis of Gallo fame, but the Chablis of the renown wine region in France. The CapRock, 2010 Chardonnay (Texas High Plains Appellation) was pale straw gold of moderate ripeness and extraction, and the aroma was clean and bright with nuances of green apple and lemon citrus character accompanied by the mildest hints of French oak. On the palate, the wine was low in alcohol, light and lively driven by lemon, apple and vanilla on the finish. All in all, a well made wine.
If 2010 was anything, it was a likely to be a good year for Texas High Plains Chardonnay…no late spring freeze, minimal hail, cool and wet through June, but then dry and hot through harvest that brought excellent yields.
CapRock General Manager, Phillip Anderson, said, "Glad to hear that you liked the Chardonnay. It took some work before we got it where we wanted it. We did use French Oak chips on it, but I think that they have integrated pretty well."
He continued, "The grapes came from Delaney Vineyards. We weren't able to get any from him this year though, so Chardonnay is still hit or miss in Texas. Perhaps he will get a crop this year, but it is hard to count on it."
There in lies the point of difficulty. Chardonnay is just not a reliable producing grape variety in Texas. However, distributors still want the wineries to make it for distribution, winery want growers to plant it, and consumers want to consume it (even if it has to made with out of state grapes and made into non-Texas or appellationless wine).
It is about time that growers, winemakers, distributors and most of all consumers stop hoping for the impossible – a consistent year-in-and-year-out supply of Texas Chardonnay. Let's stop hoping for miracles-of-miracles and start demanding more white grapes be planted in Texas that can sustain our industry like Vermentino, Roussanne, Viognier and Muscat. Texas can still be a quality wine producing region without Chardonnay as one of its pilars of strength.
But, in the mean time, as long as the 2010 CapRock Chardonnay is around…go for it!