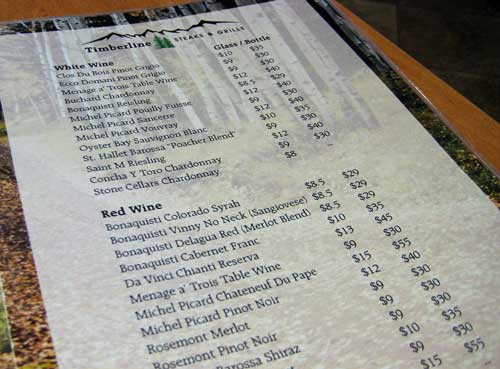 Congrats to a Colorado Winemaker; A Tip of the Hat to a Colorado Restaurateur
Last week I had the occasion to travel up to and out west of Denver. With the summer of 2009 nearly over, but with lingering waves of heat still coming off our hot Houston payment, flying to Colorado was like escaping from three months held hostage in a Turkish bath. The mountains gave me a breath of crisp, clean air and a little rejuvenation of my psyche, as well.
On the return leg of my trip, I arrived at the Denver airport with some time to spare and it was approaching dinner time. Fearing what culinary delights the airline might (or might not) decide to offer, I sought a good eating spot in the airport; not fast food, but rather something that would fulfill and provide enjoyment. I finally settled on a comfortable looking place called The Timberline: Steaks and Grill (www.denverpost.com/business/ci_5840999). Thoughts of a nicely grilled steak (and dry aged beef to boot!) permeated by mind and, as I walked into the restaurant, the smells overtook  my senses. The net result was a near instantaneous desire for a glass of red wine.
After being seated, I asked the waiter for the wine list while my mind was mulling around thoughts of what kind of red wine I might order to go with my steak. When I was handed the wine list and I gave it a quick glance, in mere seconds my eyes bugged out and my head nearly exploded. What could have caused such a reaction?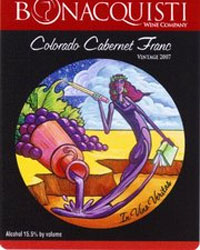 What left me aghast was the sight of four Colorado wines listed at the top of red wine category on the wine list. They were four wines from Colorado's Bonacquisti Winery (www.denverwines.com). In these prominent first four positions were Bonacquisti's Syrah, Sangiovese, Merlot and Cabernet Franc, respectively.  It is not often that you find local wines featured so prominently  in restaurants and especially not in a major airport. These wines were featured at the top of the list above such names as Michel Picard, Rosemont and Concha y Toro.
I quickly drew my Blackberry from its holster and punched in B-O-N-A-C-Q-U-I-S-T-I, then waited. To my surprise I was whisked to their website and was able to peruse their wines and their descriptions. I finally settled on their 2007 Colorado Cabernet Franc. This wine was described as having "Plum and berry flavors, vanilla and pencil shavings wrapped in tobacco leaf. Wonderful now and capable of aging five to ten years. Appellation: Colorado; Alcohol: 15.5%; Production: 69 cases (69 cases!!!)." I also noted that Bonacquisti had garnered awards for their wines from a variety of competitions, including those in Colorado, but also from the Dallas Morning News, and the Finger Lakes International Wine Competition.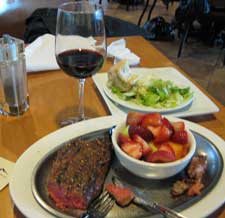 When the wine arrived, it was all that its description on the winery website indicated, even the 15+ percent alcohol content. It was agreeably balanced with surprising grand fruit intensity. This Cab Franc was a great pairing for the grilled, medium rare New York strip steak and added a bit of pleasure to wait for my awaited departure.
After this dinner and returning to Houston, I reached out to the winemaker and winery owner, Paul Bonacquisti and asked him how he managed to get his wine on this restaurant wine list.
Paul replied, "To be honest, I have the restaurant owner, Rod Tafoya, to thank for that. He was getting ready to open in early 2007 and was looking for some Colorado wine to carry. He surfed on in to my website, and saw I was already in a local restaurant called Three Sons. Rod figured that my wine must be good. So he came in to taste and the rest is history. I'm his only Colorado wine on the menu and he has at least five of my wines so to quote an Earth Wind and Fire song…."I just wanna give Gratitude"."
I also asked Paul about the Cabernet Franc on the ability to get it ripe enough in Colorado to reach the 15+ percent alcohol level. Paul answered back, "Cabernet Franc is one of Colorado's signature grapes, not enough people know about it, but they're slowly catching on. Rhone valley grapes are great too, Syrah, Viognier and the German varietals are killers. These grapes were grown in Palisade on the western side of the state and it does get hot, mid 90's in the summer and cool nights low 60's so Cab Franc ripens nicely with no problems.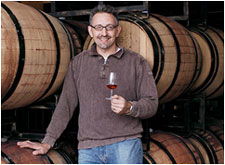 Paul indicated that  most red grapes in Colorado are typically harvested late September and into October. He said, "We get some really nice weather this time of the year, upper 70's to low 80's which is perfect for ripening. It's pretty easy to find reds in Colorado over 14% as a lot of winemakers like to let them hang a little longer to get the green flavors out and will harvest at 26-28 brix. So that's how my 07 Cab Franc got up to 15%, off the top of my head it was around 27brix."
By the way, Bonacquisti winery won a gold medal this past weekend at the Colorado Mountain Winfest for the Cab Franc I tasted.
Congrats to Paul Bonacquisti for making good wines and a tip of the hat to Rod Tafoya of Timberline for seeking out local wines for his restaurant wine list. Taking the time to find and source local wines is an idea that restaurateurs in Texas should try, as well.
Check out the following video:

Bonacquisti Winery – Click here for more home videos