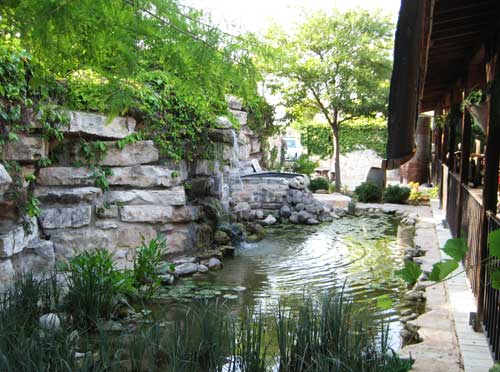 Grape Creek Vineyards Vintner Dinner at Chef Burtwell's Cabernet Grill
Texas Hill Country wines are rapidly becoming what can be referred to as "the whole deal, the real deal, and the big deal"; something similar to what I previously experienced in northern California in the 1970s. This was particularly true last week when my wife and I attended Chef Ross Burtwell's Cabernet Grill restaurant when it featured his tasting menu and the wines of Grape Creek Vineyards (www.grapecreek.com).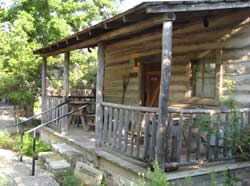 A southwesterly breeze insured a hot evening with a touch of humidly blowing in from the Gulf as we arrived at the Cotton Gin Village (www.cottonginlodging.com) on the edge of Fredericksburg, Texas. The village is a compound of nineteenth century split log cabins that surrounds a welcoming environ of water ponds and gardens offering a rustic setting for the B&B and restaurant. The trickle from a limestone slab into the pond below provided a calming sound and mesmerizing ripples as we kicked back and set a spell until the start of the vintner dinner.
We were seated at our table and greeted by our server, Elizabeth. That evening we shared the table with Brian Heath, owner of Grape Creek Vineyards and Jason Englert, its winemaker. Brian acquired Grape Creek Vineyards from the estate of its founder, Ned Simes and completely revamped the winery with an upscale panache. It now offers a wonderful Mediterranean-inspired domain and newly planted estate vineyard for winery-goers near Stonewall, Texas, on the Route 290 Corridor (http://www.WineRoad290.com). The new vineyard features Italian red grapes like Aglianico (pronounced "ah-LYAH-nee-koe") and Montepulciano, Texas' stalwart white grape (Chenin Blanc), and Petit Verdot an inky dark red grape.
Jason came to Grape Creek with big-time winemaking experience from Llano Estacado Winery in Lubbock, but surprised Brian with his accomplishments under his own premium Texas wine label, Quivis:
http://www.thetexasfoodandwinegourmet.com/sub_story.asp?category_id=82&story_no=13 
Having experienced Chef Burtwell's magic before, I knew that he takes pairing food with wine very seriously oftentimes working through many test iterations and using his staff to trial his creations before letting them grace the plate of his patrons. Maître d' Mike Bose, stopped by our table affirming that Chef Burtwell had indeed worked some magic that evening.
The Cabernet Grill's Vintner Dinner featured the following Chef's Tasting Menu paired with wines from Grape Creek Vineyards (Also, note my comment following each course):
First Course: Jumbo Lump Texas Blue Crab with Avocado and Coconut Lime Broth; Grape Creek Cuvee Blanc
Comment – The combination of tropical flavors, richness of crab, and mouth feel of the avocado were delightfully married. The Cuvee Blanc, a blend of Sauvignon Blanc, Viognier and Muscat Canelli, was punctuated with an equally tropical citrus and stone fruit note from the Muscat.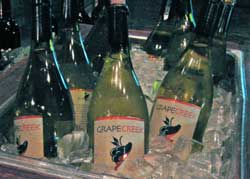 Second Course: Seared Ahi Tuna with Sesame Wasabi Vinaigrette Noodles and Radish Sprouts; Grape Creek Viognier
Comment – The dry heat from the wasabi vinaigrette paired with the Viognier (grown in Del City, Texas) that had toned down fruitiness but an interestingly clean, steely and very Asian quality.
Third Course: Charbroiled Lockhart Quail with Jalapeno Waffles and Cayenne Honey Glaze; Grape Creek Cabernet Blanc
Comment – Anyone that thinks that sweet wines don't pair well needs to try them with spicy dishes like this superbly smoky charbroiled little bird featuring chucks of jalapenos and the sweet cayenne glaze. Wow!
Fourth Course: Pancetta Wrapped Pork Tenderloin with Porcini Mushroom Cabernet Cream, Spice Dusted Sweet Potato Frites and Shredded Tiny Cabbage; Grape Creek Cabernet Trois
Comment – The most substantial dish of the evening featured the full flavor of pancetta and cream over the pork tenderloin. The accompanying Cabernet Trois was up to the task offering a full bodied, inky blend of "Three Cabs" – Cabernet Sauvignon, Cabernet Franc and Ruby Cabernet. Ruby Cabernet, when done right, brings the deep purple color and a spicy note observed in this wine originating from its parentage (a cross between Cabernet Sauvignon and sun-loving Carignan).
Dessert: Warm Pecan and Apricot Spice Cake with White Hot Chocolate Cream; Grape Creek Muscat Canelli
Comment – Grand finish coupling the apricot cake with the essence of apricot, peach, and pear in the sweetly crisp Muscat Canelli.
My "best of the bunch" picks for the evening were Chef Burtwell's tropical crab creation (First Course) and Jason Englert's Cuvee Blanc and Cabernet Trios. 
Epilogue – Experiencing Tuscany in  theTexas Hill Country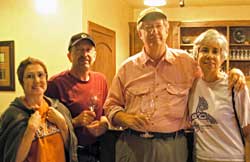 A few days following the Cabernet Grill's vintner dinner, my wife and I and friends from Houston went to personally experience Grape Creek Vineyard's "Tuscany in the Texas Hill Country" just east of Fredericksburg, Texas on Route 290. The trip also gave us the opportunity to bring home several bottles of our favorite wines from the vintner dinner: Cuvee Blanc and Cabernet Trois.
The rains that had been missing from the Texas Hill Country for most of the past year came that morning with an unexpectedly brisk blast from an approaching cold front. Our trips to the California wine regions of Napa and Sonoma often take place early in the year when the California wine country is chilly and showery. The Grape Creek Vineyards winery experience that day came as close as imaginable to those we have experienced in California even with the interjection of cool rainy weather into our normal near-summertime Texas environment.
On the Road Recommendation: While at Grape Creek, pay the ten dollars for the complete tasting experience (Artisan Tasting: Five white label wines and five premium black label wines accompanied with a Grape Creek glass that you can keep). I suggest you come up with the extra cash especially so that you can try their award-winning premium wines that include some substantial red Bordeaux and Mediterranean blends…..and, don't miss their Port served with dark chocolate drops. The cost of a tasting is credited to a purchase of three bottles of wine.
…………………………………………………………………
Notes from my previous trek down the Route 290 Corridor Trail and stop at Grape Creek are available at: https://vintagetexas.com/?p=108.