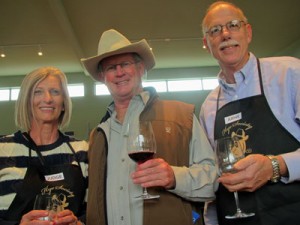 We Ate Our Black-eyed Peas (And Sampled Some Wine) At William Chris Vineyards
We drove into Fredericksburg on Monday afternoon knowing that cold weather was coming (with some much needed rain) and our car's battery was weak. But, we made it and celebrated our New Year's Eve in the comfy confines of our Texas hill country cottage provisioned with delights from Houston's Central Market: three dozen oysters (to be freshly shucked), a healthy-sized slab sea bass and a bottle of McPherson Cellars (almost-Texas) Sparkling Wine. As you may know, it's a cuvée made with Texas fruit, but the sparkle is added with a little California Charmant carbon dioxide. By 1 pm yesterday, we drive into Hye to celebrate New Year's Day by judging a black-eyed pea cooking contest and sampling some wine at William Chris Vineyards.
It was a fun affair lead by winemeisters Chris Brundrett and Bill Blackmon, with live music and at least 7-8 contestants each with a different version of the venerable pea (or is it a bean) of good luck. My favorite was from Contestant #7: a chorizo-laced concoction of spicy black-eyed peas topped with homemade jelly. I dredged my chip into it and my topping of choice was a purple jelly made with Mourvèdre grape. This got all three of my votes.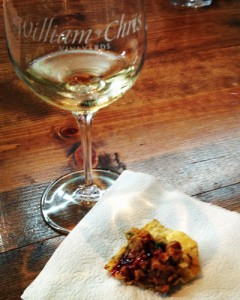 We roamed with other judges, some from near our little hill country homestead. This was the first chance to taste several of the William Chris wines. For starters, both my wife and I had a white blend called Mary Ruth from the 2011 vintage, a blend of Orange Muscat, Chenin Blanc and Grenache Blanc. a
A great off-dry sipper to pair with spicy beans on a chilly January 1st afternoon. Chris pulled me aside and provided a tank sample of an upcoming white wine which was outstanding. I promise to blog more about this when it's ready for release in about a month from now.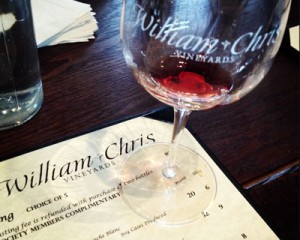 The reds were uniquely William Chris in style: not fruit monsters, but medium-bodied wines of finesse driven by terroir (the sense of place – Texas high plains and hill country where the grapes originate) and aromatics that most winemakers long for. All small batch, artistically-done wines. Favorites for the afternoon were:
Artist Blend 2010 – Predominantly Mourvedre and Tempranillo driven by red berries and hints of vanilla and spice (everything nice)
Emotion 2011 – Another red blend of Zinfandel, Merlot, Mouvedre, Cabernet Sauvignon showing lots of character and balanced structure from the Cabernet.
You might find them in a few select restaurants (like Mark's American Cuisine in the Montrose-district in Houston), but they are not widely distributed. These wines highlight what I talk about in next week's Texas Wineslinger column – the need to ride Texas wine trails to find the hidden gems. Make your resolution now!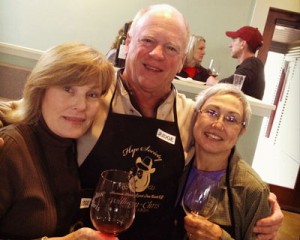 More pictures and info on this event at:
https://www.facebook.com/william.chris.vineyards