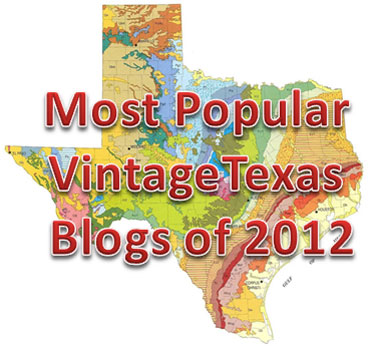 Most Popular VintageTexas Blog Posts of 2012
I've inserted a little break in the action after naming the VintageTexas 2012 Top Ten Wines (white and red) and before naming my list of honorable mention wines for 2012.
Based on page accesses by readers in 2012, the following were the most popular posts on VintageTexas over the past year. As might realize, most of these were not actually generated in 2012.
It is interesting that several blog post continue to be in the top ten for the third straight year. One covers Texas Black Spanish (Lenoir) grapes and another focuses on my take on the cuisine in Spain following the trip that my wife and I took that encompassed Madrid, Granada and Barcelona. Blog posts on other trips and the selection of our top wines from 2011 area also represented.
If I'd limited this list to just those blogs posted during 2012, as you might imagine, it will come out a much different. Between now and the end of the year (but after I name the 2012 honorable mention wines), I will try to get this list posted.
In the meantime, thanks for your readership on VintageTexas in 2012. If you have topics of interest, questions or if you want to get a discussion going, please contact me through the comments thread on the VintageTexas blog.
I also want to thank all of you that purchased a copy of my book, The Wineslinger Chronicles: Texas on the Vine that was released by Texas Tech University Press this past February. If you need a gift of your favorite wine lover, you can get a copy this book on Amazon or Barnes and Noble (hardback, eBook and Kindle) or a personalized/autographed hardback through my website at www.wineslinger.net. Cheers