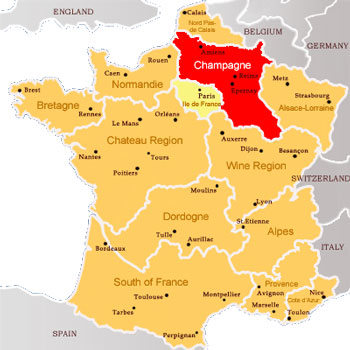 A New Way to Elevate Texas Wine Production and Quality: The Champagne Connection
This week, in my Texas wine column in the Lubbock Avalanche Journal (click here), I talked with Austin's  wines.com and Red Room Lounge sommelier Bill Elsey about interesting and somewhat surprising connections between grape growing and winemaking in Texas and in the northern French wine region of Champagne. I think that I may have caught some people off guard to the point of thinking that we both went over the cliff on this one.
However, I believe that we came up with a way around one of the major stumbling blocks of Texas wine production: vintage-to-vintage variability. The work around is really nothing new. It's more like borrowing a page from the play book of Champagne, another region that is challenged with a highly variable, continental climate.
As acknowledged by Oz Clark in his book, Grapes and Wines: The Definitive Guide to the World's Greatest Grapes and the Wines They Make (click here), wine regions in continental climates typically have greater variability year-to-year in the weather leading to colder winters, late spring freezes and shorter summers. This is the result of not having close access to a large body of cold water near by like they do in most coastal regions of France, California and other places in the modern wine world. This sure describes what we have in Texas. However, we are at the opposite end of the climatic extreme to Champagne. Champagne fights of the effects of cool, damp summers, while Texas fights heat, drought and the occasional late spring freeze.
Check out my Texas Wineslinger column to see how multi-varietal and multi-vintage blended wines (common in Champagne)  can help Texas wine growers and wineries build a buffer between them and weather to  maintain more consistent production and wine quality at the same time. It just means that Texas wine consumers will have to learn a new lexicon: proprietary wine names versus what California taught them about single varietal wines.
I will rest my case after you taste a wine from Red Caboose Winery: their Range Rider multi-varietal, multi-vintage blend of Tempranillo, Syrah and Cabernet Sauvignon (click here).