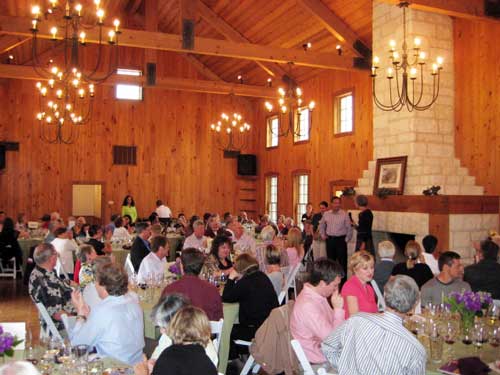 Savoring the Texas Hill Country: Luncheon at Becker Vineyards
Entry 2 – The Texas Hill Country Wine and Food Festival Adventure
Three winery hosted luncheons were held today, my selection, though hard to make, was the event at Becker Vineyards (Stonewall, TX – www.beckervineyards.com). It featured wines from Becker Vineyards, Brennan Vineyards (Comanche, TX – www.brennanvineyards.com) and Grape Creek Vineyards (Fredericksburg, TX – www.grapecreek.com).
From my back porch I gazed at spring-like morning air that was heavy on the Big Hill; not a dew, but definitely not rain. Gray clouds embraced this  high eastward appendage of the Edward Plateau north of the Guadalupe River and south of the Pedernales. I was only minutes away from Becker Vineyards. As I drove north, the land released its romance with the clouds to expose the bright green of new oak leaves and an awakening countryside.
Becker Vineyards Prelude
When I arrived at Becker Vineyards, I spotted both Bunny and Dr. Richard Becker as friendly as ever, pouring, greeting and talking with their afternoon patrons. The sight of Pat Brennan (Brennan Vineyards) pouring his wine behind the Becker tasting room bar caught me unexpectedly. I asked him if Richard had liked his wines so much that he decided to put him to work down here in his tasting room. Lastly, I met Jason Englert, winemaker at Grape Creek who was pouring on the patio.
At $65 per person, this event had to be one of the best Texas wine values in history. All wines were made by wineries that know quality and apply it liberally to produce exciting wines. For starters, I tasted the Becker Vineyards Prairie Rotie (a Rhone-style red blend with earthy, dark berry), Brennan Viognier (honeysuckle-like aroma, but dry and crisp) and Grape Creek Pinot Grigio (light, citrusy and herbal). The three tasty wines were served with a charcuterie selection from Opa's Smoked Meats (Fredericksburg, TX – www.opassmokedmeats.net).
Dr. Becker found time before the luncheon for a personal cook's tour of the winery and we even had a moment to discuss our common interest in certain authors that convey the rich historical narrative that Texas offers. John Graves, Goodbye to a River has certainly affected me and my writing since brought to my attention by friend Henry Chappell. I could see that Grave's was also close to Richard's heart, as well. He actually made the Brazos River trip with Grave's book. We agreed that the grit and gumption of Texas grape growers and winemakers tenders a pioneering spirit and sense of place exemplified by early Texas settlers and their progeny for over a hundred and seventy-fifty years.
Pacing One's Self Was the Order of the Day
I sat down for the luncheon next to Pat Brennan and several self-proclaimed 'newbies' to Texas wines.  Pacing one's self was the order of the day, as the luncheon including three courses and seven wines:
First-Course: Roasted vegetables, goat cheese, pesto served with roasted garlic crostini (from Rails Café at the Depot – Kerrville, TX – www.railscafe.com) accompanied with Becker Sauvignon Blanc – Martin's Vineyard (Texas High Plains) and Grape Creek Cuvee Blanc, a satisfyingly aromatic blend of Chardonnay, Sauvignon Blanc and Muscat.
Second Course: Becker lavender, herb marinated and mesquite grilled rack of lamb served with Grana Padano cheese bread pudding and cherry wine reduction (from August E's Restaurant, Fredericksburg, TX – www.august-es.com) accompanied with three wines – Becker Reserve Grenache (luscious ripe red berry qualities), Grape Creek Cabernet Trois (a firm structured tannic Cabernet-base blend with cassis), Brennan Syrah (aroma of smoky toasted oak overlaid on blackberries). Pat Brennan and I made a 'table blend' using the Becker Grenache and his Syrah. The two wines mixed well with the fruitiness of the Grenache offering a fuller mid-taste experience to his characteristically 'stiletto' Syrah. However, this quick blend lost a little of the pleasant smoky quality present in the Syrah. We both agreed that further blending and tasting trials were in order.
So You Want to Start of Vineyard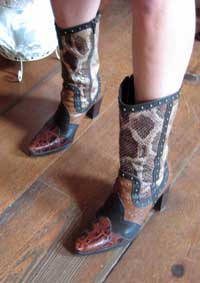 I had the chance between courses to talk a bit to Corby, the fellow to my right at the table. He was quite interested in the ins and outs of Texas grape growing. He had family near Blanco with acreage and wanted to know how they might get started growing. I related some of what I had heard talking to wine grape growers from around the state. There are start-up costs that need to be factored and some underestimate the commitment of time and labor required. But, most of all, there are challenges in terms of weather, insects and diseases since Texas is a new growing region and we are still learning what works best. I mentioned that the Texas Department of Agriculture has extensive technical and regional extension resources for those that are growing wine grapes (http://winegrapes.tamu.edu) and The Texas Wine and Grape Growers Association (www.txwines.org) holds an annual Grape Camp for grape-curious people wanting more information about starting vineyards and growing grapes.
Third Course: Rio star grapefruit buttermilk tart with polka dot sauce (from Cabernet Grill at Cotton Gin Village, Fredericksburg, TX – www.cottonginlodging.com/restaurant.html) accompanied with Becker Clementine, a late harvest Viognier, and  Brennan Muscat Blanc. Interestingly, my favorite aspect of the dessert and wines was that all three exhibited a precision balance between sweetness and underlying acidity that kept them light and fresh through the course.
After the event, I asked Ross Burtwell, Owner and Executive Chef at Cabernet Grill what was the polka dot sauce all about. He responded, "I am sure many in the crowd today had the same question. The polka dot sauce was a light grapefruit sauce that was dotted with a white chocolate cream served underneath the grapefruit buttermilk tart." He continued, "Had we served the dessert on 12-inch bone white plates like I have at my restaurant on occasion, the sauce pops right off the plate looking like a young girls pink polka dot dress (quite striking). Unfortunately, when I got here I found out the plates that provided were little clear plates that did not highlight the sauce. Catering is always an adventure!"
A New Wine from Becker Vineyards, Quote the Raven……
One final bit of news gleaned today was that Becker Vineyards has a new premium wine with the interesting and simple moniker, 'Raven'. The back label reads:
"Raven, a blend of Malbec and Petit Verdot from the Tallent Vineyard, talons deep in the granitic soil of Mason County, it flows like Texas summer night augury of the dark and unseen, turning in time both ancient and near. It marks the edge of one of many circles."
This certainly gives you more than mere clues (almost a warning label) that the wine in the bottle is one of the dark, teeth-staining varieties; a wine of inky Texas ruggedness that is not for the faint of heart. While some still contend that this brand of wine can't be made here in Texas. Well, I have news for them……It's here! Dr. Becker said, "I think that this is one of the best wines we've ever made."
 
Back at the Big Hill
The day finished back on the Big Hill with a walk in the hazy dusk of an overcast sky. My mind wandered about the sophisticated place that the Texas Hill Country had become. Yet, it still retains some of its basic rural charm stemming from simple German roots. As I walked back up the trail to the house; self-contradictory as the Hill Country itself….The rush of the damp wind in the trees, an armadillo rooting for food, and the call of peacocks from the house down the road.