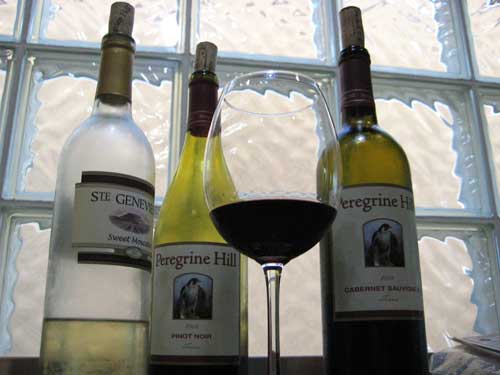 What's with Wines from Ste. Genevieve: They're Enjoyable, Inexpensive, Medal Winning and Good with Summertime Fare
Wine people give lots of play to finding the absolute best wine possible. However, I recently read a series of consumer comments on a major wine website on the wines from Ste. Genevieve Winery in Fort Stockton, Texas….
"Even though I am from Pennsylvania, I am in 'love' with Texas, especially San Antonio. Expect to eventually relocate there. I found St. Genevieve wines in a local San Antonio WalMart and really enjoyed several of the wines. I brought back several bottles each trip to San Antonio. Just recently I found the wine in my local Pennsylvania State Store, much to my surprise and delight. Now I can have a little bit of Texas here in Pennsylvania."
The first surprise was that these wines were available outside of Texas in far-flung Pennsylvania.  At nearly the same time, I was a judge in the Lone Star International Wine Competition and got an early look at the list of the top medal winners. I was surprised to see in the list the following:
Ste. Genevieve, Peregrine Hill Winery: Gold – Brix Sweet Shiraz; Silver – Cabernet Sauvignon, Brix Sweet Pinot Grigio
It made me think that I needed to give the wines from Ste. Genevieve another try. So, I went to my local wine market in Houston and browsed the isles until I found them. I came home with a boatload and still had money left in my pocket. I bought five bottles and I only paid about $28 dollars. This came to an average bottle price only slightly above $5.00.
Three of the most notable wines that I sampled were:  Ste. Genevieve Sweet Muscato (I think that it cost be about $4 for a 750 ml bottle), and Peregrine Hill (Ste. Gen's premium label at about $8 per 750 ml bottle) Pinot Noir and Cabernet Sauvignon. These latter two wines were both Texas Appellation, to boot.
The Muscato was a real surprise being sweet and crisp making it a great summertime quaff. It was light, aromatic and floral, a nose that wines three times the price would die for! The Muscato was taken to an even greater level of enjoyment when I served it over sliced Fredericksburg peaches.
The Peregrine Hill Pinot Noir brought an interesting, if not somewhat oxymoronic flare: A Texas Pinot. This tasting brought back a memory of a wine panel that I attended at the Aspen Food and Wine Festival chaired by Joshua Wesson that was titled, "Warm Weather Pinots". Admittedly, they had different qualities than their classic brethrens from cool growing regions. However, as was the case in my recent tasting of the Peregrine Hill Pinot Noir from Texas, warm weather Pinots have a darker berry character driven by an enjoyable rustic quality, something more akin to a medium bodied red Zinfandel. This was admittedly not the classic Pinot character, but definitely not bad, not bad, at all.
The normal smoky Pinot quality was still there, overlaid on a dark berry substrate. Whether you like this wine or not, is probably more aligned with your personal preference and how much your interest and taste buds perk up at a well made, yet inexpensive value wine from Texas that can be purchased for less than $10 a bottle. This wine with its medium body makes a great summertime sip when served with a 20-minute chill in the refrigerator or cooler.
At an even higher point of enjoyment was the Peregrine Hill Cabernet Sauvignon (Texas Appellation). This is the wine that came home with a Silver Medal in the Lone Star Wine Competition. It gave aromas and tastes of blackberries with a punchy note of American oak. The wine had a good tannic structure and feel on the palate, and ended with a smooth, clean finish…again all for less than $10 a bottle. If this wine was served to me in a restaurant as their house wine, with the label not known to me, I would be pleased with the experience.
These wines from Ste. Genevieve were fun wines. They are made, not to be geeked to death with nuance, but enjoyed over friendly conversation and summertime outdoor fare: Grilled hamburgers and steaks, a sausage or two, perhaps a little slow-cooked Texas barbeque and homemade potato salad, and finished with a Texas-grown fruit salad of peaches, blueberries, cantaloupe and/or watermelon.