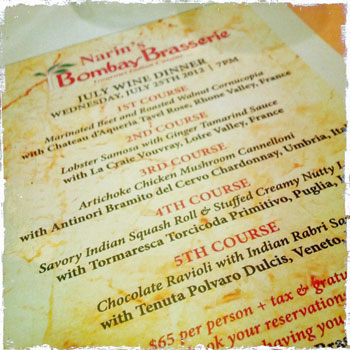 Narin's Bombay Brasserie Wine Dinner: It's Time to Set Aside Some of the Old Rules, Get Some New
When asked how does Indo-Asian wine pairing compare to the meat-dominated western approaches (e.g. red meat, red wine; white meat, white wine), Narin Sehgalm owner of Narin's Bombay Brasserie in Houston Texas responded very matter of factually…
He said, "Western cuisine and meats, however innovatively they're prepared, have unwritten rules about which varietal wines go best. Indian cuisine is very different, so you are able to play more with the pairings."
And, play they did on a sweltering mid-week evening at Narin's Bombay Brasserie located in Houston's Galleria district. As my wife and I entered the restaurant, it was obvious that wine dinners were a frequent and fun feature Narin's establishment. The crowd was already assembling around a massive table in a banquet room. People were milling about, greeting friends from previous wine dinners. One guested asked us if this was our first Narin wine dinner, then said without a pause, "You're going to love this. The food is superb but different and the wines are always an unexpected pleasure. Oh yes, and there is no shortage of wine, too."
Those familiar with my eclectic tastes know that I'm always up for something different when it comes to wine and food. Afterall, I'm big time into Texas wine, and if that wasn't different enough for you, I've sampled clay pot wines and paired my Tokyo store bought Japanese dinner with French Beaujolais on the night of the Beaujolais Nouveau.   This evening, all it took to get me here was the call to dine on gourmet Indian cuisine and have the food paired with a selection of fine European wines. And, at $65 per person, it was a good value, as well.
While we hadn't been to these wine dinners before, my wife and I know Narin's Bombay Brasserie very well. We've often found their lunch buffet a true delight of fresh and aromatic northern Indian cuisine…that usually leave us ready for a mid-afternoon nap. There, Sanjay Sehgal serves as manager and Executive Chef Gary Grewal have reeled in "excellent" ratings and "top Indian Restaurant" accolades from both the local and national press.  Their evening's wine and cuisine was designed for enjoyment: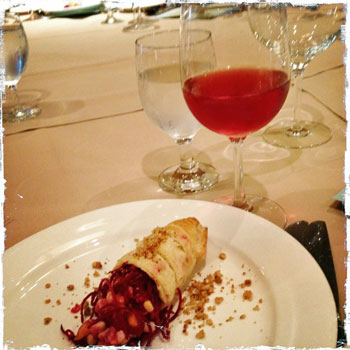 First Course – Marinated Beet and Roasted Walnut Cornucopia (wine – Chateau d'Aqueria Tavel Rosé, Rhone Valley, France)
I commented that evening that this pairing was all about color – the red in the beet and the joyous red color of the Rosé wine, but then followed by the earthy characteristics of the beet and the minerally character of the wine.
Second Course – Lobster Samosa with Ginger Tamarind Sauce (wine – La Craie Vouvray, Loire Valley, France)
This pairing was my wife's favorite especially from the standpoint of the wine (French Chenin Blanc) that was slightly off-dry (not overly sweet) all balanced with crisp acidity that integrated well with the Asian cream sauce. Evidently, Narin liked my photo because it's now on his Facebook page (like here). I call it…Narin's Lobsta Samosa!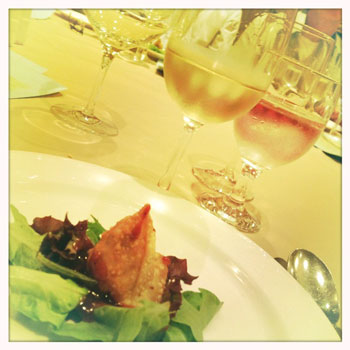 Third Course – Artichoke Chicken Mushroom Cannelloni  (wine – Antinori Bramito del Cervo Chardonnay, Umbria, Italy)
By the third course, those of us around the table were all good friends with our conversations gaining in volume and punctuated with laughter. The delicious artichoke-chicken-mushroom filled cannelloni and cream sauce were made for Chardonnay, but not just any big oaky Chard. This Chardonnay was just like the Italians like it: clean, restrained and exuding mouthwatering acidity.
With this wine and food pairing in mind, Narin relating some of his Indo-Asian wine insights. He said, "Matching wine with Indian cuisine can sometimes be a little bit difficult because of the complexities and strength of the spices and aromas in Indian ingredients. You don't want to overpower the wine or vise-versa. That's why it's such a unique and exquisite experience when done right." To this, all I could add was that I agreed.
Fourth Course – Savory Indian Squash Roll & Stuffed Creamy Nutty Lamb (wine – Tormaresca Torcicoda Primitivo, Puglia, Italy)
In this course we were getting into a serious red wine, but again one that had old-world charm and balance. In this case, we were drinking Primotivo (the Italian equivalent of Zinfandel but without the brawny bold biceps – an alcohol level – of a California Zin). The tantalizing red fruit in the Primotivo added bright notes against the lamb dish.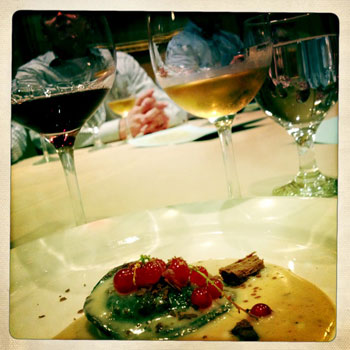 Fifth Course – Chocolate Ravioli with Indian Rabri Sauce (wine – Tenuta Polvaro Dulcis, Veneto, Italy)
The dessert paired well with the fruity sweet wine with scents of flowers, honey and vanilla. But, you know what, I held back my red wine from the previous course. Despite the fact that some wine experts don't recommend dry red wine and chocolate desserts, this was a fine pairing, too. The sweetness of this particular dessert was muted; the red berries provided the linkage to the ruby red color and red fruit in this dry red wine. The pairing of these two disparate wine with the dessert illustrates how many incalculable options there are in wine and food pairing. If you include Indo-Asian cuisine, the options appear infinite.
After the event, Narin reminded me that Indian cuisine is all about blending different and often very potent spices. Often spicy and sweet come on the same plate. Therefore, the varietal type of the wine really depends on each specific dish.
For typical spicy Indian dishes, like Narin's  Lamb Vindaloo or tandoori meats, he says that sweeter or fruitier wines such as Riesling or Chenin Blanc accompany well. Red wines are often difficult to pair because their tannic or bitter qualities run counter to many of the Indian flavors. However, creamy dishes such as Narin's tangy Chicken Tikka Masala pairs well with red wines like Cabernet Sauvignon or Pinot Noir.
Well, so much for red wine with red meat, white wine with white meat. I'll make sure to remember a few of Narin's new wine pairing rules…and his upcoming wine dinners, too.