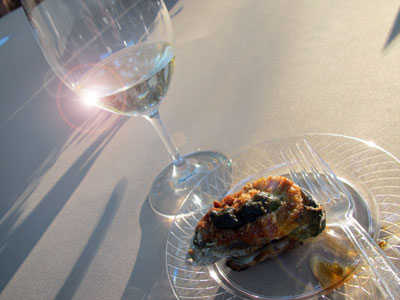 Get Your Tickets: Gala Texas Food & Wine Pairing and Book Event Friday Night in Fredericksburg, Texas
Texas Hill Country Wine and Music Festival
Texas Wine Tasting and Food Pairing Evening with Book Signing
Friday 4/27, 6:00-9:30pm
BON APPETIT from the TEXAS HILL COUNTRY! Salute!
Our incredible Friday Night prelude Event – "Texas Wine Tasting and Food Pairing" was "Specially" planned for the "Texas Wine and Food Lover"! Join your hosts, acclaimed Texas authors, Dr. Russell Kane and Chef Terry Thompson-Anderson for a delightful evening of EXPLORING TEXAS WINE and FOOD, with music by award winning Texas singer/songwriter, John Arthur Martinez!
Sample Texas Wine and delectable "Local Texas" culinary offerings and find out why TEXAS is so special! Your hosts will be "Signing" copies of their recently released books: The Texas Hill Country – A Food and Wine Lover's Paradise by Terry Thompson-Anderson and The Wineslinger Chronicles – Texas on the Vine by Dr. Russell Kane. Your hosts have collaborated to pair wines from Becker Vineyards, Grape Creek Vineyards, Messina Hof Winery, Sandstone Cellars, Texas Hills Vineyard, and Torre di Pietra Vineyards with tapas-style recipes from Terry's book. Our Festival's first silent auction will be held in conjunction in this event. What a NIGHT IN THE TEXAS HILL COUNTRY! Event admission price of $100 includes signed copies of both author's books. Please purchase your tickets now as attendance is limited (Wine and Food Pairing Menu below).
Grape Creek Pinot Grigio
Shrimp-Topped Crisped Tortilla Rounds with Chanco en Piedra Sauce
With Scattered Cotija Cheese
— — —
Becker Vineyards Viognier
Beet, Avocado & Shrimp Salad on Red Lettuce with Handmade Horseradish
And Simple Vinaigrette
— — —
Sandstone Cellars XI
Grilled Lamb Chop with Garlic & Cilantro Pesto with Jalapeño Pesto
On a Bed of Soft Polenta with Onions
— — —
Texas Hills Vineyard Toro de Tejas
Spanish Chorizo and Manchego Cheese-Stuffed Mushrooms
— — —
Torre di Peitra Midnight Nymph
Roast Pork Tenderloin with Port Glaze on Grilled Sweet Potato Plank
— — —
Messina Hof Riesling Father and Son Cuvée Texas 2010
Hopelessly Blue Cheesecake
— — —
Fredericksburg Winery
Slow Burn Brownies