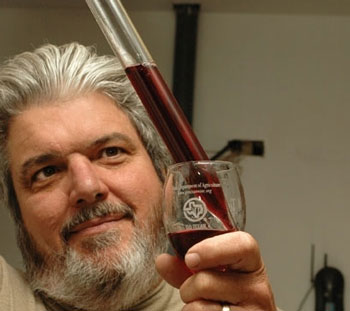 Write Off the Vine – Texas Wine News: December 16, 2011
Grape acres expand in spite of drought
By Logan Hawkes (Southwest Farm Press)
While the Texas grape harvest suffered a significant drop this fall as a result of extreme summer heat and drought, more orchard-acres were used to produce the smaller yield. And in spite of this, the trend for vineyard expansion and development across the state is likely to continue. A Texas AgriLife wine and grape specialist says Texas wines and the grapes that make them are in demand, and that demand has been growing in recent years. Dr. Ed Hellman, Texas AgriLife Extension viticulturist in Lubbock, says Texas ranks as the fifth largest wine producing state with a wine and grape industry that affects the Texas economy to the tune of $1.3 billion annually, and this, he says, promotes the overall growth rate of acres dedicated to viticulture within the state. Hellman says that growth is the result of both new start-up operators and the expansion of existing vineyards, a trend he expects to continue.
More: http://southwestfarmpress.com/orchard-crops/grape-acres-expand-spite-drought
— — — — —
Day 4 – Hill Country and Fredericksburg Road Trip (TXwineLover)
Our final day in the Hill Country arrived and we woke up to pouring rain and cold weather. The initial plan was to visit Garrison Brothers Distillery, the first and oldest legal distillery in Texas, on the way back home, but since we started taking photos of owners and winemakers in addition to getting autographs on wine bottles, we decided to head back to Sandstone Cellars Winery instead.
We arrived right after they opened and Scott Haupert was there, like he has been every time we have visited. When we asked if he could sign a wine bottle, he said he never has done that before. He, the other owner Manny Silerio, and winemaker Don Pullum usually sign books. In the past only Don and Bill Worrell, the artist for their bottle labels, have signed wine bottles. So Scott took the little tool they have set aside (actually a modified nail) and engraved his name in the wine bottle's label for the very first time.
More: http://txwinelover.com/2011/12/texas-wine-day-4-hill-country-and-fredericksburg-road-trip/
— — — — —
Star of Texas Bed & Breakfast: Texas Hill Country Wine – Brownwood, TX
Texas Hill country wine is growing so popular, I am so proud of all the wineries that have ventured out to make our region a special place for people to come and enjoy some of the best wines anywhere.  We are located in Brownwood, TX so right in the middle of your trip to or from one of the wine trails, we would love to have you come stay with us at Star of Texas Bed & Breakfast and bring your bottles of Texas wine that you have purchased on your trip.  We have wine glasses and openers in each room for your use. We also provide a cutting board, knife, plates and napkins, so bring along your cheese, grapes and more to enjoy with your wine.  Or you can just order our You're Special package and it come with a bottle of Brennan Vineyard's wine, and a wonderful cheese and fruit tray.  So check our website for a date and cottage that works for you and come see us, soon
More: http://blog.star-of-texas.com/2011/12/texas-hill-country-wine-brownwood-tx.html
— — — — —
Texas Hill Country Wineries: Events for December 17, 2011
William Chris Vineyards – Wine Tasting Techniques Class – Our wine tasting techniques classes are held on every Saturday and are taught by one of our wine makers.  During the one hour class you will be taught the skills and techniques of tasting wine.  Tailor made hors d' oeuvres are provided during the class to give some insight on how to make food pairing with wine.  Cost of the class is $45.00 with classes for the novice and for the wine connoisseur.  For availability and appointments email info@williamchriswines.com or call 830-998-7654.
Solaro Estate – Bordorosso 27 Release – After a long 27 months resting in oak, Solaro's limited production red, Bordorosso 27, is being released in time for Christmas on Saturday, December 17, at Solaro Estate Winery. Special live performance by musician Stuart Michael Burns.
Texas Hills Vineyard – Holiday Wine Trail – Dave Lewis from The Spicewood Food Company will be at Texas Hills Vineyard both Saturday and Sunday December 17th and 18th.  He will be sampling his line of balsamic vinegars and oils, great gifts for Christmas along with our award winning wines.  Our gift shop is well stocked for Christmas and wine is always a hit for that hard to buy for person.
William Chris Vineyards – Live Music every Saturday – Live Music every Saturday with Local Artists from Hye Noon till 4:30pm.
Bell Springs Winery – Live Music with Alex Dormant & Marcus Graf – Alex has played in numerous bands in Austin including Ace in the Hole with George Strait and Jimmy Day's band.  He also appeared as the fiddle player in Lonesome Dove.  He currently leads two bands: the "Hot Texas Swing Band" and the "Dripping Springs All-Stars".
More: http://texaswinetrail.com/events/
— — — — —
McPherson Sangiovese 2009 (Texas Wine Blog)
Vineyard: McPherson Cellars, Lubbock, TX
Type of wine: Sangiovese
Nose: black cherry, licorice; Palate: light, black cherry, vanilla, spicy
Rating: 5 out of 5; Price: $15
I picked up this bottle of McPherson Cellars 2009 Sangiovese at Spec's Liquor after eying it on several previous trips but deciding on something else.  Being at a mid-range price-point I was hesitant to try it out, not having had any other wines from this vineyard.  Upon pouring the wine I immediately noticed how aromatic this wine was.  The nose of the wine is a dark, black cherry with a hint of licorice, very pleasant.  Upon tasting the wine there is a very smooth, silky, light texture to it.
More: http://texaswineblog.com/2011/12/mcpherson-sangiovese-2009/
— — — — —
Go Texan Wine Videos on YouTube
http://www.youtube.com/user/GoTexanWine?view=subscribers