North Texas Road Trip Entry 5 – Visiting the Supreme Expérimenter at Brushy Creek Vineyards
There comes a point in just about every Texas road trip where a personal moment surfaces and human and natural elements of this great state combine. In this case, I was heading out across the Cross Timbers prairie on Highway 81 past Decatur with the blackland farming belt in my rear view mirror. The land opened around me to an almost cosmic proportion with brushy lands casting out far and wide from the sides of the roadway. The hawks were positioned like sentinels of the road on fence posts, telephone wires, and tree tops scanning wide-eyed in search of their prairie buffet.
The purpose of this leg of my trip was to visit Les Constable – grape grower, winemaker, and owner of Brushy Creek Vineyards in Alvord, Texas. When I arrived, Les had two glasses of wine poured and we sat in discussion on the outside deck.
Les Constable comes by his love of growing things honestly; his father being a research biologist. However, Les is also a nuclear engineer by education and a product of Admiral Rickover's nuclear navy. He is blessed with an inquisitive mind that for the past decade has been focused on defining the future Texas wine experience giving him a new title: Texas' supreme expérimenter.
As we sat and sipped, Les recalled back to 1963 when his connection to wine began, "While in the navy, I was stationed in Vallejo California, but this was well before California developed into the wine powerhouse that it is today. My associates and I developed quite a taste for fine wines. We particularly enjoyed it when we came into port and could find a quality restaurant. This environment fueled our passion for the grand wines from Bordeaux, Burgundy and Germany."
 
Virtues of Blind Tasting
Les continued, "Back then, there really weren't many wineries in California but when I was in my home port, I had a chance to explore and find some quality wine producers. After leaving the service, I was in Massachusetts and became good friends with a liquor store owner. Together we explored many wines and particularly tried to find California wines and compared them to our favorites from Europe. We blind tasted the California wines that we could find on the east coast, but they were pretty bad. I could not find the good ones like I previously tasted in California. But in not too long, higher quality California wines became more readily available and in blind tastings they were found to be on par with many of the French wines."
"This past experience now makes me realize that Texas wines must evolve in a similar way if we are serious about succeeding", Les lamented. "At Brushy Creek, we have started to put our wines to the test and pour them side-by-side with wines from other wine regions. I prefer blind tastings [where the bottles are placed in brown bags to mask the origin and winery name] as it removes any bias some might have. In such tastings, our wines are doing very well. I encourage more Texas wineries to do the same thing."
Vineyard Tour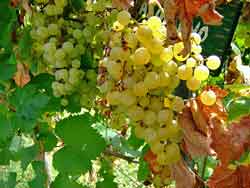 As we boarded a golf cart to tour the vineyard, we looked at the Brushy Creek vineyard soil that is typical of the Cross Timbers region of Texas. Les described it as sandy, gravely with high calcium content and nodular clay making for good drainage. Secondly, he mentioned that the soil is low in organic material and nitrogen that limits vine production and it is high in the minerals needed for quality grape production. Les related, "This type of soil condition makes the grapes think that they are going to die so they put their available energy into grapes rather than vines. Its simple and logical…..procreation of the species."
As Les drove me into the vineyard he pointed out that when starting his vineyard operation, he experimented by planted dozens of grape varieties to see which would grow the best.  He pointed to the first rows that contain Cabernet Sauvignon, Merlot and Riesling and was quick to mention that he has evolved well past these grape varieties that most people recognize. "Specially", Les emphasizes, "these varieties of grapes do alright and make good wines, but it is hard work for me in the process. I have been looking for vines that like being in Texas with its heat and sun, and that can handle the late freezes that we tend to get here."
Les admitted, "I tell people that lots of mistakes have been made in this vineyard, more than in just about any other, but I have learned something important from every mistake." 
As we progressed deeper into the vineyard, Les said, "Now, these vines are happy campers."
The vines he pointed to were the not-so-common varietal called Rkatsiteli that originated from the Russian Ukraine just east of the Black Sea over 5,000 years ago. From its visual appearance, it has the makings of one tough grape variety. A friend put Les in touch with a Monk in the Russian Orthodox Church in the Ukraine and he has been helping provide advice on how to grow it. Rkatsiteli appears to have great qualities for Texas – Les has found out that it buds late in the spring and holds up extremely well in the summer heat.
Les makes a Chablis-style white wine from it and people love it. Furthermore, these vines are extremely healthy looking (almost muscular) compared some of the more conventional varietals in the adjoining vineyard rows.
 
As Les showed me more of his 'experiments', which have now turned into commercial production, I asked him what were the remaining challenges for the vineyard. He simply stated, "Coons, birds, deer. …I have most everything else under control, even Pierces Disease. I lose a few vines to PD every year, but this is tolerable. It is the critters that can cause me the biggest losses, and quickly. "
As we continued our vineyard trip, Les said, "My favorite wines have always been Bordeaux-styled wines. So I planted several Bordeaux varietals – Cabernet Sauvignon, Merlot, Petit Verdot, and Cabernet Franc. The lessons that I have learned indicates that Texas is not Bordeaux, mainly from the stand point of climate. But, based on my experience, I have learned how to work with the Cabernet Sauvignon grape to produce a high quality wine but it takes lots work!" He quickly followed this comment with a disclaimer, "Also keep in mind that Texas is a big state – about the size of France – and there are some places where these grapes may be easier to grow than in Alvord."
Les is most proud of his experiments with what he refers to as his "warm-weather varietals" and it is easy to tell that he loves Texas-grown Tempranillo (the national grape of Spain). He said, "This grape does exceptionally well in our summer heat and continues to ripen even when the temperature exceeds 100 F, around the point where the Bordeaux grape varietals start to shut down and stop ripening. His present vineyard successes includes growing red wine grapes like Malbec, Syrah, Grenache and Mourvedre, and Tannat from hotter climates in Spain and southern France. He is now also working with white wine grapes like Verdeho from Portugal and Albarino from Spain.
At the mere mentioned my own experience with an inky red Tannat wine that came from Uruguay that I tasted in an Italian restaurant in Rio de Janiero, Les immediately perked up and said, "You should try my Tannat" and turns hard left and aims the golf cart toward the winery barrel room.
Barrel Room Tasting
With glass in hand, Les poured me a taste of his Tannat wine. It had the familiar inky, red color that I previous experienced and that is so often referred to by Red Zin lovers as 'teeth staining'. Les was tuned onto Tannat from an associate in California and quickly found that it does well in Texas. While he calls it his "a work in progress", the barrel sample had an exceptionally deep color and a pleasant tannin level much of which Les mentioned came from the grape itself and it only needed a little time in neutral oak to mellow the raw fruitiness of the wine. This is a red wine that Texas wine drinkers should love as Les is now working with ten tons of it from the past harvest.
Next, I tasted barrel samples of the Brushy Creek Mirage (a blend of two red Mediterranean varietals – Mourvedre and Syrah) and a 100 percent estate grown Mourvedre. The blend was complex with a combination of dark berries and mouth pleasing tannins that were just starting to soften in the barrel.  The Mourvedre had a lush, rich mouth feel that Les indicated, as in the case of the Tannat, did not require much oak aging to reach its full potential.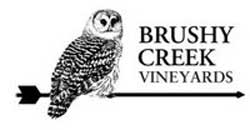 It is also easy to see where Les' current barrel room experiments have taken him. He has gone from blending his Cabernet Sauvignon with classic Bordeaux varietals such as Merlot to now incorporating the Cabernet with red Mediterranean varietals such as Syrah and Mourvedre. The wine I tasted was called "Three Friends" and included 75% Cabernet with 20% syrah and 5% Mourvedre. Les' pointed out that, "Based on my experiments, this is the type of red wine that works well in warm growing regions. It is based on an Australian model where the red wine gets the structure and mouth feel from the Cabernet, and the rich, ripe fruity character from the Syrah and Mourvedre.
Lastly, we tasted barrel samples of the 100% Cabernet and 100% Tempranillo. Both had great color that Les attributes to another one of his experiments and to the lessons learned about Texas grape growing. He now uses a combination of more intense field ripening and a longer contact time of the juice and skins called extended maceration. The Cabernet was deep purple in color with blackberry and cassis just starting to integrate with the oak aging. The Tempranillo, by comparison had an even thicker feel on the palate.
In prior years, Les recalled, "I tasted wines made from these two grapes side-by-side with customers at Brushy Creek. Most preferred the Tempranillo and it was always the first to sell out. This evidence has been useful on two counts. First and most importantly, these results have dispelled one of the remaining old adages in the Texas wine industry that customers will not buy wines that have names that are not in the 'big three' of French wines – Cabernet, Merlot and Chardonnay. Secondly, these data have also been factored into our Brushy Creek blending trials and the synergism that we have observed between the Texas Cabernet blended with red Mediterranean varieties."
Near the end of our visit, Les and I stood in the Brushy Creek tasting room and compared notes on Texas' linkages to other superior wine producing regions. I related my recent association of the similarities between the Australian Coonawarra terroir and that of the Texas High Plains, and the resultant big Cabernets that these regions can produce.
Les mentioned that perhaps Texas also had a special kinship with Australia with both regions being rugged places requiring outside-the-box thinking and a willingness to experiment with new, unproven approaches.
We also discussed the fact that early settlers in both Texas and Australia were, in many cases fugitives just one step ahead of the law. In Texas, many of these settlers left states back east like West Virginia, Tennessee and Kentucky rather than do time for their misadventures, some were escaping indentured servitude or putting on distance from ex-wives. I recalled that James Michener also expounded on this point in his book, 'Texas'.
Before I departed, Les mentioned that a friend of his had once told him that Australia like Texas was populated by criminals. These Aussie settlers were sent by boat from England to clear out the jails of England. He also mentioned that in contrast, American was settled by English Puritans. Les' admitted that his friend also conjectured that Australia may have gotten the better deal.
With this, we said our goodbyes and I headed back down the now darkened road covered with a black, star festooned Texas sky.