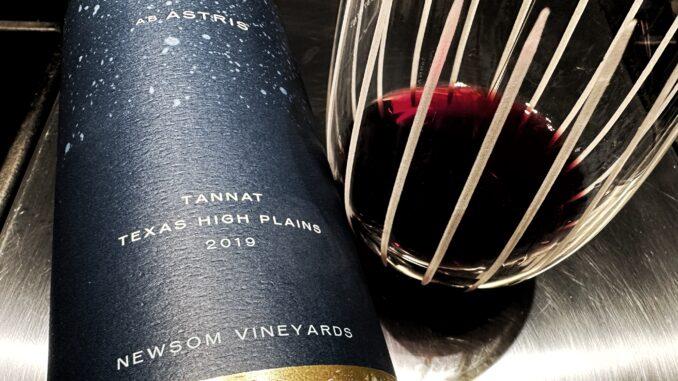 Today, you are visiting a family-owned, boutique winery in Stonewall, Texas, called Ab Astris Winery. The winery owners are dedicated to producing handcrafted wines just off to the north of Route 290 between Stonewall and Hye in the heart of the Texas Hill Country. The tasting stop today features Ab Astris 2019 Texas High Plains Tannat.
Amazingly, what you will find on arrival is a twelve acre estate vineyard that was planted in May 2018 and May 2019 that is now coming into its adolescence with four acres of Tannat, two acres of Souzao, two acres of Clairette Blanche, two acres of Petite Sirah and two acres of Montepulciano. In this vineyard, patterned after those in southern France, there is not a Cabernet Sauvignon or Chardonnay vine to be found. For good reason… The Texas hill country is not Bordeaux and sure as hell ain't Burgundy. It's the Mediterranean of the USA.
Knowing the fickle attributes of Texas weather, the Ab Astris estate vineyard is also supported by longstanding, stalwart Texas High Plains winegrowers like those at Newsom Vineyards and Reddy Vineyards. The 2019 Texas High Plains Tannat featured today was grown at Newsom Vineyards in Plains, Texas.
Ab Astris 2019 Tannat, Texas High Plains, Newsom Vineyards
If you're not familiar with the heritage of the Tannat grape, please realize that is one tough grape variety. It came here from the French appellation of Madiran on the upswing of the rugged French Pyrenees Mountains. There, in self-preservation mode, Tannat evolved a thick-skinned tenacity that provides dark tannic wines and the ability to handle the sometimes harsh growing conditions in Madiran that can be just as challenging as they are here in Texas.
This Ab Astris Tannat shows depth with dark-ruby concentration in the glass and follows with firm yet pleasant tannins, playful acidity and medium body on the palate. It provides nuances of cherries, cranberries and black raspberries accented with notes of ripe figs and dark chocolate. This wine says, "Bring on the meat; steaks, roasts and short-ribs." But, last night I had it with a quite flavorful Tamarind-glazed turkey, brown rice and broccolini, and it made a great accompaniment.
Mike Nelson is making the Ab Astris wines after a period of tutelage by John Rivenburgh of Kerrville Hills Winery. You likely know Rivenburgh. I've taken to calling him "Johnny Tannat" because of his abilities and experience with the grape. The grapes in this wine came from Newsom Vineyards tended by longstanding "uber-grower", Neal Newsom. So, this Ab Astra Tannat from Nelson comes with a heeping helping of "street cred".
Ab Astis Winery and its estate vineyard is located next to the serene LBJ National Park, where its tasting room is best described as contemporary Texas Hill Country with limestone construction and large windows that look out on their estate vineyard. On a breezy, sunny day, you'll find other visitors and winery staff outside under a covered patio that overlook the vines. You will likely also find a place to relax under many large oak trees that look out on beautiful surrounding vistas. At Ab Astris, as always, the views and relaxation be complemented with their fine Texas wines. Click here for more information on their current wine releases. Click here for more on how to find Ab Astris Winery.
Photo Credit: Ab Astris Winery