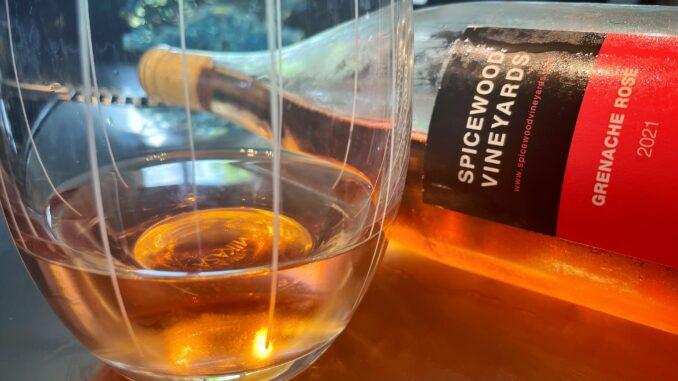 Until recently, dry Rosé wines were not very popular at dinner parties. What's going on in Texas vineyards and our nearly year round hot weather, has changed all that. In the past, the most popular service of Rosé was as an aperitif before the meal, at afternoon parties or sipped lounging around the pool.
Our Texas Fine Wine tasting stop today is at Spicewood Vineyards, where else but in Spicewood, Texas, just a short car ride outside Austin, Texas, on State Route 71 then off onto C.R. 409. It is a mere stone's throw back east over Route 71 to Krause Springs near the western bank of the meanderingly majestic Colorado River. The absence of Interstate highways and big cities makes this area easy to get lost. This is a good thing for those of you that want to commune with the Texas hill country and search out an interesting winery and wines (and damn good rosé) at Spicewood Vineyards.
The featured wine today is Spicewood Vineyards 2021 Grenache Rose, all pretty in salmon-pink, and tasty, too. Its made from 100% Grenache from the Texas High Plains Farmhouse Vineyards with interesting notes of strawberry, wild cherry, peaches'n cream and watermelon with minerals popping in mid-palate to finish.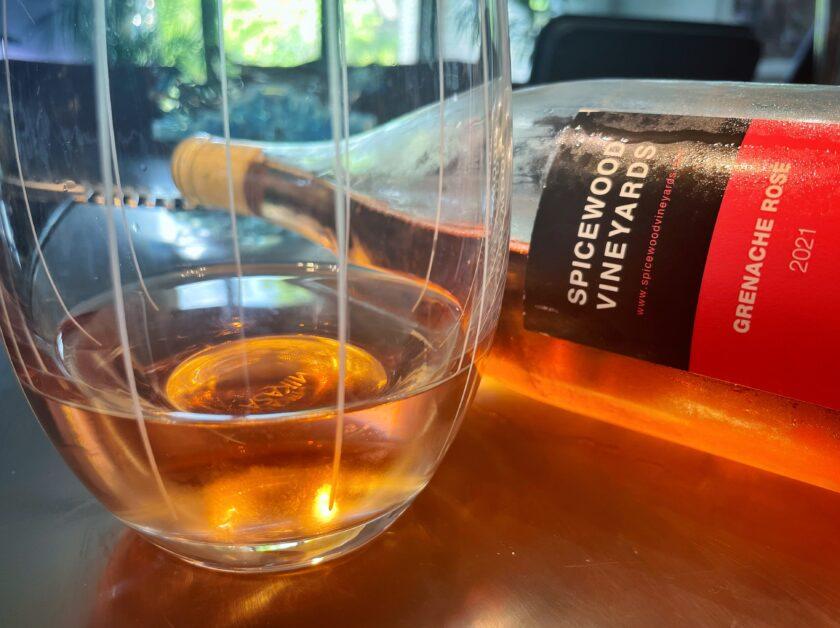 The virtuosity of Rosé wines, particularly those from Texas, is incredible. Light rosé wines made from early harvested grapes and lightly pressed, pair well with fish, salads, cheese, and light-cooked white meats, and let's not forget my favorite, sushi. Richer rosé wines, usually made from later harvested grapes, can be paired equally well with grilled fish and fowl and can even share your table with red meat – who wants to drink a thick and chewy red wine right now with our currently 100 F weather.
Spicewood Vineyards is one of the earlier Texas Hill Country wineries, established in 1992 and purchased by Ron Yates in 2007. I remember my first visit there around 1995. I could see wine and taste wine, but since it was in a dry area, I couldn't buy wine. But, that's now all changed and it's worth the short trip west of Austin to see, taste and buy wine.
Spicewood Vineyards produces estate wines from its on-site 32 acres and a nearby 10-acre vineyard in Round Mountain. Ron Yates cut his teeth on Spanish grape varieties and found true love while getting educated in Spain, developing a passion for Spanish grape varieties including Tempranillo, Graciano, Garnacha (Grenache in French), and Carignan. Spicewood Vineyards is also recognized for its estate Sauvignon Blanc.
Ron Yates (above), showing his Estate Tempranillo, has expanded his focus in warm-weather varieties of grapes from Spain, Portugal, France and Italy but grown in Texas, and is particularly proud of his Estate and High Plains Tempranillos. He features Viognier, and when available Roussanne for white wines and reds such as Tempranillo, Good Guy (Spanish-style and richly flavored and aromatic red blend), and a mystery red blend called Cabernet Claret. He has also started a second winery, Ron Yates Wines on Route 290.
Come to Spicewood Vineyards, join Ron Yates, his winemaker Todd Crowell and staff, and join in the fun.
Photo credits: Spicewood Vineyards and VintageTexas.